ANALISIS KEKUATAN STRUKTUR BALOK PASCA KEBAKARAN PADA GEDUNG DENGAN PENAMBAHAN PELAT BAJA SEBAGAI PERKUATAN
Keywords:
beam structure strength, fire, moment capacity, steel plate reinforcement
Abstract
Fire occurring in the building can cause fatal effects to the strength of building. Therefore, this research aimed at investigating the structural strength and capacity pre-fire, the remaining strength and capacity post-fire, and the structural strength and capacity after adding steel plate reinforcement. The field data involved the building of Tamansari Emerald Surabaya Apartment. The nominal moment of beam was controlled pre-fire and post-fire. The results of research demonstrated that the beam encountering fire would have moment capacity reduction at 300°C, 600°C, and 800°C by consecutively 0,0677%, 2,7569%, and 33,98% of the moment capacity in the normal condition. Furthermore, the reinforcement applied steel plate having the dimension 150×5 mm. Thus, the increasing moment capacity after adding reinforcement gained around 60 – 380 Kn.m.
References
B. Suhendro, "Analisis Degradasi Kekuatan Struktur Beton Bertulang Pasca Kebakaranâ€, Universitas gajah Mada, Yogyakarta, 2000.
BSN. SNI 1726:2012 "Tata Cara Perencanaan Ketahanan Gempa Untuk Struktur Gedung Dan Non Gedungâ€, Jakarta, 2012
F. Rizal, "Evaluasi Kekuatan Dan Metode Perbaikan Struktur Beton Pada Gedung Pasca Kebakaranâ€, vol. 2, pp. 55-61, April 2010.
Pratikto, S.T., M.Si., "Konstruksi Beton Iâ€, Diktat, Jakarta: Politeknik Negeri Jakarta, 2009.
T. Bayuasri, "Perubahan Perilaku Mekanis Beton Akibat Temperatur Tinggiâ€, Thesis, Universitas Diponegoro, Semarang, 2005.
Y. Septiarsilia and J. Propika, "Analisis Perkuatan Struktur Gedung Pasca Kebakaran", vol. 2, pp. 25-30, Juni 2019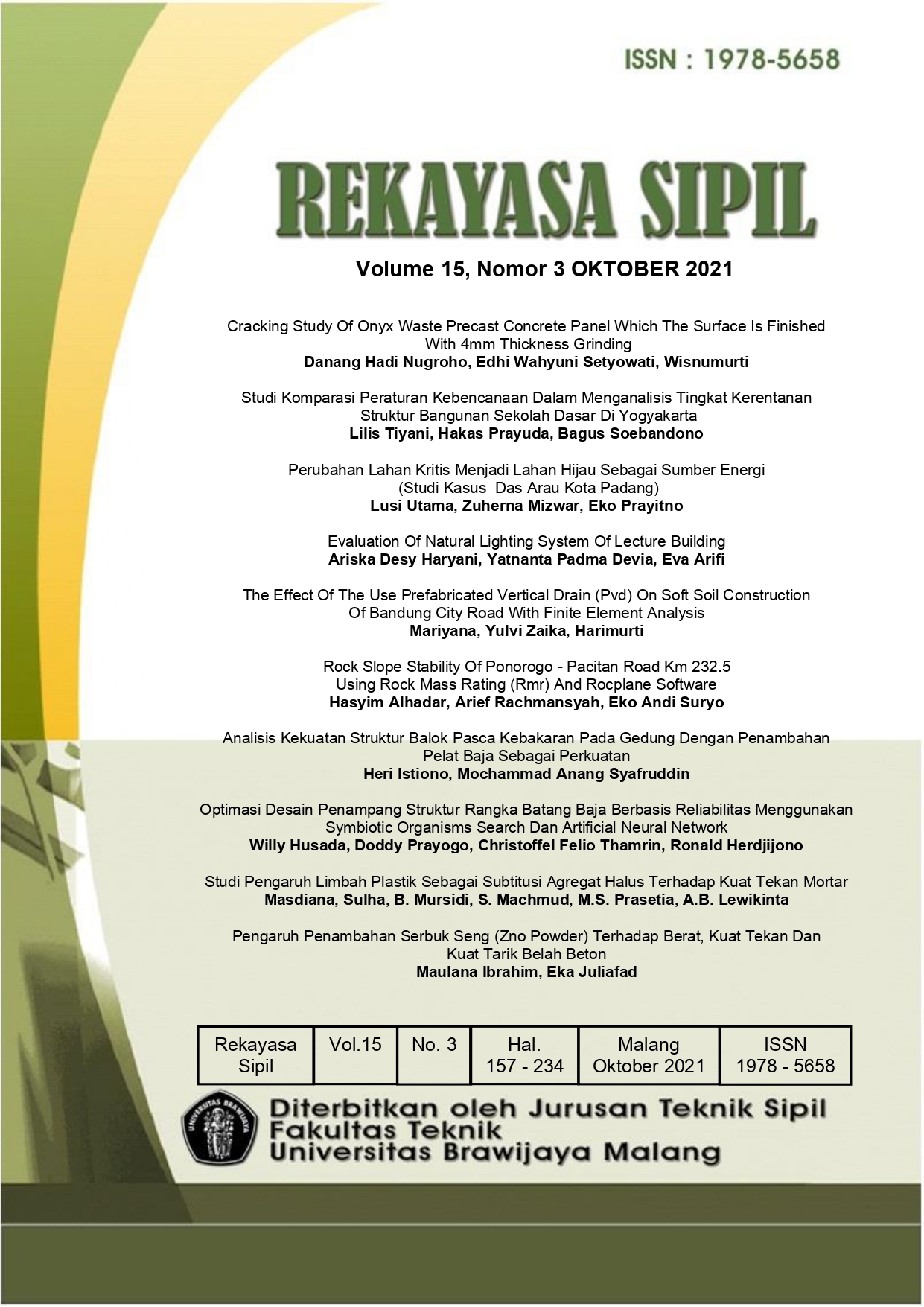 Downloads
License
Copyright (c) 2021 Rekayasa Sipil
This work is licensed under a Creative Commons Attribution-NonCommercial 4.0 International License.

This journal is licensed under a Creative Commons Attribution 4.0 International License