ANALISIS PENGARUH P-DELTA EFFECT TERHADAP PERBEDAAN KETINGGIAN STRUKTUR GEDUNG TAHAN GEMPA (STUDI KASUS: NON-HIGHRISE BUILDING)
Keywords:
, Earthquake, Non-Linear Analysis, P-Delta Effect, Pushover Analysis
Abstract
The need for earthquake resistant buildings in Indonesia is something that needs to be considered. Considering that Indonesia is an earthquake prone area. A building structure must be designed to be able to withstand lateral loads such as earthquakes within the limits set by the code/standards. For conservative reasons analysis of the P-Delta Effect needs to be considered because the building development ratio will always increase every time. according to SNI 1726-2019 the P-Delta effect is only required for the design of tall buildings. In this case, the P-Delta effect will be calculated in the modeling of non-high-rise buildings and get the results that P-Delta Effect increased story forces: moment of the building under 10%.
References
American Society of Civil Engineering. 2017. Minimum Design Loads for Buildings and Other Structures. ASCE 7-16: United States of America.
Badan Standarisasi Nasional. 2019. SNI 1726-2019 Tata Cara Perencanaan Ketahanan Gempa Untuk Struktur Gedung dan Non Gedung. BSN: Jakarta.
Badan Standarisasi Nasional. 2013. SNI 1727-2013 Beban Minimum Untuk Perancangan Bangunan Gedung dan Struktur Lain. BSN: Jakarta.
Badan Standarisasi Nasional. 2019. SNI 2847-2019 Persyaratan Beton Struktural Untuk Bangunan Gedung. BSN: Jakarta.
Federal Emergency Management Agency. 2000. Prestandard And Comentary for The Seismic Rehabilitation of Building. FEMA 356: Washington.
Istiono, Heri dan Jaka Propika. 2017. Analisa Non-Linier Pada Mekanisme Keruntuhan Jembatan Rangka Baja Tipe Pratt. Borneo Engineering: Jurusan Teknik Sipil, Volume 1: 68-74.
Mangukiya, Nikunj et all. 2016. Study Of "P-Delta†Analysis for R.C. Srtucture. GRD Journals: 452-455.
Pawirodikromo, Widodo. 2012. Seismologi Teknik dan Rekayasa Kegampaan. Yogyakarta: Pustaka Pelajar.
Prof. Pandian, G Agustine Maniraj. 2017. Investigation of The Effects of P-Delta on Tubular Tall Buildings. IJCIET, Vol 8: 487-495.
Shankar, Bhavani et all. 2017. Study on Effects Of P-Delta Analysis on RC Structures. IRJET, Volume: 04 (08): 1726-1730.
Tavio dan Usman Wijaya. 2018. Desain Rekayasa Gempa Berbasis Kinerja (Performance Based Design) Dilengkapi Contoh dan Aplikasi Program Bantu Etabs. Yogyakarta: Penerbit ANDI Yogyakarta.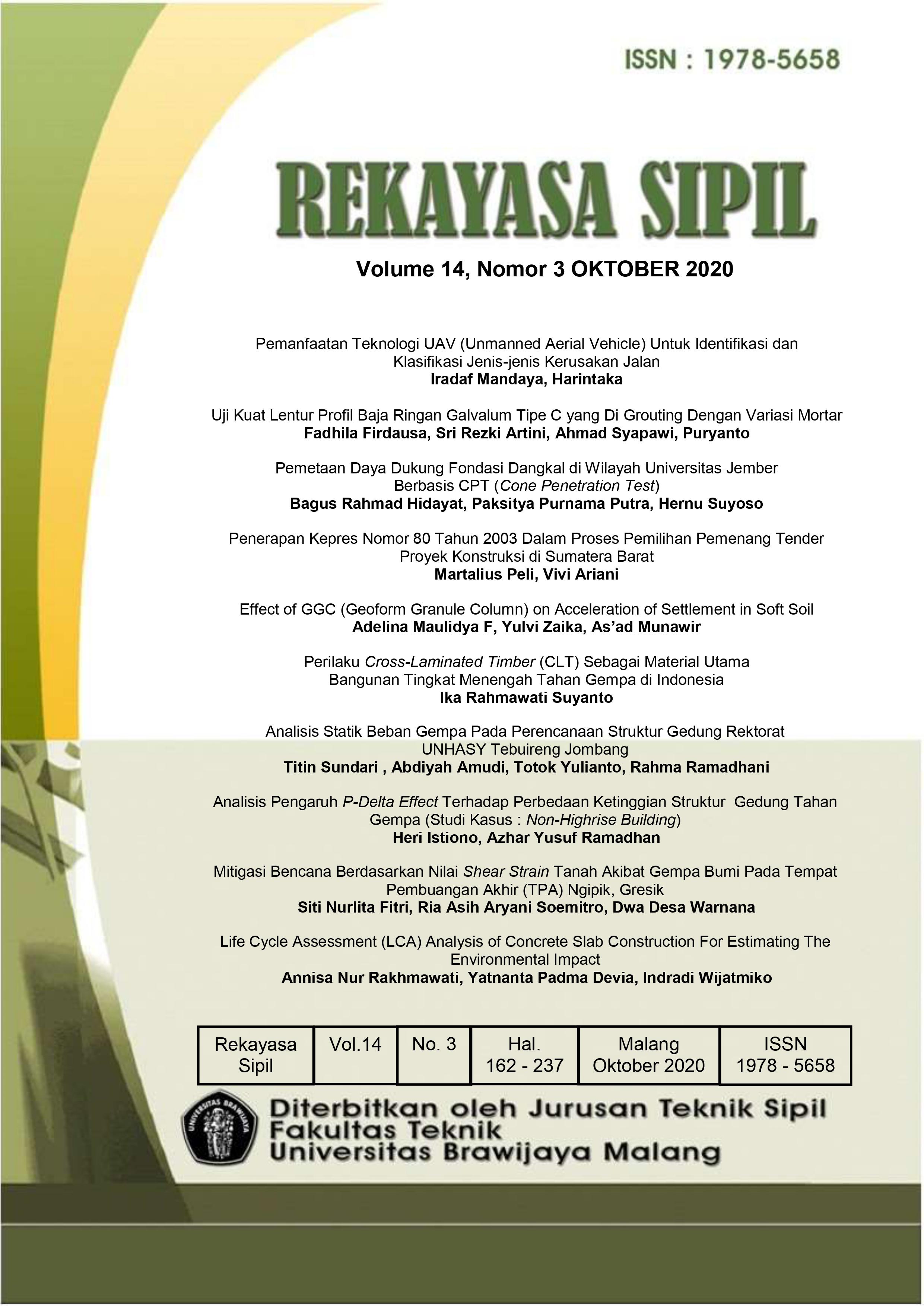 Downloads
License
Copyright (c) 2020 Rekayasa Sipil
This work is licensed under a Creative Commons Attribution-NonCommercial 4.0 International License.

This journal is licensed under a Creative Commons Attribution 4.0 International License