PERILAKU CROSS-LAMINATED TIMBER (CLT) SEBAGAI MATERIAL UTAMA BANGUNAN TINGKAT MENENGAH TAHAN GEMPA DI INDONESIA
Keywords:
Cross-laminated timber, seismic resistant building, wooden shearwall
Abstract
Cross-laminated timber (CLT) is made up of multilayered timber stacked perpendicularly, which improved the dimensional stability and allowing CLT to has high bearing capacity in its two direction. Despite all the advantages, CLT has not yet gain much attention in Indonesian, especially the utilization in mid-rise building construction. In order to have a better understanding about CLT as main structural element, the behaviour of mid-rise building made of CLT was assessed by running a 3D model of 5-story building by combining building code in Indonesia with CLT parameter from previous researcher as well as recommended adjustment from previous researchers. The research shows that CLT building statisy the allowable parameter for mid-rise building in Indonesia. 
References
Lu, W., Chen X., Peng., & Shen, L. Benchmarking construction waste management performance using big data. Resources, Conservation, and Recycling Journal, v.105, pp 49-58, 2015.
Lehmann, S. Sustainable Construction for Urban Infill Development using Engineered Massive Wood Panel Systems, Sustainibility Journal, v.4, n.10, pp 2707-2742, 2012.
Brandner, R., et al, Cross laminated timber (CLT): overview and development, European Journal of Wood and Wood Products, v. 74, n. 3, pp 331-351, 2016.
Brandon, D. & Dagenais, C. Fire Safety Challenges of Tall Wood Buildings Phase 2: Task 5: Experimental Study of Delamination of Cross Laminated Timber in Fire. Fire Protection Research Foundation.
Julien, F. Manufacturing cross-laminated timber (CLT): technological and economic analysis, report to Quebec Wood Export Bureau. Quebec. 2010
SNI 1726:2012 Tata cara perencanaan ketahanan gempa untuk struktur bangunan gedung dan non-gedung
Pei, S., Lindt, J. W., & Popovski, M. Approximate R-Factor for Cross-Laminated Timber Walls in Multisroty Buildings. Journal of Architectural Engineering, ASCE, 19(4), 245-255, 2013
Dujic, B. Shear capacity of Cross-Laminated Wooden Walls. Doctoral dissertation: University of Llubjlana, Slovenia, 2006.
Maldonado, S. A., & Chui, Y. H. Vibrational Performance of Cross-Laminated Timber, 2012
Okabe, M., Yasumura, M. Kobayashi, K., Fujita, K. Prediction of bending stiffness and moment carrying capacity of sugi cross-laminated timber. Journal of Wood Science, 60(1).
Yasumura, M., Kenji, K.,Okabe, M., Miyake, T., & Matsumoto, K. Full scale tests and numerical analysis of Low-Rise CLT Structures under Lateral Loading. J. Struct. Eng 142 (4), 2015
Sni 1727:2013 Beban minimum untuk perancangan bangunan gedung dan struktur lain
Gagnon, S., Popovski, M., & Pirvu, C. CLT Handbook Canadian Edition. Quebec: FPInnovations, 2011
Gavric, I. Seismic Behaviour of Cross-Laminated Timber for Buildings. Dissertation University of Trieste Italy, 2009.
SNI 7973:2013 Spesifikasi desain untuk konstruksi kayu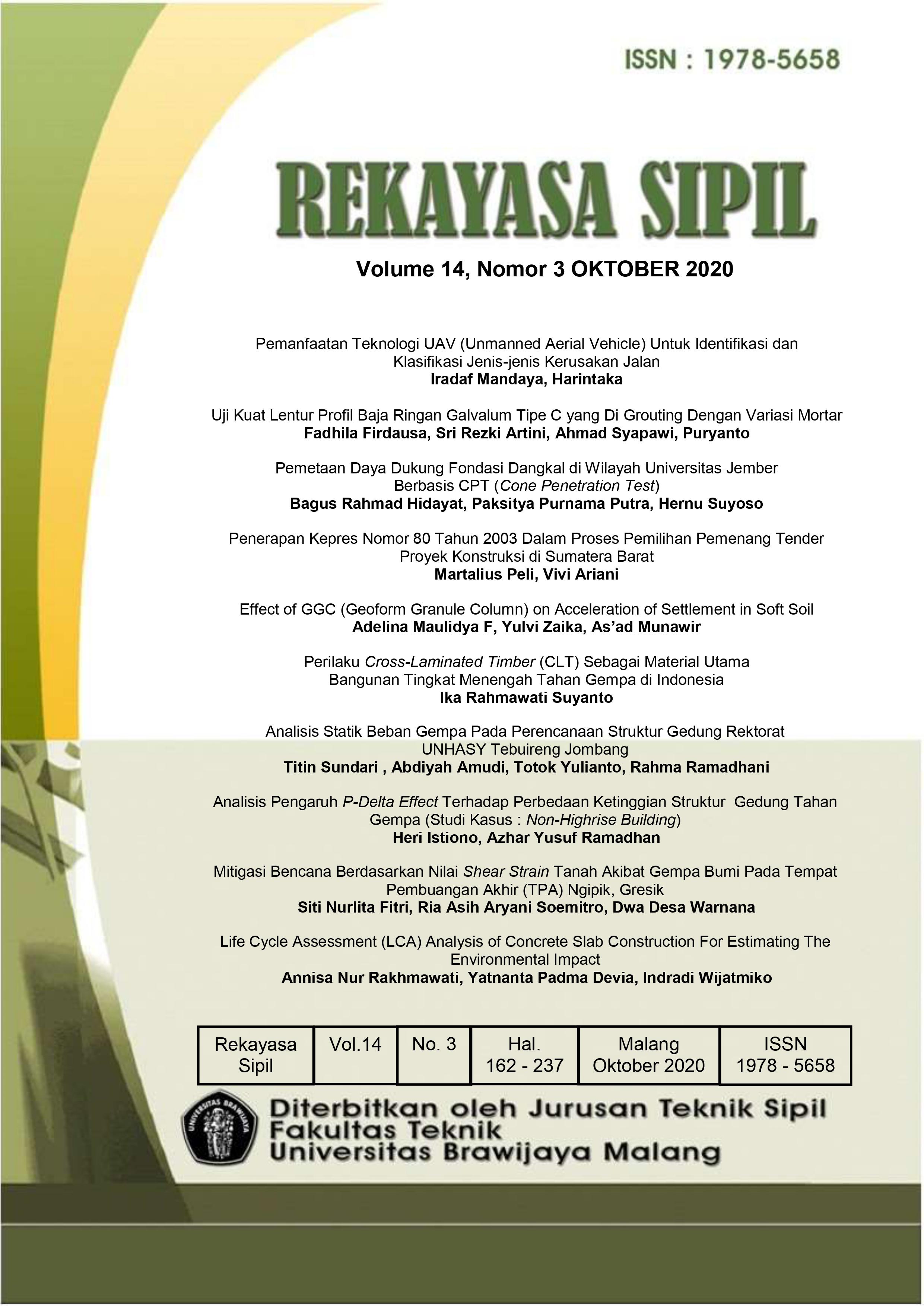 Downloads
License
Copyright (c) 2020 Rekayasa Sipil
This work is licensed under a Creative Commons Attribution-NonCommercial 4.0 International License.

This journal is licensed under a Creative Commons Attribution 4.0 International License