Efek Larutan Asam Terhadap Kuat Tekan dan Penyerapan Mortar dengan Bahan Tambah Fly Ash
Keywords:
absorption, acid Solution, compressive strength, fly ash
Abstract
Mortar is a mixture consisting of fine aggregate and adhesive. This mortar serves as a filler or binder in the constituent parts of a construction, both non-structural and structural. In this study, the test object measuring 5x5x5 cm was used by using fly ash added from the PLTU Rum by 20% of the cement weight. This study aims to clarify the use of fly ash from PLTU Rum as an additive in mortar mixtures. The test object is immersed in an acid solution with a concentration of 2%, the duration of immersion is 30, 60 and 90 days. The addition of fly ash to the mortar mixture can increase the compressive strength by 23.32%. The longer the contact with the acid solution will decrease the compressive strength and increase the absorption of the mortar.
References
K. P. Kumar and R. Radhakrishna, "Strength and Workability of Cement Mortar With Manufactured Sand,†Int. J. Res. Eng. Technol., vol. 04, no. 13, pp. 186–189, 2015.
B. Mathew, F. Christy, B. Joseph, and A. P, "an Experimental Study on Properties of Cement Mortar By Replacement of Natural Sand With Manufactured Sand,†Int. J. Civ. Eng. Technol., vol. 7, no. 4, pp. 483–490, 2016.
D. Kabir, I. Imran, and M. A. Sultan, "Penggunaan Fly Ash Sebagai Bahan Tambah pada Proses Pembuatan Mortar Dengan Bahan Dasar Pasir Apung,†Techno, vol. 7, no. 2, pp. 157–164, 2018.
M. W. Tjaronge, M. A. Caronge, and N. Basir, "Karakteristik Mortar Berbahan Limbah Plastik Polypropylene (PP) dan Abu Sekam Padi,†in Seminar Nasional Tahunan VI, 2019, pp. 1–9.
R. Yanuari, M. Ikrammullah, D. Septari, M. F. Wijaya, and M. Olivia, "Studi Parametrik Mortar Geopolimer Hybrid Abu Sawit (Palm Oil Fuel Ash/POFA),†Rekayasa Sipil, vol. 14, no. 2, pp. 83–90, 2020.
M. Masdiana, S. Sulha, B. Mursidi, S. Machmud, M. . Prasetia, and A. . Lewikinta, "AStudi Pengaruh Limbah Plastik Sebagai Subtitusi Agregat Halus Terhadap Kuat Tekan Mortar,†Rekayasa Sipil, vol. 15, no. 3, pp. 222–227, 2021.
K. K. Al-zboon, "Effect of volcanic tuff on the characteristics of cement mortar ( Efeito de tufos vulcânicos nas características da argamassa de concreto ),†Eur. J. Environ. Civ. Eng., vol. 60, no. August, pp. 279–284, 2014.
F. Darwis, I. Banggu, and M. A. Sultan, "The Effects Of Volcanic Ash On The Strength And Permeability Mortar,†in International Conference on Science and Technology (ICST 2018), 2018, vol. 1, no. 1, pp. 372–375.
N. H. Haryanti, "Uji Abu Terbang PLTU Asam Asam Sebagai Bahan Pembuatan Bata Ringan,†J. Fis. FLUX, vol. 11, no. 2, pp. 114–124, 2014.
M. A. Karijanto, A. R. Wijaya, and H. Sugiharto, "Pengaruh Penambahan Fly Ash Terhadap Kuat Tekan Dan Tarik Perekat Bata Ringan,†Dimens. Pratama Tek. Sipil, vol. 2, no. 2, pp. 1–8, 2013.
A. Jain and N. Islam, "Use Of Flyash as Partial Replacement Of Sand In Cement,†Int. J. Innov. Res. Sci. Eng. Technol., vol. 2, no. 5, pp. 1323–1332, 2013.
Y. P. Wijaya and J. J. Ekaputri, "Paving Geopolimer dari Coal Ash Limbah Pabrik,†Jur. Tek. Sipil FTSP ITS, Surabaya, pp. 33–42, 2014.
W. W. A. Zailani, M. M. A. B. Abdullah, M. R. R. M. A. Zainol, R. A. Razak, and M. F. M. Tahir, "Compressive and bonding strength of fly ash based geopolymer mortar,†in AIP Conference Proceedings, 2017, vol. 1887, no. September, pp. 1–7.
N. Rizaldi, A. I. Rusadi, G. Wibisono, E. Saputra, and M. Olivia, "Studi Parametrik Kuat Tekan Mortar Geopolimer Abu Terbang Parametric Study of Compressive Strength Fly Ash Geopololymer Mortar,†Media Tek. Sipil, vol. 18, no. 2, pp. 113–121, 2020.
M. A. Sultan, I. Imran, and M. Faujan, "Pengaruh Rendaman Asam Terhadap Kuat Tekan Beton Dengan Penambahan Fly Ash,†Teras J., vol. 11, no. 1, pp. 61–68, 2021.
R. Renaldo, P. Antoni, and D. Hardjito, "Ketahanan di lingkungan asam, kuat tekan dan penyusutan beton dengan 100% fly ash tanpa aktivator,†J. Dimens. Pratama Tek. Sipil, vol. 6, no. 1, pp. 1–7, 2017.
M. A. Sultan, R. Hakim, K. Kurniawan, and F. G. Madjid, "Efek Penambahan Fly Ash Terhadap Kuat Tekan Mortar,†CLAPEYRON J. Ilm. Tek. Sipil, vol. 2, no. 1, pp. 19–26, 2021.
SNI 6882, "Spesifikasi Mortar untuk Pekerjaan Unit Pasangan,†Badan Standaridisai Nas., 2014.
K. Wenda, S. Zuraidah, and B. Hastono, "Pengaruh Variasi Komposisi Campuran Mortar Terhadap Kuat Tekan,†Ge-STRAM J. Perenc. dan Rekayasa Sipil, vol. 1, no. 1, p. 8, 2018.
ASTM C780-17, Standar Test Method for Preconstruction and Construction Evaluation of Mortars for Plain and Reinforced Unit Masonry. 2017, pp. 2–5.
SNI 2847, "Persyaratan Beton Struktural untuk Bangunan Gedung,†Badan Stand. Indones., p. , 2013.
ASTM C618-05, Standard Specification for Coal Fly Ash and Raw or Calcined Natural Pozzolan for Use in Concrete. 2005.
SNI 03-6825, Metode Pengujian Kekuatan Tekan Mortar Semen Portland Untuk Pekerjaan Sipil. 2002, p. 13.
ASTM C642-97, Standard Test Method for Density , Absorption , and Voids in Hardened Concrete, no. March. 1997.
C. Zheng, Z. Liu, J. Xu, X. Li, and Y. Yao, "Compressive strength and microstructure of carbon nanotubes–fly ash cement composites,†Mater. Sci. Eng. A, vol. 527, no. 4–5, pp. 1063–1067, 2010.
S. Zheng, L. Niu, P. Pei, and J. Dong, "Mechanical behavior of brick masonry in an acidic atmospheric environment,†Materials (Basel)., vol. 12, no. 7, pp. 1–24, 2019.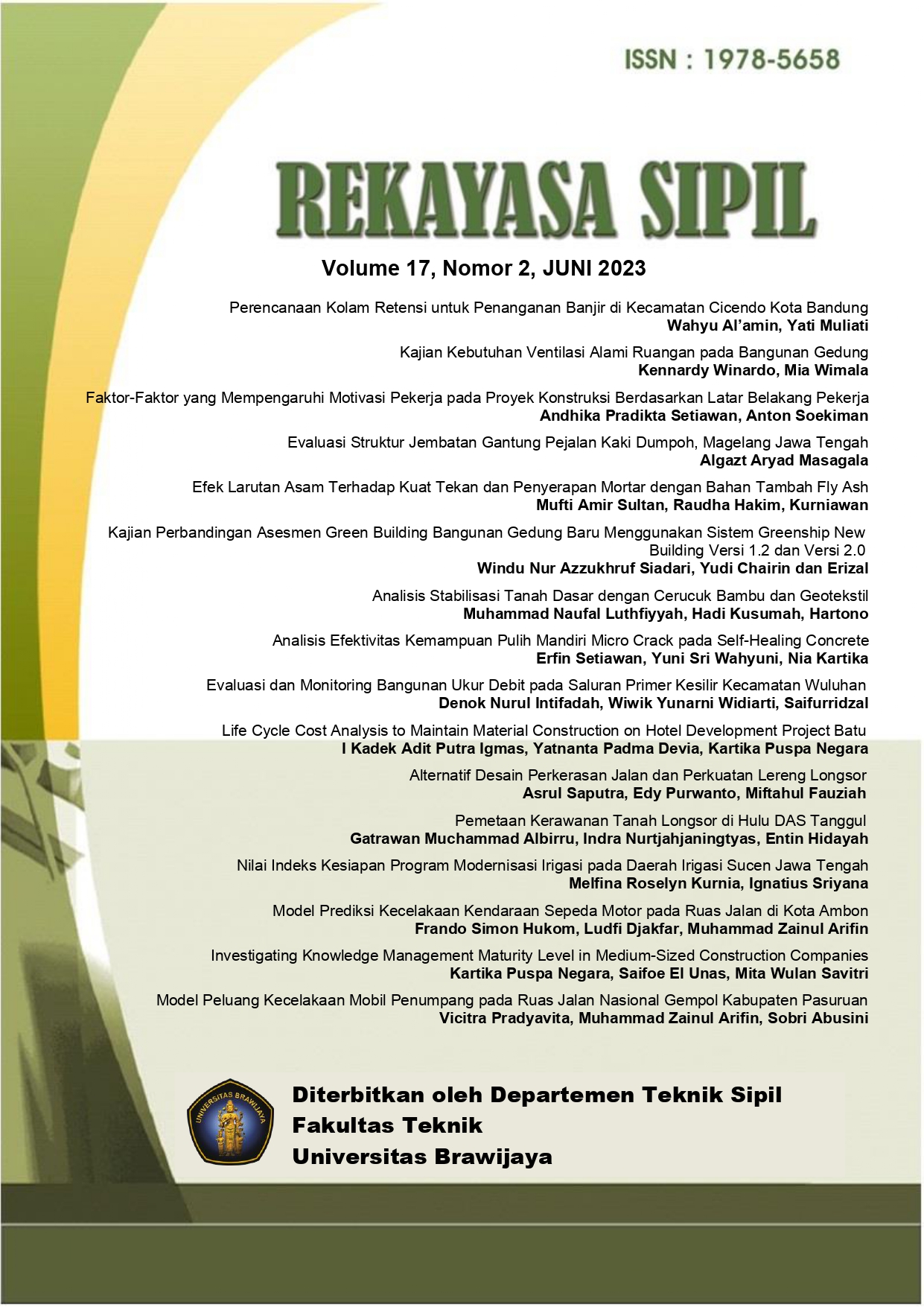 Downloads
License
Copyright (c) 2023 Rekayasa Sipil
This work is licensed under a Creative Commons Attribution-NonCommercial 4.0 International License.

This journal is licensed under a Creative Commons Attribution 4.0 International License