THE EFFECT OF THE USE PREFABRICATED VERTICAL DRAIN (PVD) ON SOFT SOIL CONSTRUCTION OF BANDUNG CITY ROAD WITH FINITE ELEMENT ANALYSIS
Keywords:
Finite Element Analysis, Prefabricated Vertical Drain, Soft Soil
Abstract
Soft soil has more water and air content than solid soil particles, so it has a large settlement and soil consolidation lasts longer. Soil improvement will be able to minimize the settlement and consolidation process by adding preloading PVD combination. The effect of PVD installation and preloading is analyzed using Finite element analysis. An equivalence between plane strain and axisymmetric is made to obtain a 2D finite element analysis that is closer to field conditions. The equivalent equation between axisymmetric to plane strain has been proposed by the Indraratna Method. This study aims to determine the stress-strain behavior, pore water pressure, and stability in the use of PVD as well as the effects of smear zone. The result of the analysis is the greater the permeability value of the disturbed smear zone, the smaller the degree of total consolidation that occurs. The degree of total consolidation is proportional to the magnitude of the settlement that occurs over a certain period of time. Therefore, if the settlement is greater, the value of the degree of total consolidation will follow.
References
Bergado, et al. 1994 Improvement Techniques Of Soft Ground in Subsiding and Lowland environment. Balkema, Netherlands.
Hardiyatmo, HC (1992). "Soil Mechanics I." PT. Gramedia Pustaka Utama, Jakarta.
Hausman, MR (1990). " Engineering Principles of Ground Modification.†MC Graw-Hill, MC Graw – Hill Publishing Company.
Heru, S. (2000). " Finite Element Method Application for Linear Static Structural Analysis with MSC/Nastrari Program. PAPER Universitas Negeri Malang
Bergado, DT, Anderson, LR, Miura, N. & Balasubramaniam. USA (1996). Soft Ground Improvement. American Society of Civil Engineers.
Indraratna, B., Sathananthan, I., Rujikiatkamjom, C., Balasubramaniam, AS (2005).â€Analytical and Numerical Modeling of Soft Soil Stabilized by Prefabricated Vertical Drains Incorporating Vacuum Preloading.†International Journal of Geomechanics, ASCE, 5(2): 114-124.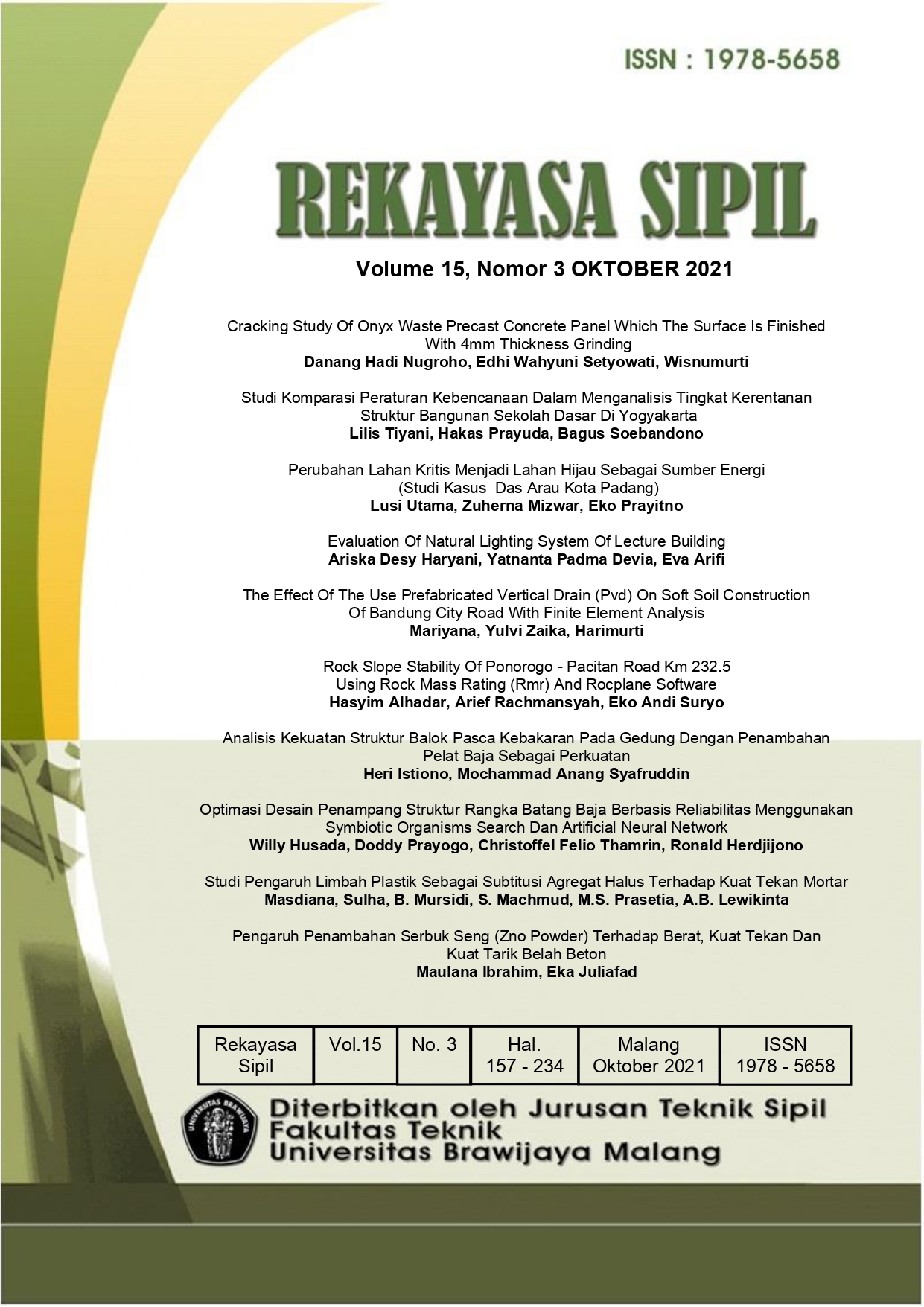 Downloads
License
Copyright (c) 2021 Rekayasa Sipil
This work is licensed under a Creative Commons Attribution-NonCommercial 4.0 International License.

This journal is licensed under a Creative Commons Attribution 4.0 International License