Evaluation of Natural Lighting System of Lecture Building
Keywords:
Ecotect software, natural lighting, visual comfort,
Abstract
Visual comfort is one of the most important things that building need. A building with a proper passive design obtains fulfill the users visual comfort through natural lighting  on the other hand, a passive design that is less precise always requires energy to achieve the users visual comfort. Lecture building is one of the buildings that is effectively used 8 hours a day and 5 days on a week. The high operating hours cause visual comfort in the building becomes very important. The purpose of this study is to determine the performance of the building passive design in terms of lighting  to comprehend various visual problems in the building. The method used in this research is quantitative comparative by comparing the value of  building lighting. Through the results of field measurements, building modeling simulations with Ecotect software, and SNI 03-6197-2000 parameter  several problems were found in the building's natural lighting system such as inadequacy of lighting on the facade with a southwest orientation, enormous lighting on the facade with a northeast orientation, uneven lighting causing various visual discomforts.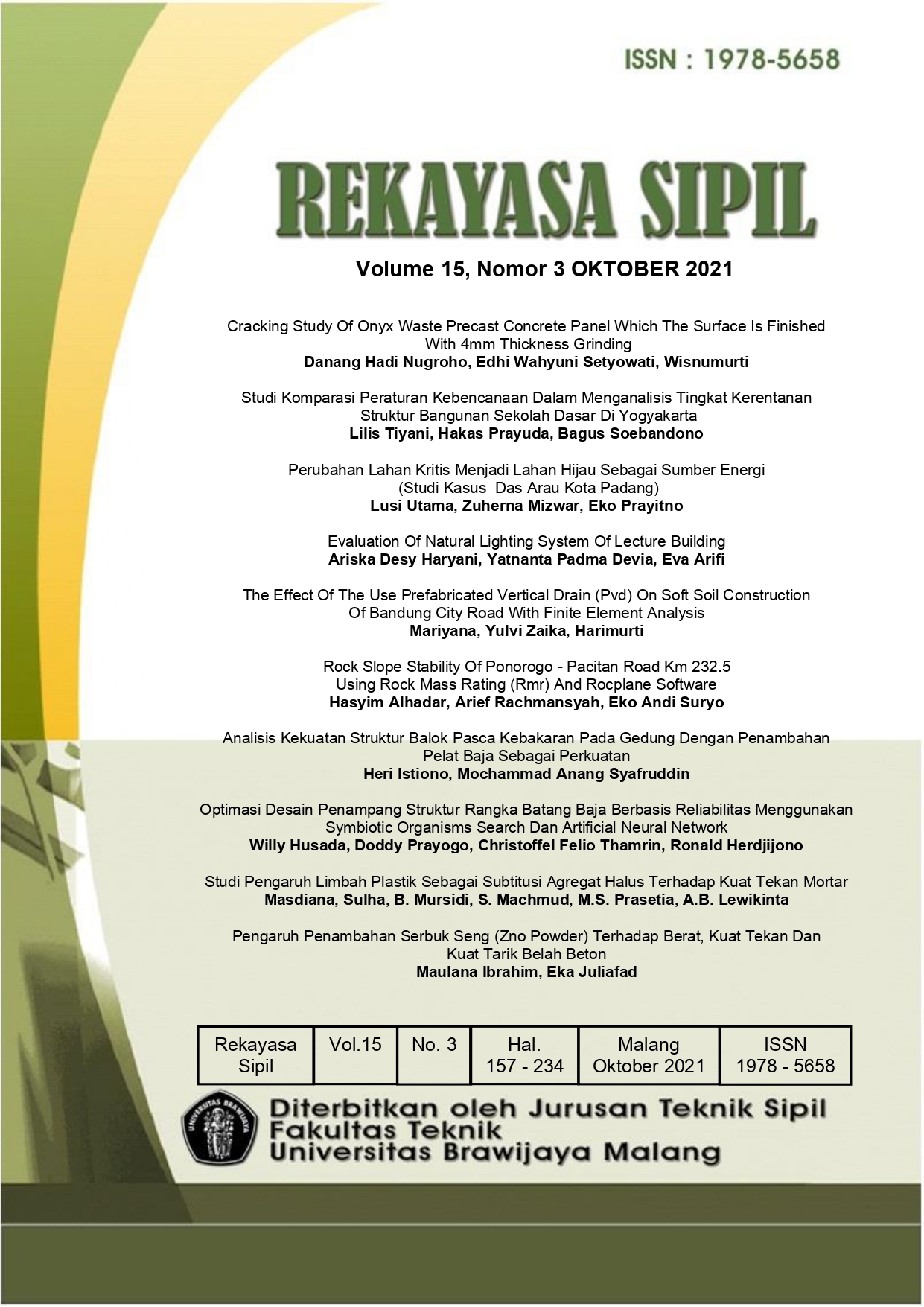 Downloads
How to Cite
Haryani, A. D., Devia, Y. P., & Arifi, E. (2021). Evaluation of Natural Lighting System of Lecture Building. Rekayasa Sipil, 15(3), pp.185–191. https://doi.org/10.21776/ub.rekayasasipil.2021.015.03.4
License
Copyright (c) 2021 Rekayasa Sipil
This work is licensed under a Creative Commons Attribution-NonCommercial 4.0 International License.

This journal is licensed under a Creative Commons Attribution 4.0 International License