Retarding Basin Design As Flood Countermeasures at Cicendo Bandung City
Keywords:
flood, retarding basin
Abstract
The current solution Bandung City Government do to avoiding flood was building the retarding basin. The purpose of this research was to plan the retention basin's discharge, volume and area. This research was conducted on Bima Street, Cicendo which is drained by Citepus River. The research data includes rainfall data from five rain posts, maps and existing river conditions. The analysis contains catchment area made from ArcGis program which result are 40 km2. Hydrological analysis produces the planned rain discharge for 100 years return period which is 20,22658 m3/s. Hydraulics analysis which is finding the discharge river existing. Basin discharge acquired from differences between rain discharge and river discharge then plan for inlet and outlet doors. Total capacity of retarding basin was 4360,5 m3. Inlet and outlet doors are planned each two doors with 2 meters width and 1 meter height.
References
Kementerian Pekerjaan Umum, Kamus Istilah Bidang Pekerjaan Umum, Jakarta, 2009 : 137.
Kementerian Pekerjaan Umum, Tata Cara Perencanaan Kolam Detensi, Kolam Retensi, dan Sistem Polder, (Vol. I D), Jakarta, 2012 : 108-148.
Ibrahim, I., Muliati, Y., dan Madrapriya, F., Analisis Penentuan Debit dan Muka Air Rencana Bagi Perencanaan Dermaga dan Alur Pelayaran Batubara di Sungai Eilanden, Jurnal Online RekaRacana, Volume 3, 2016 : 95-104.
Badan Standardisasi Nasional, SNI 2415 Tata Cara Perhitungan Debit Banjir Rencana, Jakarta, 2016 : 1-79.
Triatmodjo, B., Hidraulika II, Yogyakarta, 1993.
Wijatmiko, I., Anwar, R., Pudyono, Amrullah, U., Pemanfaatan Sistem Informasi Geografis (SIG) Dalam Perhitungan Debit Limpasan di Das Kamoning Kabupaten Sampang, Rekayasa Sipil, Volume 10, 2016 : 82-98.
Florince, Arfaini, N., dan Adha, I., Studi Kolam Retensi sebagai Upaya Pengendalian Banjir Sungai Way Simpur Kelurahan Palapa Kecamatan Tanjung Karang Pusat, Journal Rekayasa Sipil dan Desain (JRRSD), Volume 3, 2015 : 507-520.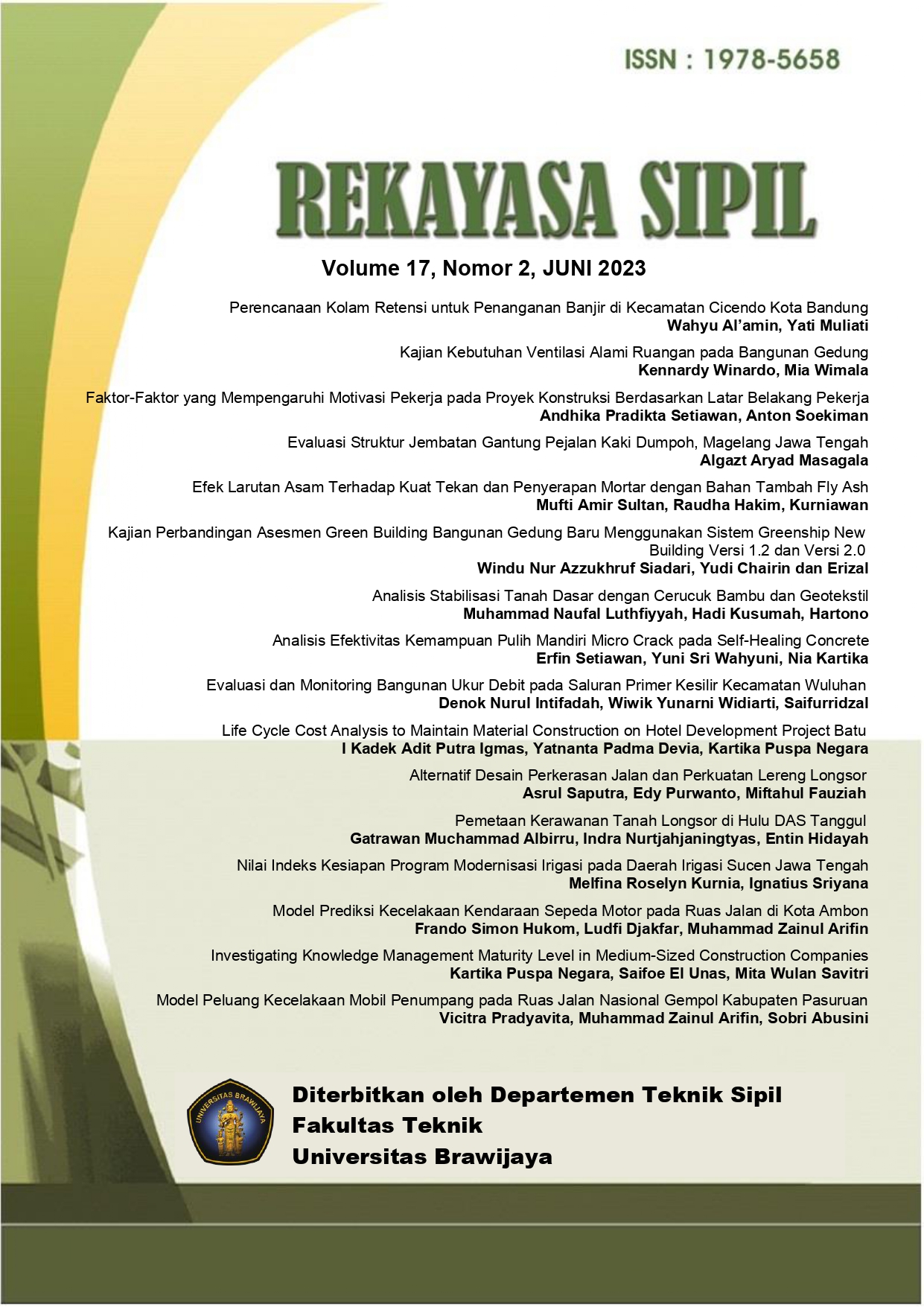 Downloads
How to Cite
Al'amin, W., & Muliati, Y. (2023). Retarding Basin Design As Flood Countermeasures at Cicendo Bandung City. Rekayasa Sipil, 17(2), 115–121. https://doi.org/10.21776/ub.rekayasasipil.2023.017.02.1
License
Copyright (c) 2023 Rekayasa Sipil
This work is licensed under a Creative Commons Attribution-NonCommercial 4.0 International License.

This journal is licensed under a Creative Commons Attribution 4.0 International License