Analisis Pengaruh Panjang dan Bentuk Fiber Kaleng Bekas Terhadap Kuat Lentur dan Lebar Retak Balok Beton Bertulang
Keywords:
beton fiber, kuat lentur, lebar retak, kaleng bekas, pilin
Abstract
Pemanfaatan limbah sebagai material konstruksi merupakan salah satu inovasi dan solusi untuk mengurangi limbah. Pemanfaatan material limbah tersebut tidak hanya untuk mengtasi limbah tetapi juga untuk menghasilkan material konstruksi yang kuat dan bersifat green building. Salah satu limbah yang dapat dimanfaatkan dan banyak ditemukan di lingkungan sekitar adalah kaleng kemasan baik untuk minuman maupun makanan. Kaleng bekas kemasan merupakan material yang dapat didaur ulang dan dimanfaatkan kembali. Dengan menemukan manfaat lain dari kaleng bekas tentu akan meningkatkan nilai ekonomi dan fungsi dari kaleng bekas sehingga masyarakat dapat melihat sisi dan nilai lain dari kaleng bekas. Kaleng bekas yang telah dipotong-potong sehingga menyerupai serat/fiber dapat menjadi material fiber pada beton bertulang. Pada penelitian ini kaleng bekas dipotong sehingga dimensi nya menjadi 2 x 40 mm (polos dan pilin) dan 2 x 80 mm (polos). Fiber tersebut ditambahkan sebanyak 10% dari volume benda uji dan kemudian dilakukan uji lentur dan pengamatan lebar retak. Beton fiber memiliki kelemahan yaitu lemahnya ikatan antara fiber dengan semen sehingga dilakukan penelitian mengenai pengaruh panjang dan bentuk fiber kaleng bekas terhadap kuat lentur dan lebar retak beton betulang. Variasi fiber 80 mm polos memiliki bidang geser yang lebih luas daripada variasi lainnya sehingga memiliki ikatan fiber semen yang lebih baik dan dapat meningkatkan kuat lentur dan mengurangi retakan yang terjadi.
References
Rustendi, Iwan. Pemanfaatan Limbah Kaleng
Bekas Kemasan Sebagai Campuran Adukan Beton Untuk Meningkatkan Karakteristik Beton. Teodolita Vol.14, No.2 (56-70). Desember 2013
Akhund, Muhammad Akram; Abdullah Sannd; Urossa Memon; Shamotra Jai Oad. Utilization of Soft Drink Tins as Fiber Reinforcement in Concrete. Engineering Science and Technology International Research Journal. Vol.1, No.2 (47-52). Juni 2017
Wijatmiko, Indradi; Ari Wibowo; Christin Remayanti Nainggolan. Strength Characteristics of Wasted Soft Drinks Can as Fiber Reinforcement in Lightweight Concrete. International Journal of GEOMATE, Vol.17, Issue 60 (31-36). August 2019
Ilya, J, Chea C. C. Mechanical Behaviour of Fibre Reinforced Concrete Using Soft-Drink Can. GCoMSE2017. IOP Conf. Series : Materials Science and Engineering 271. 2019
Zaidi, Saiyed Faraz Abbas, Mohd. Afaque Khan, Abhishek Kumar. Fiber Reinforced Concrete Using Waste Material : A Review. International Research Journal of Engineering and Technology. Volume 03. Issue 03 (534-536). March 2016.
Abdalkader A, O. Elzaroug, F. Abubaker. Flexural Cracking Behavior of Steel Fiber Reinforced Concrete Beams. International Journal of Scientific and Technology Research, Volume 6, iSsue 08. August 2017.
C. Manaswiwni, Vasu Deva. Fibre Reinforced Concrete from Industrial Waste-A Review. International Journal of Innovative Research in Science, Engineering and Technology. Vol.4, Issue 12 (11751-11758). December 2015.
Ravinder, K. Strength Characteristic of Coca-Cola Tin Waste as Fibres in Concrete. International Journal of Advanced Research Foundation, Volume 3, Issue 2. February 2016.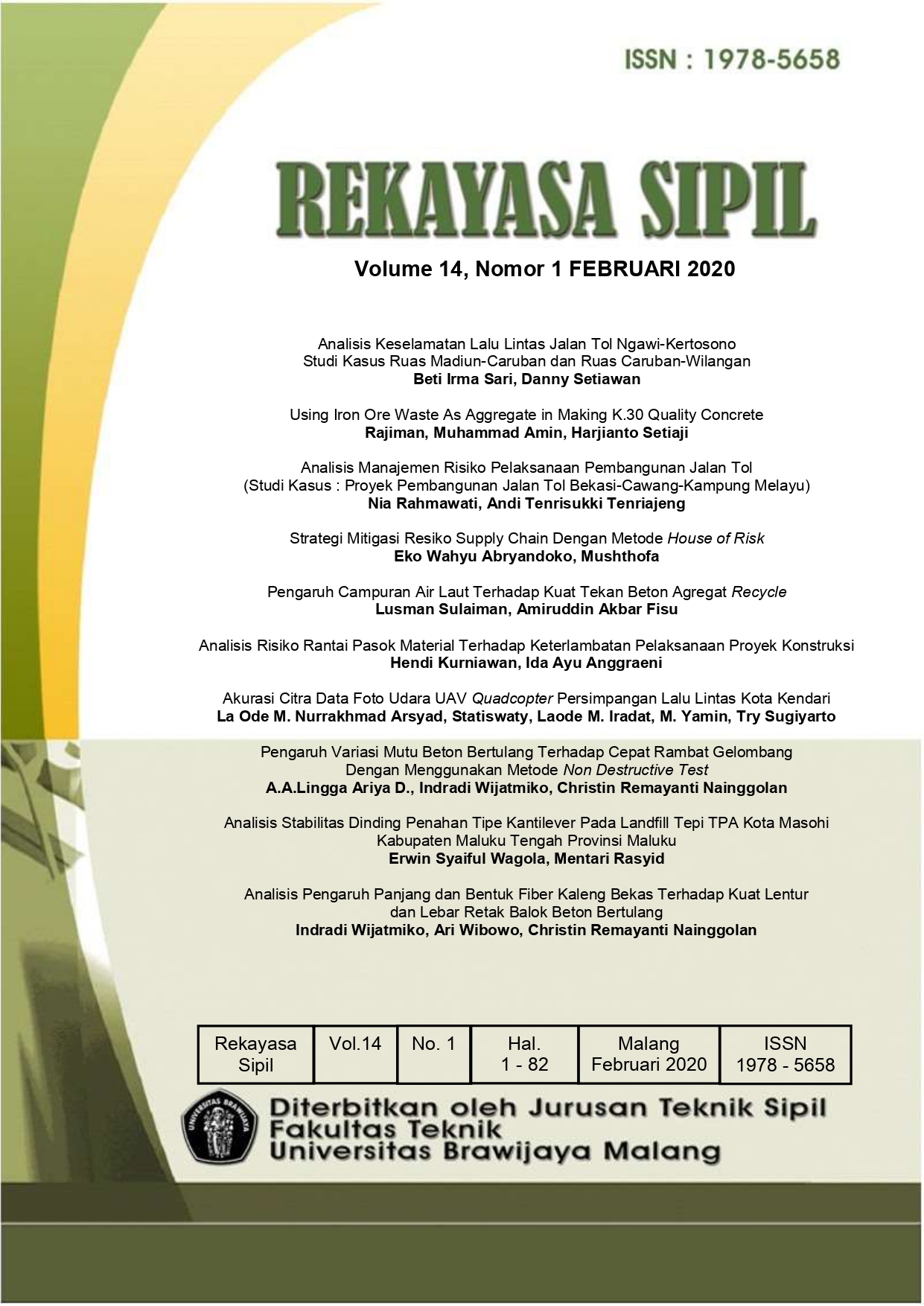 Downloads
How to Cite
Wijatmiko, I., Wibowo, A., & Nainggolan, C. R. (2020). Analisis Pengaruh Panjang dan Bentuk Fiber Kaleng Bekas Terhadap Kuat Lentur dan Lebar Retak Balok Beton Bertulang. Rekayasa Sipil, 14(1), pp.75 – 82. https://doi.org/10.21776/ub.rekayasasipil.2020.014.01.10
License
Copyright (c) 2020 Rekayasa Sipil
This work is licensed under a Creative Commons Attribution-NonCommercial 4.0 International License.

This journal is licensed under a Creative Commons Attribution 4.0 International License