UJI KUAT LENTUR PROFIL BAJA RINGAN GALVALUM TIPE C YANG DI GROUTING DENGAN VARIASI MORTAR
Keywords:
Grouting, Mortar, Buckling, Cold Form Steel
Abstract
Cold form steel is one type of material that is currently experiencing very rapid development. The advantages of the using cold form steel are so many, one of which is the light weight and high quality steel. This is an added value for cold form steel. But one of the weakness in cold form steel profile is the buckling effect. So that additional fillers are needed so that cold form steel has resistance with buckling effect. Mortar is a filler that is often used in construction. Therefore this research will be discuss the analysis of grouting mortar to prevent buckling effect in the cold form steel profile. And then the grouting mortar that will be used uses a variation of cement to sand as big as 1:1, 1:2, 1:3 and 1:4. From the results of the compressive strength of the mortar obtained compressive strength of 1: 1 has the greatest compressive strength of 30 Mpa. And then for the flexural test, the steel beam with mortar variation 1: 1 has the greatest resistance of 9558 Newton, with the smallest deflection value of 8 mm and the greatest stress of 19.47 Mpa, when compared to steel beams with variations of 1: 2, 1: 3, 1: 4 and steel beams without fillers.  
References
Agus Setiawan, Perencanaan Struktur Baja Dengan Metode LRFD, Jakarta, 2008:18
Felisa Octaviani, dkk., Pengujian Kuat Tekan Mortar dan Beton Ringan Dengan MenggunakanAgregat Ringan Batu Apung dan Abu Sekam Padi Sebagai Substitusi Parsial Semen, Vol. 4, Jurnal Sipil Statik, 2016:2337-6732.
Andi M.K., dkk., Investigasi Eksperimental Perilaku Profil Baja Ringan Berpenampang Persegi Akibat Interaksi Beban Tekan Memusat dan Momen Lentur, Vol 28.1.2013 Majalah Metalurgi, 2013 : 33-48
Kezia Ruus, dkk., Pengaruh Bentuk Badan Profil Baja Ringan Terhadap Kuat Tekan, Vol.5, Jurnal Sipil Statik, 2017: 23376732
Gabriela S.S., dkk., Analisis Kuat Lentur Baja Ringan Dengan Variasi Bentuk Sayap dan Badan Penampang, Vol. 7, Jurnal Sipil Statik, 2019 : 1245-1250.
Badan Standarisasi Nasional, Semen Portland, SNI 15-2049-2004, Indonesia
Badan Standarisasi Nasional, Semen Portland, SNI 15-2049-2004, Indonesia
Badan Standarisasi Nasional, Metode Pengujian Tentang Analisis Saringan Agregat Halus dan Kasar, SNI 03-1968-1990, Indonesia
Badan Standarisasi Nasional, Metode Pengujian Kekuatan Tekan Mortar Semen Portland Untuk Pekerjaan Sipil, SNI 03-6825-2002, Indonesia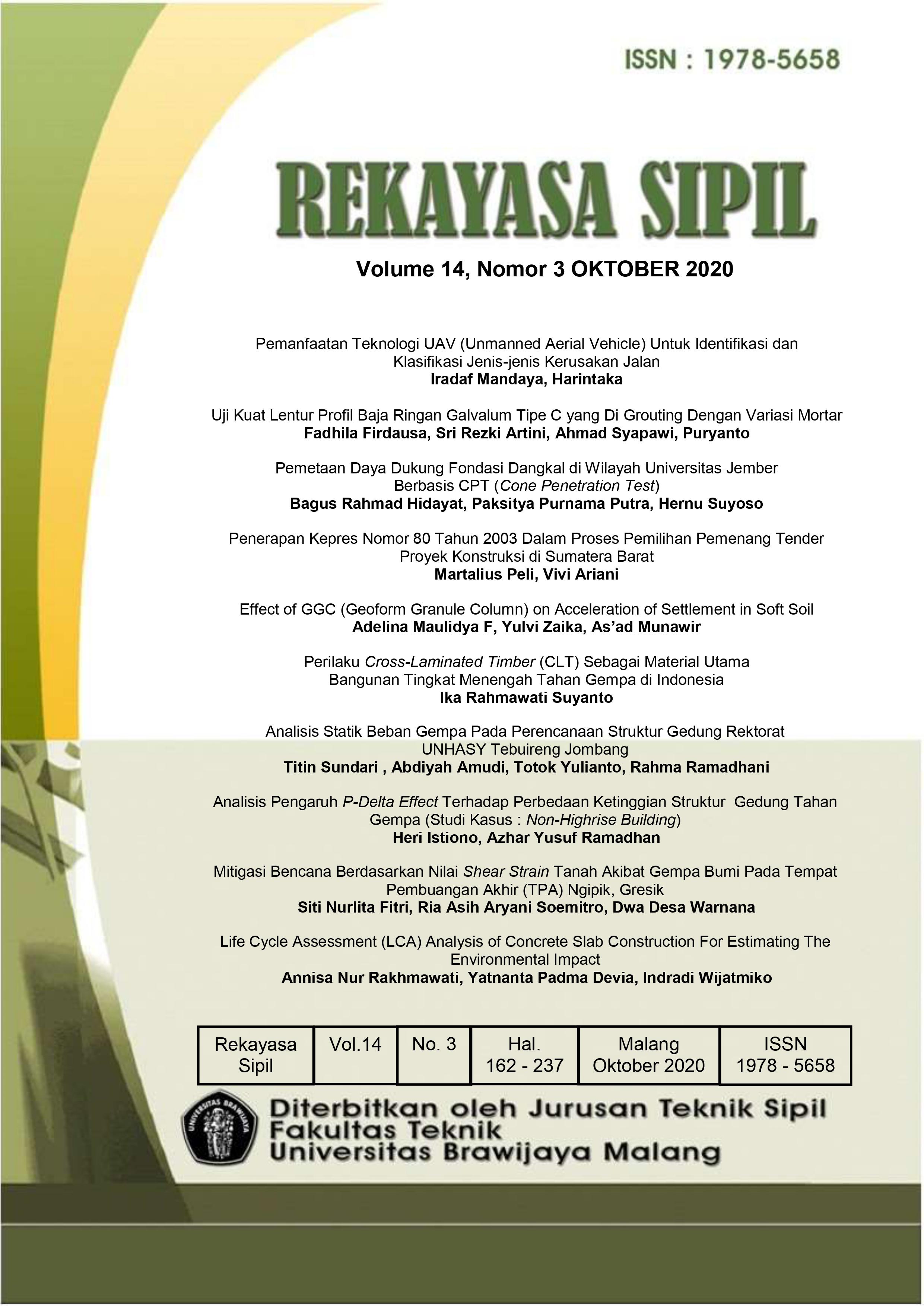 Downloads
License
Copyright (c) 2020 Rekayasa Sipil
This work is licensed under a Creative Commons Attribution-NonCommercial 4.0 International License.

This journal is licensed under a Creative Commons Attribution 4.0 International License