EFFECT OF GGC (GEOFOAM GRANULE COLUMN) ON ACCELERATION OF SETTLEMENT IN SOFT SOIL
Keywords:
Consolidation, equivalence of permeability, GGC, settlement, strength, smear effect, soft soil
Abstract
Soft soils has low bearing capacity and high compressibility whichis potentially damage the structure laid above it.An effort is taken to use EPS beads to form GGC will accelerate of consolidation process. The purpose of study to investigate the influence of density and diameters of GGC against strength and settlement. Triaxial test are conducted to identify the shear strength parameter after consolidation test were done. The equivalence value of permeability (kve) is calculated using the Chai Method (2001) by considering smear effect. Test results showed that the settlement of soft soil in 90 degree consolidation reached in short period of time upon for smallest density and largest diameter of GCC.
References
Zaika Y., Rachmansyah A., Harimurti. 2019. Geotechnical Behaviour of Soft Soil in East Java, Indonesia. The 7th International Conferenceof Euro Asia Civil Engineering Forum. Stuttgart, Germany.
Konsultan Teknik & Advis Penanganan Tanah Lunak pada Jalan Tol Gempol-Pasuruan STA.28+000 s/d 34+000. 2017. Laporan Akhir
Bowles, joseph E. 1989. Sifat-sifat Fisis dan Geoteknis Tanah. Jakarta: Erlangga
Dutta S. et.al (2015). Geosynthetics for Ground Improvement. International Conference on Infrastructure Development for Environmental Conservation and Sustenance. Tamilnadu, India
Liu et.al. 2016. Effect of different mixing ratios of polystyrene pre-puff beads and cement on the mechanical behaviour of lightweight fill. Geotextiles and Geomembranes 24 : 331–338.
S.Selvakumar, B.Soundara. 2019. Swelling behaviour of expansive soils with recycled geofoam granules column inclusion. Geotextiles and Geomembranes 47 : 1–11
Chai et.al. 2001. Simple Method of Modeling PVD-Improved Soil. Journal of Geotechnical and Geoenviormental Engineering. November : 965- 972.
Puspita N., Capri A. 2017. Analisa Penurunan Tanah Lunak dengan Beberapa Metode Konsolidasi pada Proyek Jalan Tol Palindra. Jurnal Penelitian dan Kajian Bidang Teknik Sipil Vol.6; No.1.
Jamulya dan Suratman Woro Suprodjo. 1983. Pengantar Geografi Tanah. Diktat Kuliah. Yogyakarta: Fakultas Geografi UGM.
Cortellazzo G. and Simonini P. 2001. Permeability evaluation and its implications for consolidation analysis of an Italian soft clay deposit. Journal Geotech J. 38: 1166-1176.
Pasaribu T.H. dan Iskandar R. 2018. Analisa Penurunan pada Tanah Lunak Akibat Timbunan. Universitas Sumatera Utara : Medan.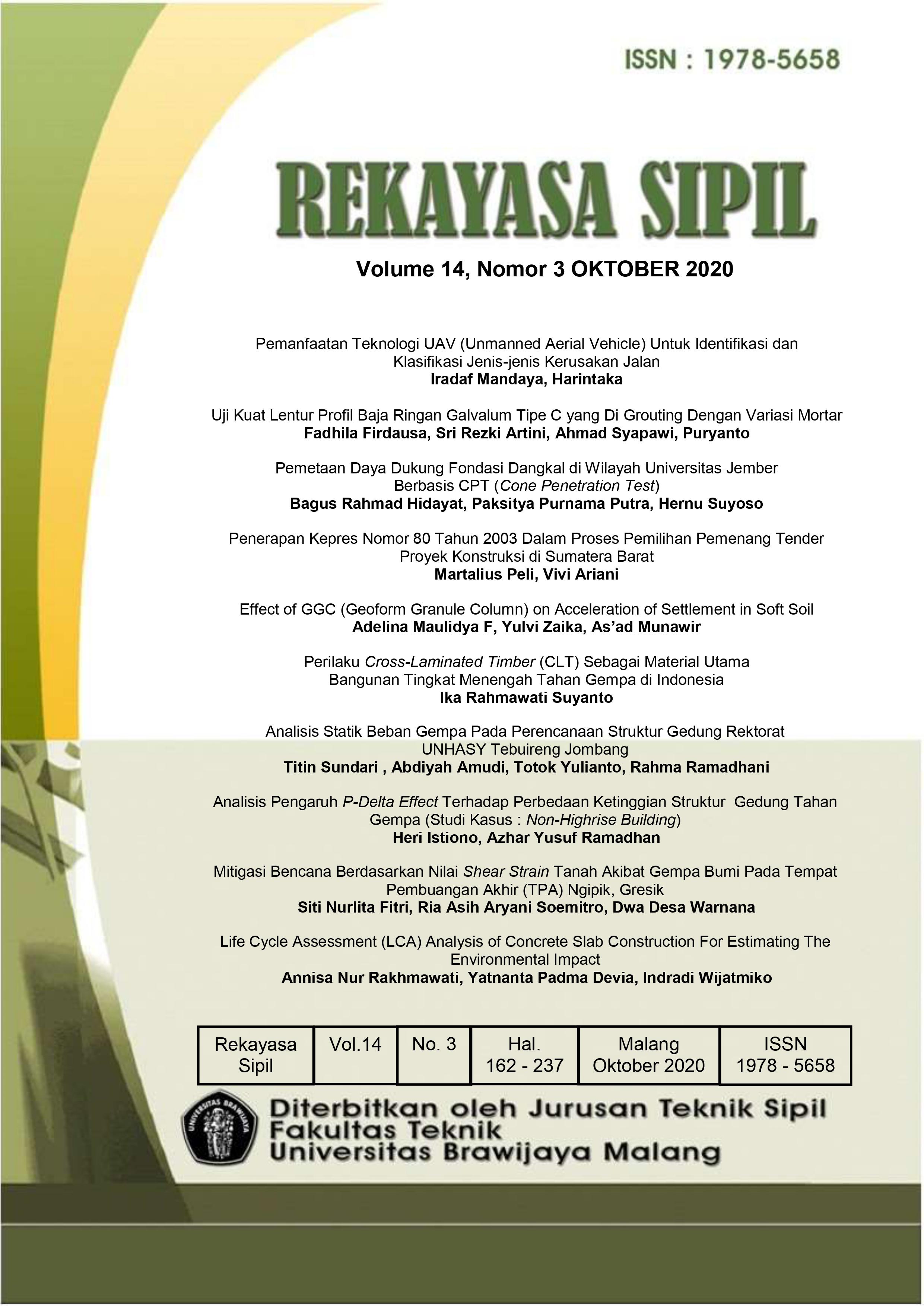 Downloads
How to Cite
Firdaus, A. M., Zaika, Y., & Munawir, A. (2020). EFFECT OF GGC (GEOFOAM GRANULE COLUMN) ON ACCELERATION OF SETTLEMENT IN SOFT SOIL. Rekayasa Sipil, 14(3), pp.194–203. https://doi.org/10.21776/ub.rekayasasipil.2020.014.03.5
License
Copyright (c) 2020 Rekayasa Sipil
This work is licensed under a Creative Commons Attribution-NonCommercial 4.0 International License.

This journal is licensed under a Creative Commons Attribution 4.0 International License