PENERAPAN KEPPRES NOMOR 80 TAHUN 2003 DALAM PROSES PEMILIHAN PEMENANG TENDER PROYEK KONSTRUKSI DI SUMATERA BARAT
Keywords:
Assessment Criteria, Tenders, Presidential Decree No. 80 Republic of Indonesia year 2003
Abstract
Tender is a competition system for selecting contractors who will carry out development activities. The mistake of the tender committee in choosing a contractor will cause losses to the project owner. To avoid that mistake, the tender committee must know the capabilities and quality of the contractor, so an assessment of the capabilities of the contractor (construction service) is needed. This research was conducted only for the tender process of physical work and the questionnaire was given to 50 contractor companies in West Sumatra to determine the weight of seven criteria of the most important assessment process in tender tenders in accordance with Presidential Decree No. 80 Republic of Indonesia year 2003 (Keputusan Presiden No. 80 tahun 2003). 50 questionnaires are distributed with result 43 returned questionnaires showed that the assessment criteria for implementation time had the highest percentege of 19% followed by work methods and experts with a percentege of 17% and subsequently company capital with a percentege of 16%, and working capital received the fourth demand with a percentage of 11%, while the company's experience and ranks last is equipment with a percentege of 10%.
References
Dipohusodo, I. 1996. Manajemem Proyek dan Konstruksi, Jilid 1, Kanisius, Yogyakarta.
Keputusan Presiden Republik Indonesia Nomor 80 Tahun 2003 Tentang Pedoman Pelaksanaan Pengadaan Barang/Jasa Pemerintah.
Donald S. Barrie. 1992, Professional Construction Management (3rd Edition), Publisher: McGraw-Hill Publishing Company.
Suharto, Imam: Manajemen Proyek (Dari konseptual sampai Operasional), Penerbit, Airlangga, edisi kedua, 2016.
Ervianto, Wulfram I Manajemen proyek konstruksi / Wulfram I. Ervianto, Penerbit : Andi, Yogyakarta,2007.
Kuncoro, Agus, S.Sos,S.E., Ak. 2011. Cara Benar Menang Tender Pengadaan
Barang/Jasa Pemerintah (PerPres Nomor 54 tahun 2010). Kawah Media. Jakarta.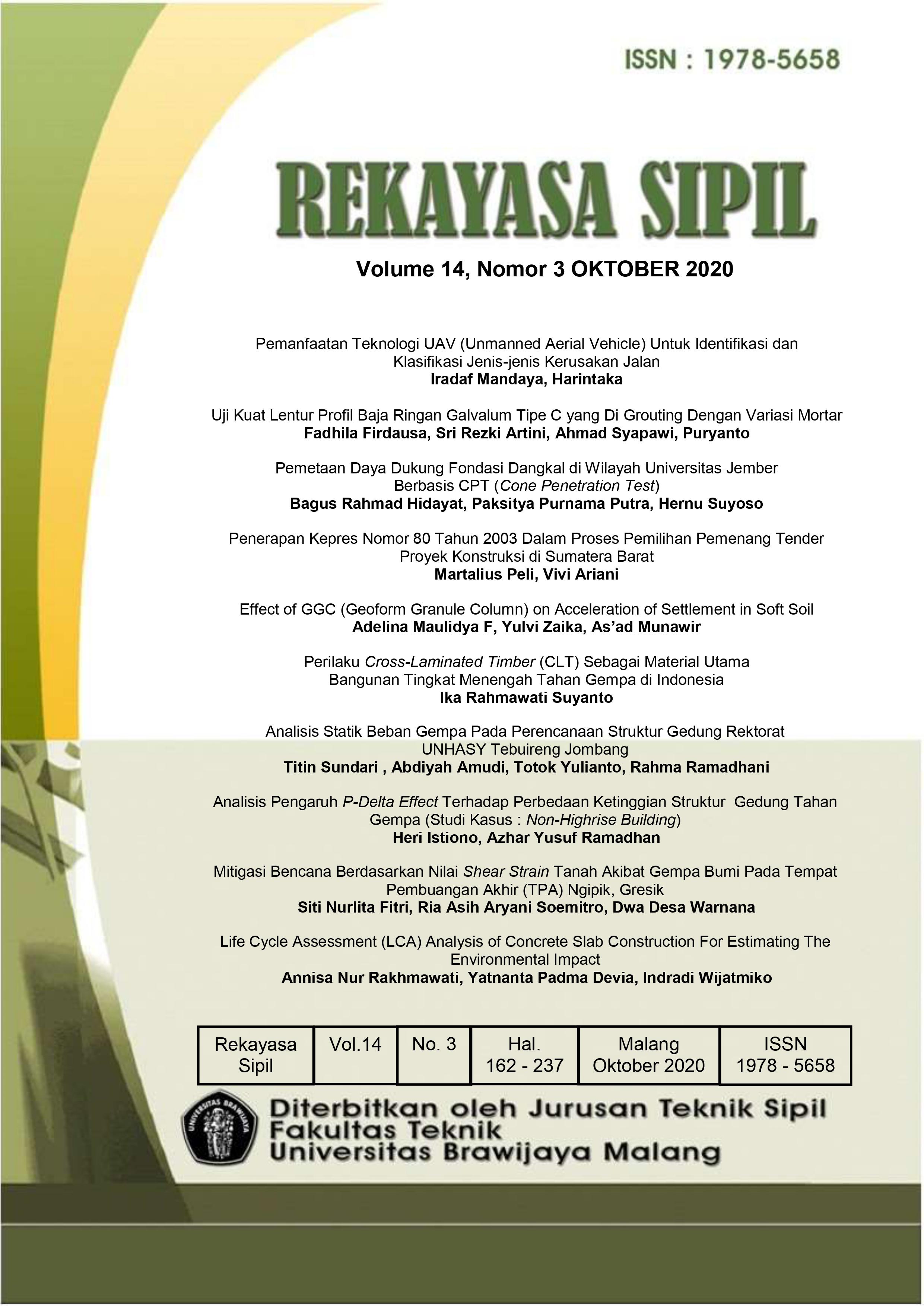 Downloads
License
Copyright (c) 2020 Rekayasa Sipil
This work is licensed under a Creative Commons Attribution-NonCommercial 4.0 International License.

This journal is licensed under a Creative Commons Attribution 4.0 International License