MITIGASI BENCANA BERDASARKAN NILAI SHEAR STRAIN TANAH AKIBAT GEMPA BUMI PADA TEMPAT PEMBUANGAN AKHIR (TPA) NGIPIK, GRESIK
Keywords:
Landfill, Micromtremor, Seismic, Shear strain, Site effect
Abstract
Ngipik Landfill located in Gresik, East Java has a several active fault. As a result, this area has high possibility as an earthquake prone area. In addition, It has not prevent's layer under the bottom of the construction to control the leachate's spread. This study aim to analyze the earthquake hazard map for the region based on the values of ground shear strain. The data was conducted by microtremor measurement and Plaxis modeling. The result of this study shows the shear strain value range between 3.5 x 10-3 to 12.5 x 10-3. The highest value is around the east and west-north area and indicated the high risk of damage under ground motion. The output of the research must consider as preliminary site mitigation of  Ngipik Landfill.
References
Kuncoro, H. et al. (2019) 'IDENTIFIKASI MEKANISME SESAR DI BAGIAN TIMUR PULAU JAWA DENGAN MENGGUNAKAN DATA GNSS KONTINYU 2010-2016', Seminar Nasional Geomatika. doi: 10.24895/sng.2018.3-0.1069.
Nakamura, Y. (1997) 'Seismic vulnerability indices for ground and structures using microtremor', World Congress on Railway Research.
Nakamura, Y., Sato, T. and Nishinaga, M. (2000) 'Local Site Effect of Kobe Based on Microtremor', Proceedings of the Sixth International Conference on Seismic Zonation (6ISCZ) EERI, November 12-15, 2000/ Palm Springs. California.
Nurlita Fitri, S. et al. (2018) 'Application of microtremor HVSR method for preliminary assessment of seismic site effect in Ngipik landfill, Gresik', in MATEC Web of Conferences. doi: 10.1051/matecconf/201819503017.
Zania, V., Tsompanakis, Y. and Psarropoulos, P. N. (2008) 'Seismic distress and slope instability of municipal solid waste landfills', Journal of Earthquake Engineering. doi: 10.1080/13632460701574605.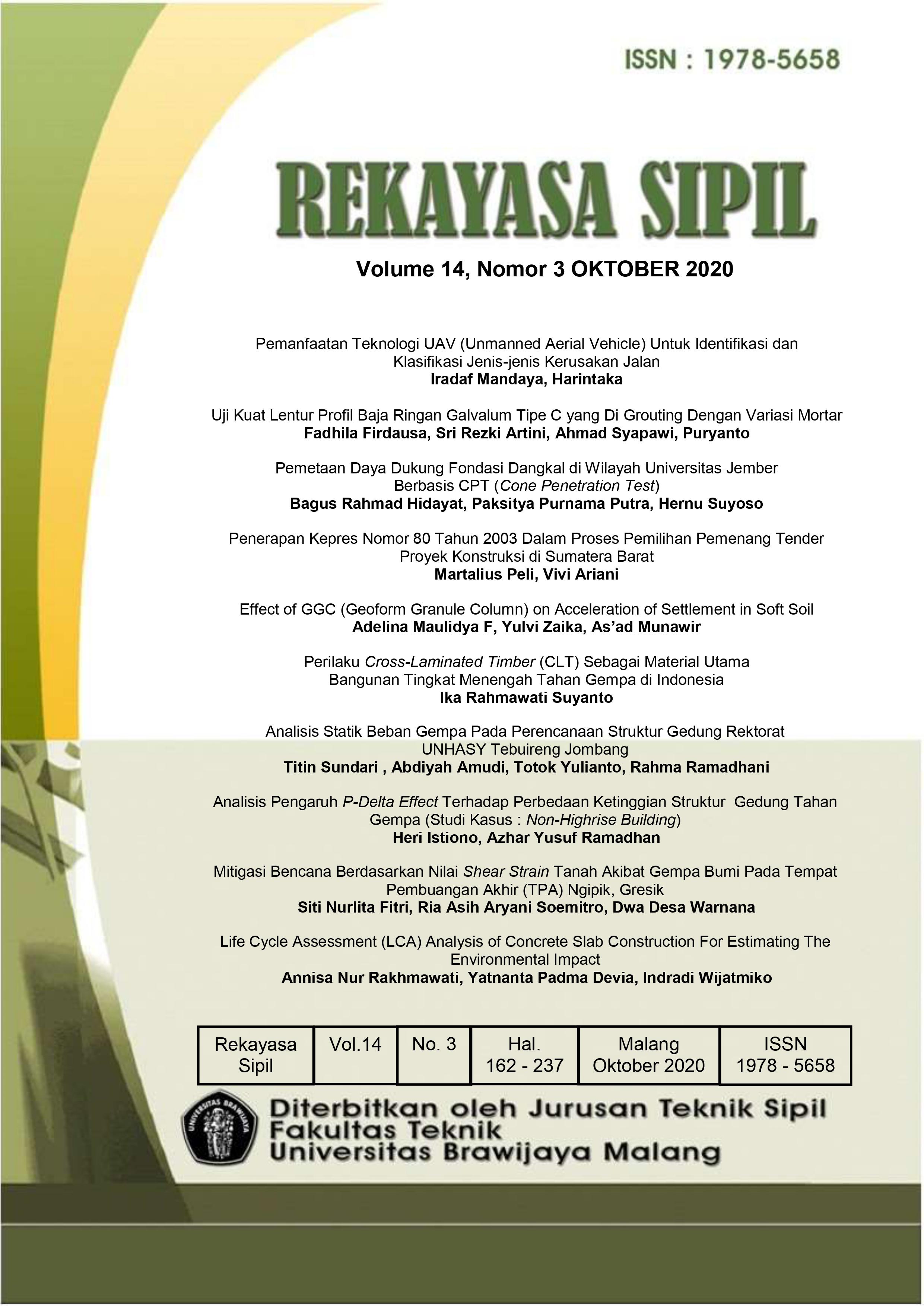 Downloads
License
Copyright (c) 2020 Rekayasa Sipil
This work is licensed under a Creative Commons Attribution-NonCommercial 4.0 International License.

This journal is licensed under a Creative Commons Attribution 4.0 International License