Perbadingan Estimasi Curah Hujan MRR dan TRMM 3B42 Sebagai Input Model Hidrologi HBV Studi Kasus DAS Bedadung
Keywords:
DAS Bedadung, Model HBV, Pemodelan Hidrologi, Satelit TRMM.
Abstract
The limitations of spatial and temporal distribution of rain gauge networks causes inaccuracies in prediction of hydrological modeling. The availability of satellite rain data products is a potential to overcome this limitation. This studies objective is to compare the quality of rain data from the recording of the Manual Rainfall Recorder (MRR) with satellite data TRMM 3B42 which is entered in the HBV hydrological modeling. Calibration results shows that HBV modeling performance with MRR rain data input is better than TRMM. R2 and NSE values from MRR rain data input were 0.7153 and 0.7133 respectively with a mean error of 89 (mm / year). While the R2 and NSE values of the TRMM 3B42 satellite rain data input were 0.57 and 0.55 with a mean error of 305 (mm / year), respectively.
References
Bergstrom, S., 1992, The HBV model its structure and applications, SMHI Report Hydrology., RH No. 4. Swedish Meteorological and Hydrological Institute, NorrkoÈ ping, Sweden
Heryanto, A. 2017. Pemanfaatan Data Satelit TRMM 3B42RT Untuk Memprediksi Curah Hujan di DAS Bedadung. Jember. Teknik Sipil/Universitas Jember.
Ilhamsyah, Y., S. Koem, dan A. Syahid Muttaqin. 2012. Aplikasi Model Hidrologi HBV di DAS Peusangan Aceh Sebagai Studi Pengantar Pengembangan Konsep Ekohidrologi Berkelanjutan. Jurnal Hidrologi. 1(2): 86-92.
Indarto, dkk. 2008. Kalibrasi Model IHACRES Pada Dua DAS Identik. .Dinamika Teknik Sipil. Volume 8, No. 1: 89-100.
Lindstrom, G., B. Johansson, M. Persson, M. Gardelin., S. Bergstrom. 1997. Development and Test of The Distributed HBV-96 Hydrological Model. Swedish Meteorological and Hydrological Institute. Jurnal Hidrologi. 201(1997) 272-288.
Mastitoh, S. dan Dasanto, B.D. 2018. Analisis Sensitivitas Parameter Model HBV: Studi Kasus sub-DAS Citarum Hulu. LIMNOTEK Perairan Dara Tripis di Indonesia. 25(2): 78-87
Sipayung, S.B., dan Nani C. 2010. Analisis Hubungan Curah Hujan dan Limpasan dengan di DAS Citarum Hulu Menggunakan Model HBV. Prosiding Seminar Penerbangan dan Antariksa 2010. 15 November 2010. Pusfatsatklim. Hal 266-272.
Sipayung, S.B. dan Nani C. 2012. Aplikasi Model HBV (Hydrologiska Byrans Vattenbalansavdelning) Berbasis Satelit di DAS Musi (Sumatra Selatan). Atmosfer Indonesia: Sains, Teknologi, dan Aplikasinya. Hal 48-61.
SMHI. (2006). Integrated Hydrological Model System Manual. Norkopping, Sweden. SMHI.
Sudiar, N.Y. 2016. Simulasi Model HBV Pada Daerah Aliran Sungai Batang Arau Padang. 7(1): 86-94
Wahyuningsih, S., dan Entin H. 2006. Aplikasi Tiga Model Hujan-Aliran Untuk Memprediksi Debit Harian Studi Kasus Pada Dua DAS Di Wilayah Tapalkuda. Puslit Pengembangan Sumberdaya Air dan Irigasi (PUSLIT PSDA). Universitas Jember.
Liu, Z. 2015. Comparison of precipitation estimates between Version 7 3-hourly TRMM Multi-Satellite Precipitation Analysis (TMPA) near-real-time and research products. Atmospheric Research, 153, 119-133.
Mamenun, M., Pawitan, H., & Sopaheluwakan, A. 2014. Validasi dan koreksi data satelit trmm pada tiga pola hujan di indonesia. Jurnal Meteorologi dan Geofisika, 15(1)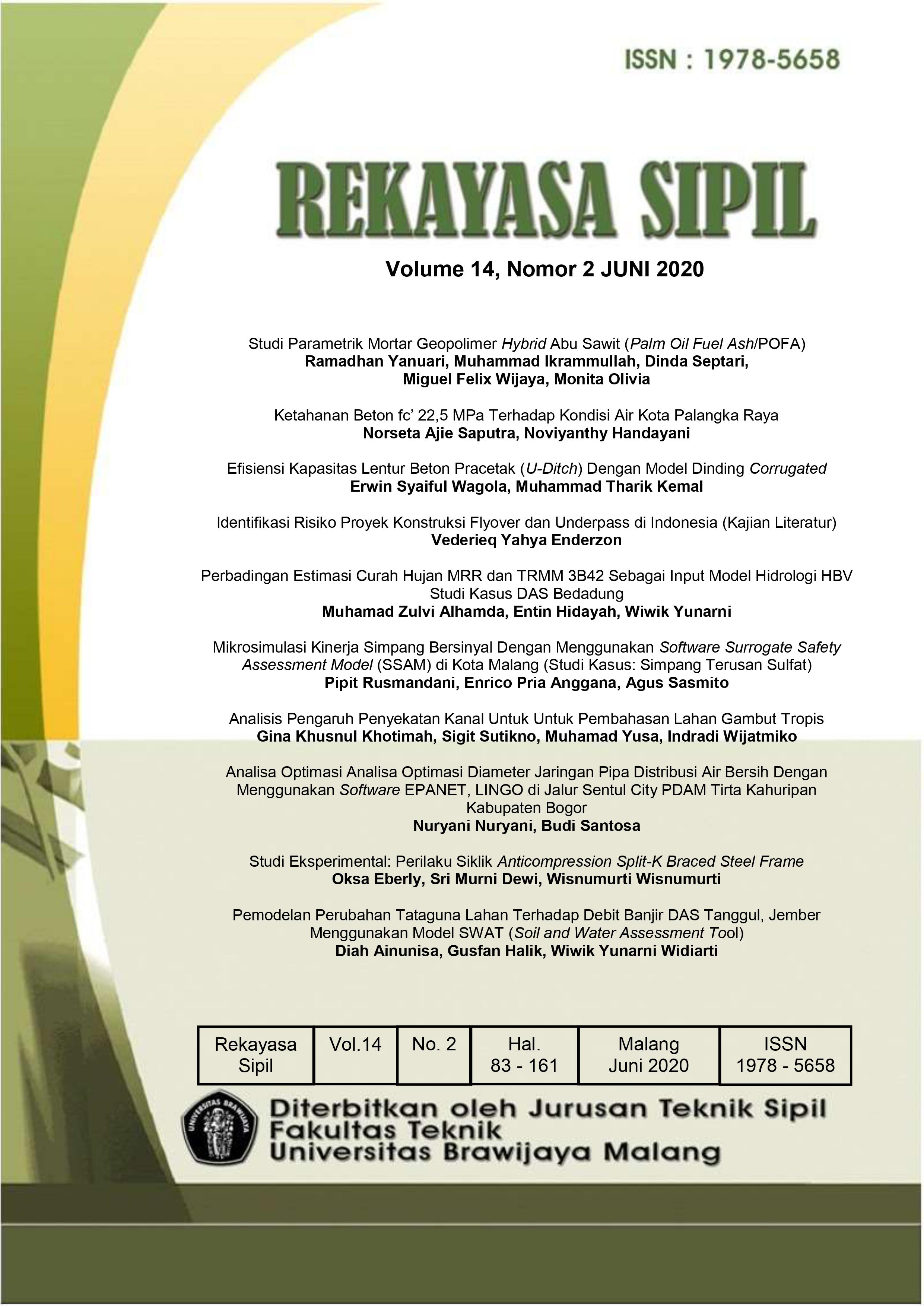 Downloads
How to Cite
Alhamda, M. Z., Hidayah, E., & Yunarni, W. (2020). Perbadingan Estimasi Curah Hujan MRR dan TRMM 3B42 Sebagai Input Model Hidrologi HBV Studi Kasus DAS Bedadung. Rekayasa Sipil, 14(2), pp.112 – 119. https://doi.org/10.21776/ub.rekayasasipil.2020.014.02.5
License
Copyright (c) 2020 Rekayasa Sipil
This work is licensed under a Creative Commons Attribution-NonCommercial 4.0 International License.

This journal is licensed under a Creative Commons Attribution 4.0 International License