Efisiensi Kapasitas Lentur Beton Pracetak (U-Ditch) Dengan Model Dinding Corrugated
Keywords:
U-Ditch, Corrugated, Eficiency Of the corrugated
Abstract
This study discusses to analyze the flexural capacity and efficiency of the corrugated U-Ditch type with dimensions of 50x50 cm to the normal U-Ditch type. In this research using JIS (Japan International Standard) method for The U-Ditch Corrugated test. The results showed that the flexural behavior of the Normal Type U-Ditch is linear to collapse with a crack pattern occurring on the U-Ditch wall.  The bending of the U-Ditch Corrugated type tends to be linear until it collapses with a crack pattern occurring in the structural wall. The magnitude of the bending moment capacity for the normal type is 9.11 kN.m and capacity of the U-Ditch corrugated type is 8.05 kN. m where the efficiency of bending capacity is 98%.
References
. Erwin Syaiful Wagola, at. all. (2017), "Kapasitas Lentur Sluran Drainase Pracetak U_Ditch†Jurnal Sains & Teknologi Vol. 6 No. 1 ISSN 2303-3614. Hal. 1-103.
. Elliott K. (2002), "Precast Concrete Structuresâ€, Butterwoth-Heinemann.
. Japan International Standard, "Reinforced concrete gutters for roadsideâ€, JIS A 5345.
. Japan International Standard, "General rules for methods of performance testâ€, JIS A 5363.
. Rohit B., Nimse., Digesh D., Joshi & Patel P.V. (2014), "Behavior of wet precast beam column connectionsunder progressive collapse scenario: an experimental studyâ€, Int J Adv
SNI-03-2847-2002, "Tata Cara Perhitungan Struktur Beton Untuk Bangunan Gedungâ€..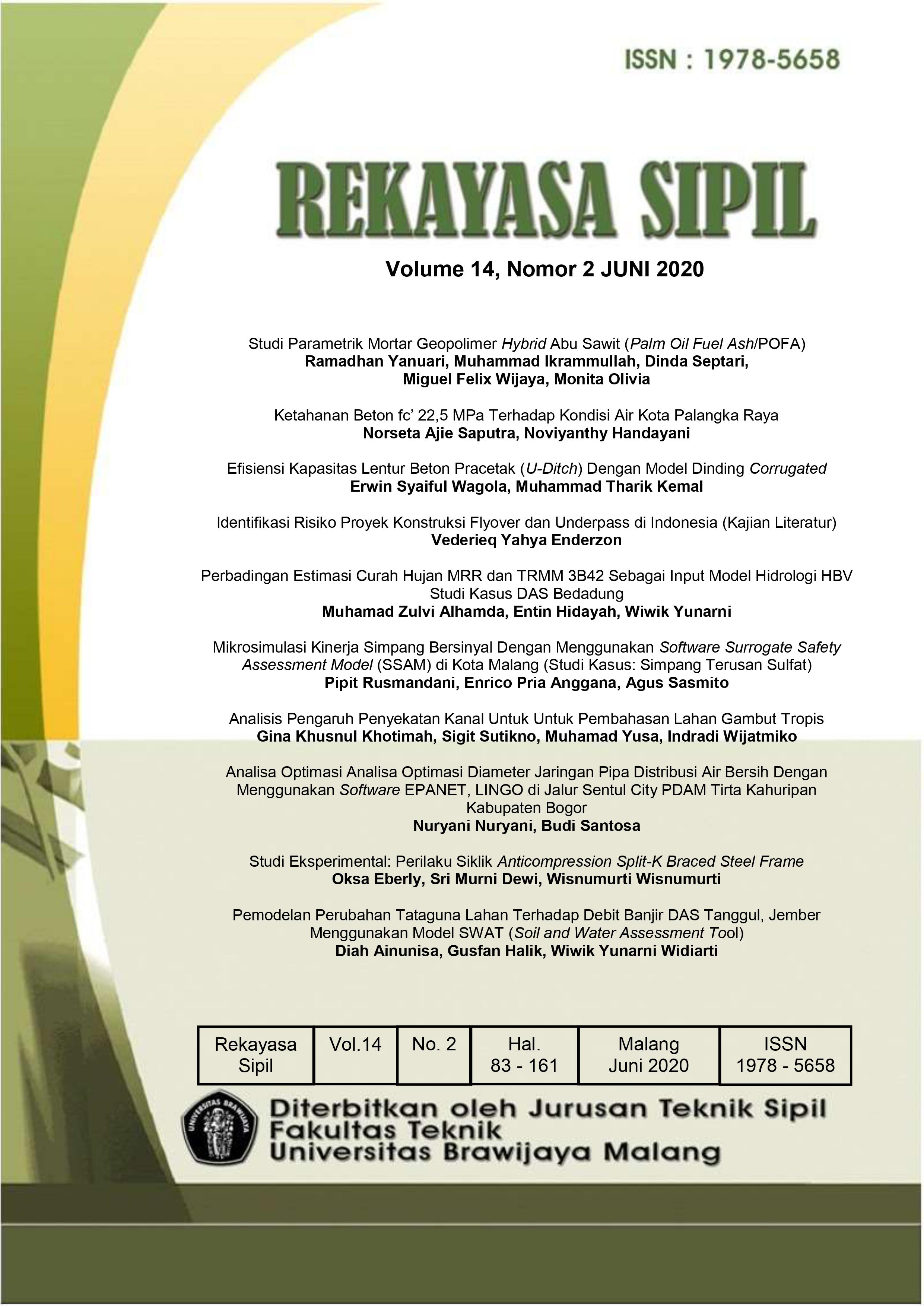 Downloads
License
Copyright (c) 2020 Rekayasa Sipil
This work is licensed under a Creative Commons Attribution-NonCommercial 4.0 International License.

This journal is licensed under a Creative Commons Attribution 4.0 International License