Comparative Study of Disaster Regulations in Analyzing Vulnerability Level of Elementary School Building Structures in Yogyakarta
Keywords:
primary school, building vulnerability, FEMA 154, comparative regulation
Abstract
This research was conducted to compare several regulations that evaluate the level of vulnerability of school buildings in Yogyakarta. The regulations used in this study are a guide to assessing and repairing damage to public housing buildings due to the earthquake according to the Department of Public Works in 2000, technical guidelines for safe school rehabilitation according to the National Disaster Management Agency in 2011, a broken one or two-story simple building block safety check guide due to the earthquake according to the 2009 World Seismic Safety Initiative and using rapid visual screening of building for potential seismic hazards according to the Federal Emergency Management Agency No. 154 of 2002. The 25 schools selected in this study were located in areas prone to earthquakes, volcanoes erupted and prone to landslides. Through this research, the results of the appropriate regulations were obtained to evaluate the rapid level of vulnerability of buildings to disasters and evaluation of certain disaster cases was needed because the regulations did not accommodate all types of disasters.
References
Badan Nasional Penanggulangan Bencana, 2011, Panduan Teknis Rehabilitasi Sekolah Aman Dengan Dana Alokasi Khusus (DAK) Pendidikan, Badan Nasional Penanggulangan Bencana, Jakarta.
Badan Standardisasi Nasional, 2012, SNI 1726-2012 Tata Cara Perencanaan Ketahanan Gempa Untuk Struktur Bangunan Gedung dan Non Gedung, Kementerian Pekerjaan Umum, Jakarta.
Dardiri, A., 2012, Analisis Pola Jenis dan Penyebab Kerusakan Bangunan Gedung Sekolah Dasar, Jurnal Teknologi dan Kejurusan Vol 35, No. 1.
Departemen Pekerjaan Umum, 2000, Standar Nasional Indonesia PT. T-04-2000-C Tata Cara Perbaikan Kerusakan Bangunan Perumahan Rakyat Akibat Gempa Bumi, Badan Standarisasi Nasional. Jakarta.
Federal Emergency Management Agency (FEMA), 2002, FEMA-154 Rapid Visual Screening of Building for Porential Seismic Hazards, A Handbook Second Edition, Applied Technology Council, California.
Hamdi, S., 2014, Penelitian Kondisi Bangunan Sekolah Pasca Gempa Bumi (Studi Kasus: Padang Pariaman, Sumatera Barat), Politeknik Negeri Sriwijaya, Palembang.
Joko, C., 2011, Gempa Bumi, Kerusakan Lingkungan, Kebijakan dan Strategi Pengelolaan, Liberty Yogyakarta, Yogyakarta.
Kurniawandy, A., Firdaus, R., Andy, H., 2015, Evaluasi Kerentanan Bangunan Gedung Terhadap Gempa Bumi dengan Rapid Visual Screening (RVS) Berdasarkan FEMA 154, Jurnal Teknik Sipil Universitas Riau, Pekanbaru.
Prayuda, H., Pujianto, A., Astuti, P., Faizah, R., Ikhsan, J., 2017. Evaluasi Struktur Bangunan Masjid Al-Iman Kabupaten Pidie Jaya, Provinsi Aceh Menggunakan Rapid Visual screening Pasca Gempa Bumi 7 Desember 2016. Prosiding Pertemuan Ilmiah Tahunan Riset Kebencanaan Ke-4. Ikatan Ahli Bencana Indonesia. Jakarta.
Rizky, M., Kurniawandy, A., Djauhari, Z., 2015, Evaluasi Rangka Beton Bertulang dengan Dinding Geser Menggunakan FEMA 310 (Studi Kasus Pada: Gedung Menara Dang Merdu Bank Riau), Jurnal Online Mahasiswa Fakultas Teknik Vol 2, No.2.
Sulaiman, Indra Irawan dan Raditya, 2005, Ilmu pada Konstruksi Bangunan, Perusahaan Terbuka Eresco, Bandung.
Sutikno, 2001, Pengelolaan Data Spasial Untuk Penyusunan System Informasi Penanggulangan Tanah Longsor di Kabupaten Kulon Progo, Daerah Istimewa Yogyakarta, Makalah Seminar Dies Fakultas Geografi UGM Ke-38 Tanggal 29 Agustus 2001, Fakultas Geografi Universitas Gadjah Mada, Yogyakarta.
Undang-Undang Republik Indonesia, 2007, Undang-Undang Republik Indonesia Nomor 24 Tahun 2007 Tentang Penanggunalangan Bencana, Republik Indonesia, Jakarta.
World Seismic Safety Initiative, 2007, Kajian Cara Cepat Keamanan Bangunan Tembokan Sederhana Satu atau Dua Lantai yang Rusak Akibat Gempa dan Kajian Risiko Komponen Non-Struktur (Komponen Operasional dan Fungsional), Jakarta.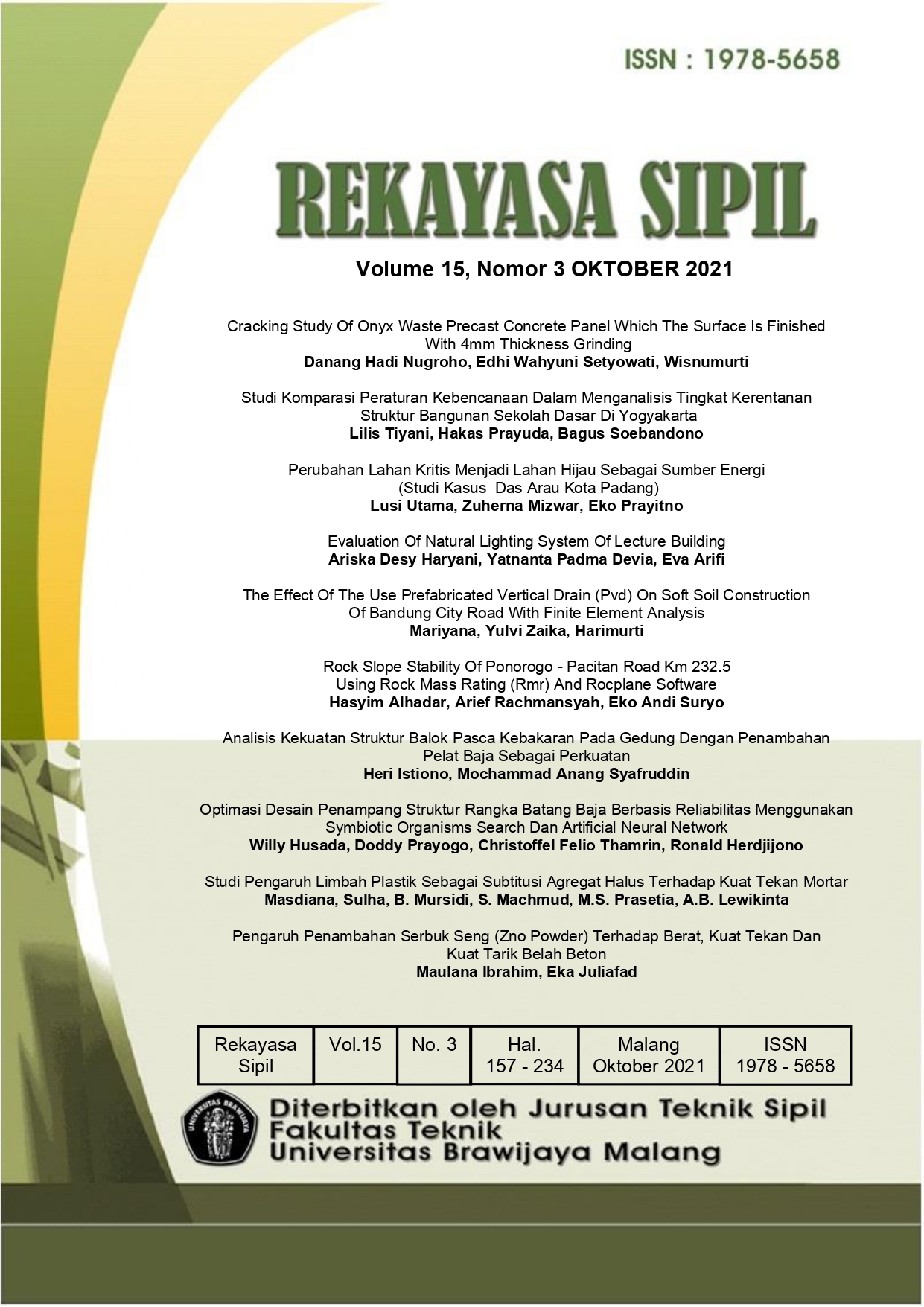 Downloads
License
Copyright (c) 2021 Rekayasa Sipil
This work is licensed under a Creative Commons Attribution-NonCommercial 4.0 International License.

This journal is licensed under a Creative Commons Attribution 4.0 International License