PERUBAHAN NILAI CBR TERHADAP PENAMBAHAN FLY ASH DAN BATTOM ASH PADA TANAH LEMPUNG
Keywords:
clay soil, stabilization, fly ash, bottom ash, CBR
Abstract
Clay soil has a characteristic that is wet, it will be soft and plastic and cohesive. To overcome this problem, clay soil with high plasticity needs stabilization. The stabilization method using additives such as chalk, fly ash and bottom ash can be used as a stabilization material to increase the carrying capacity of high plasticity clay. This study is commended to know the behavior of high plasticity clay which is stabilized with lime, fly ash and bottom ash. Increased crease of the stabilized clay soil is seen from the CBR test. CBR testing is done under curing conditions for 0, 14, and 28 days and soaking for 0 and 4 days. The results showed that the CBR value increased with duration of curing and decreased throughout the duration of immersion. Then the CBR value increases with the addition of lime percentage and each mixture in a mixture variation. The highest CBR value occurred in soil L 5% + MS5 95% with a CBR value of 75.37% under conditions for 28 days of curing and 4 days of immersion. The lowest CBR value occurs in soil L 5% + MS2 95% with a CBR value of 12.85% in conditions without curing and without immersion.
References
K, R. I., Mina, E., & Rahman, T.,Stabilisasi Tanah Dengan Menggunakan Fly Ashdan Pengaruhnya Terhadap Nilai Kuat Tekan Bebas (Studi Kasus Jalan Raya Bojonegara, Kab. Serang), 2016 : 5(1).
Harianto, T, Jurnal Studi Karakteristik Mekanis Tanah Menggunakan Fly Ash Sebagai Bahan. 2017
Wardani, S. P. R, Pemanfaatan Limbah
Batubara (Fly Ash) untuk Stabilisasi Tanah maupun Keperluan Teknik Sipil Lainnya dalam Mengurangi Pencemaran Lingkungan. Pidato Pengukuhan Guru Besar, 2008 : 1–71.
Das, B. M, Mekanika Tanah (Prinsip-prinsip Rekayasa Geoteknis) (1st ed.), 1985
A, P. A., Iswan, & Jafri, M, Pengaruh Variasi Waktu Pemeraman Terhadap Nilai Uji Kuat Tekan Bebas pada Tanah Lempung dan Lanau yang Distabilisasi Menggunakan Kapur pada Kondisi Rendaman. Eksperimental, 4(2), 2016 : 236–255.
Hicks, R. G, Alaska Soil Stabilization Design Guide. State of Alaska Department of Transportation and Public Facilities Research & Technology Transfer Fairbanks, AK 99709-5399, 2002 : 1–64.
Wijaya, O, Pengaruh Penambahan Abu Dasar (Bottom Ash) Pada Tanah Lempung Ekspansif Di Daerah Surabaya Barat terhadap Nilai Potensial Swelling. Jurnal Rekayasa Teknik Sipil, 1(1), 2018 : 186–194.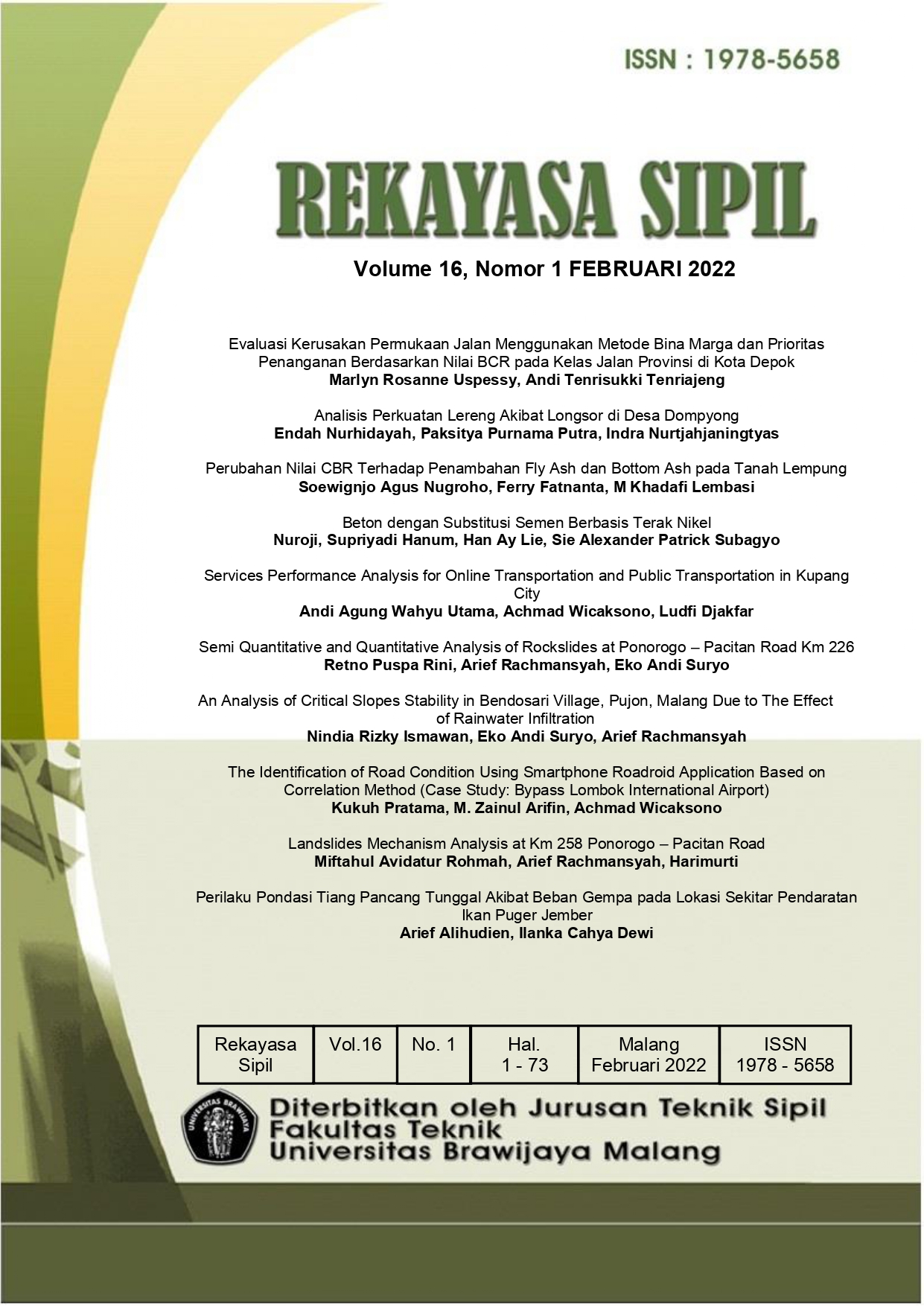 Downloads
License
This journal is licensed under a 
Creative Commons Attribution 4.0 International License