PEMETAAN DAYA DUKUNG FONDASI DANGKAL DI WILAYAH UNIVERSITAS JEMBER BERBASIS CPT (CONE PENETRATION TEST)
Keywords:
ArcGIS, Bearing Capacity, CPT, Distribution Map, Kriging
Abstract
This research aims to make a bearing capacity distribution map of shallow foundations (footplate), which is to provide convenience in terms of examining substructure buildings planned by the consultant by the owner. Spatial concepts method, ArcGIS and kriging, are used to simplify the analysis stage in making bearing capacity maps. Bearing capacity distribution map of soil shows that most of the University of Jember area at two meters depth has hard soil consistency and has a bearing capacity of around 83.9 - 110.9 kg/cm2. The results of comparative analysis of ArcGIS and CPT has a ratio of 0,758 for point 1 and 0,765 for point 2.
References
Bernanton, Analisis parameter daya dukung tanah berdasarkan Korelasi nilai standardpenetration test (SPT) dan Cone penetration test (CPT), 3, 2017, 15
Brouwer J.J. Guide To Cone Penetration Test, 2002.
Budhiprameswari, T.D. Estimasi kandungan cbm tertinggi dengan metode Ordinary krigingdi daerah mangunjaya dan Sekitarnya provinsi sumatera selatan. ,7, 2019:24.
Hardiyatmo, H. C, Analisis dan Perancangan Fondasi Bagian I, Yogyakarta: Gadjah Mada University Press, 2010.
Lulie,Y., Suryadharma, Y.H., Kapasitas Fondasi tiang dari metode langsung Cone Penetrometer Test, Laporan penelitian, Program studi teknik sipil, Fakultas teknik, Universitas Atma Jaya Yogyakarta, 2007.
Martini, Analisis Daya Dukung Tanah Pondasi Dangkal Dengan Beberapa Metode, Majalah Ilmiah Mektek Tahun XI No. 2, Mei 2009
Permanasari, Intan, Aplikasi SIG Untuk Penyusunan Basisdata Jaringan Jalan Di Kota Magelang. Tugas Akhir Program Survey dan Pemetaan Wilayah Jurusan Geografi Fakultas Ilmu Sosial Universitas Negeri Semarang. 2007.
Rahardjo, P. P., Penyelidikan Geoteknik dengan Uji In-situ, GEC UK Parahyangan, Bandung.2008.
Sukijo., Pengembangan Potensi Wilayah. Bandung: Gramedia. 1994.
Wahyudi, Herman, Daya dukung pondasi dangkal, (E-book), ITSPress, Surabaya, 2014.
Yado, R, Penerapan Metode Ordinary Kriging pada Pendugaan Kriminalitas di Kota Pekanbaru Riau, 3, 2019, 15.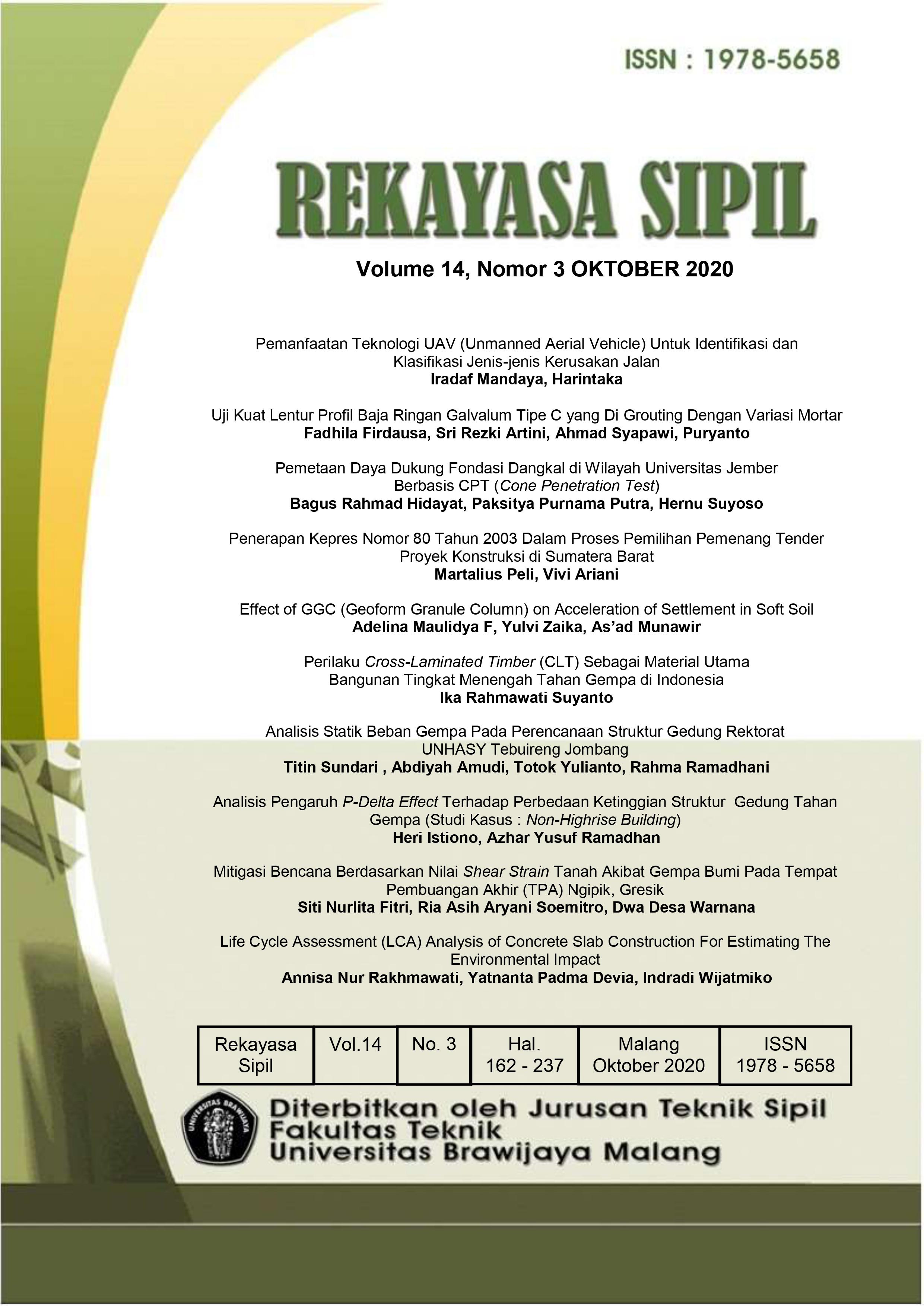 Downloads
License
Copyright (c) 2020 Rekayasa Sipil
This work is licensed under a Creative Commons Attribution-NonCommercial 4.0 International License.

This journal is licensed under a Creative Commons Attribution 4.0 International License