Pemodelan Perubahan Tataguna Lahan Terhadap Debit Banjir DAS Tanggul, Jember Menggunakan Model SWAT (Soil and Water Assessment Tool)
Keywords:
flood modeling, land-use change, Tanggul watershed, SWAT
Abstract
Population growth is one of the causes of land-use change that can increase runoff. Tanggul watershed is one of the watersheds which often overflows during the rainy season. This study purpose to analyze the effect of land-use changes on runoff in Tanggul watershed using SWAT (Soil and Water Assessment Tool) model. To make sure the performance of SWAT model calibration and classified by the value of NSE and R2. The result of calibration included in a good category and validation included in a very good category. This study was modeling forest land-use change in 2004-2017 to determine the effect of land-use change on runoff. The result in this model of forest land-use change can increase runoff.
References
F. Modeling, F. Financial, L. Analysis, C. Watershed, and I. P. B. Darmaga, "JTI Vol 39 No 2-02-Sisi F.pdf,†pp. 75–84, 2015.
A. Tasdighi, M. Arabi, and D. Harmel, "A probabilistic appraisal of rainfall-runoff modeling approaches within SWAT in mixed land use watersheds,†J. Hydrol., vol. 564, no. February, pp. 476–489, 2018.
G. Ghaffari, S. Keesstra, J. Ghodousi, and H. Ahmadi, "SWAT-simulated hydrological impact of land-use change in the Zanjanrood Basin, Northwest Iran,†Hydrol. Process., vol. 24, no. 7, pp. 892–903, 2010.
F. Githui, F. Mutua, and W. Bauwens, "Estimating the impacts of land-cover change on runoff using the soil and water assessment tool (SWAT): Case study of Nzoia catchment, Kenya,†Hydrol. Sci. J., vol. 54, no. 5, pp. 899–908, 2009.
T. J. Baker and S. N. Miller, "Using the Soil and Water Assessment Tool (SWAT) to assess land use impact on water resources in an East African watershed,†J. Hydrol., vol. 486, pp. 100–111, 2013.
A. Anshuman, T. I. Eldho, and A. Kunnath-Poovakka, "Performance Evaluation of SWAT with a Conceptual Rainfall-Runoff Model GR4J for a Catchment in Upper Godavari River Basin,†Int. Soil Water Assess. Tool Conf. 2018, p. 101, 2018.
E. Junaidi and S. D. Tarigan, "Application SWAT Hydrology Model in Cisadane Watershed Management,†J. Penelit. Hutan dan Konserv. Alam, vol. 9, no. 3, pp. 221–237, 2012.
A. C. Cindy Harifa, M. Sholichin, and T. B. Prayogo, "Analisa Pengaruh Perubahan Penutupan Lahan Terhadap Debit Sungai Sub Das Metro Dengan Menggunakan Program Arcswat,†J. Teknik Pengair., vol. 008, no. 01, pp. 1–14, 2017.
Naharuddin, Buku Ajar Pengelolaan DAS dan Aplikasinya dalam Proses Belajar Mengajar, 1st ed., no. April. Palu, Sulawesi Tengah: UNTAD Press, 2018.
R. A. Almeida, S. B. Pereira, and D. B. F. Pinto, "Calibration and validation of the SWAT hydrological model for the Mucuri river basin,†Eng. Agric., vol. 38, no. 1, pp. 55–63, 2018.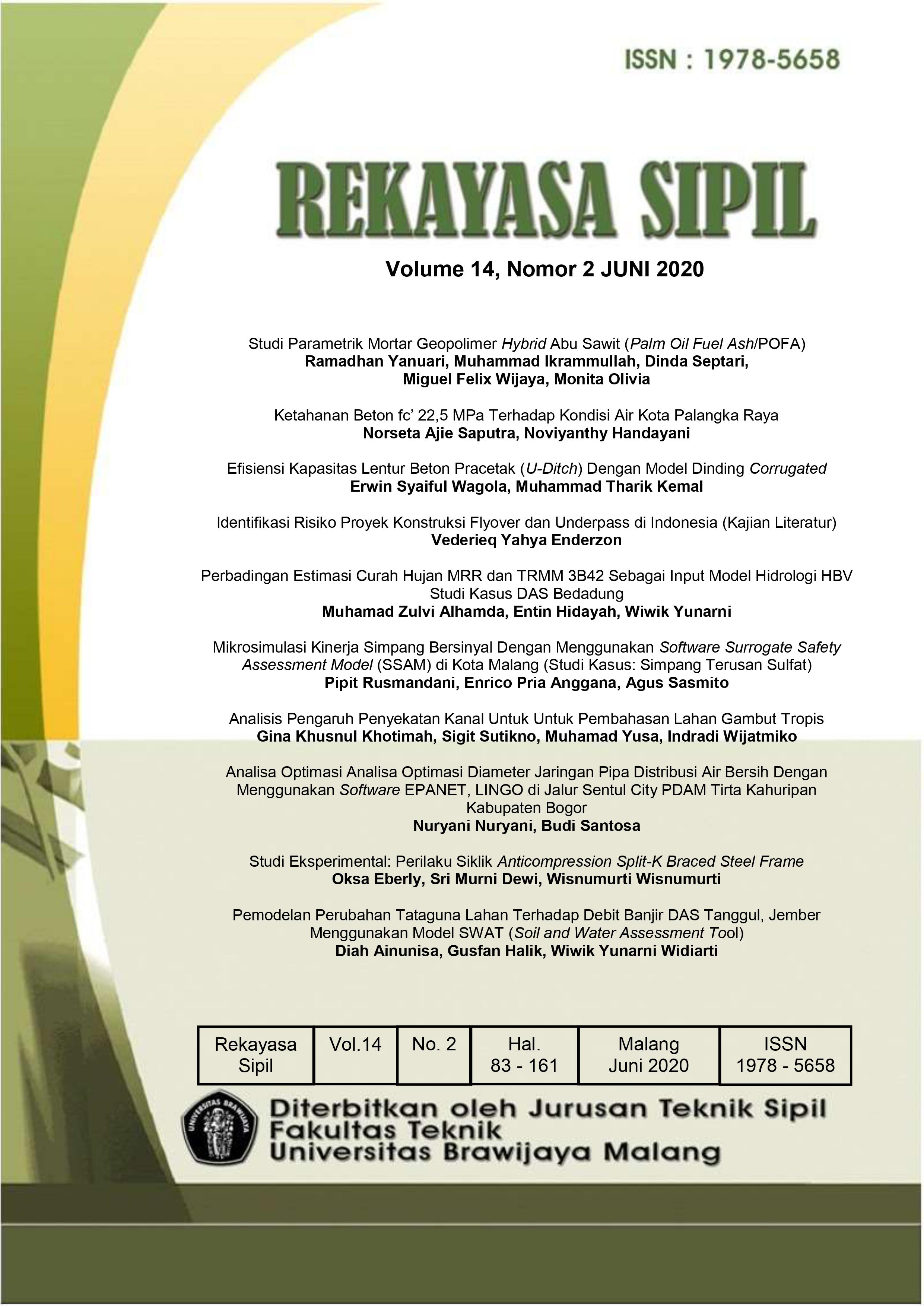 Downloads
How to Cite
Ainunisa, D., Halik, G., & Widiarti, W. Y. (2020). Pemodelan Perubahan Tataguna Lahan Terhadap Debit Banjir DAS Tanggul, Jember Menggunakan Model SWAT (Soil and Water Assessment Tool). Rekayasa Sipil, 14(2), pp.154 – 161. https://doi.org/10.21776/ub.rekayasasipil.2020.014.02.10
License
Copyright (c) 2020 Rekayasa Sipil
This work is licensed under a Creative Commons Attribution-NonCommercial 4.0 International License.

This journal is licensed under a Creative Commons Attribution 4.0 International License