Analisis Risiko Rantai Pasok Material Terhadap Keterlambatan Pelaksanaan Proyek Konstruksi
Keywords:
AHP, Construction project delays, Material supply chain, Risk Management.
Abstract
The uncertainty of the supply chain in the process of procuring building materials can be a risk that results in delays in the implementation of construction projects. This study aims to analyze the material supply chain risks that affect delays in the implementation of construction projects. Supply chain risks are classified from Supply, Control, Demand, and Process. Data collection by survey method and respondents selected by purposive sampling method. The analysis used is the AHP method. The risk response is confirmed to the expert by the interview method. The results of the risk assessment found that the late delivery of material due to non-current financial problems with FR = 0.703 was the most risky factor resulting in project development delays.
References
Adisubrata, Christanti, & Widiastuti, N. (2005). Kajian mengenai tanggung jawab pemberi tugas, kontraktor, dan konsultan perencana terhadap akibat terjadinya defective design. Institut Teknologi Bandung.
Aditya Dei, K., Dharmayanti, G. A. P. C., & Jaya, N. M. (2017). Analisis Risiko Dalam Aliran Supply Chain Pada Proyek Konstruksi Gedung Di Bali. Jurnal Spektran, 5(1), 36–46.
Al-Najjar, J. (2008). Factors Influencing Time and Cost Overruns on Construction Projects in Gaza Strip. Gaza. Islamic University.
Capo, L., & Hospitaler. (2004). Lean Production in the Construction Supply Chain. Second World Conference on POM and 15th Annual POM Conference. Cancun. Mexico.
Cheng, J. C., Law, K. H., Bjornsson, H., Jones, A., & Sriram, R. (2010). A Service Oriented Framework for Construction Supply Chain Integration. Automation in Construction, 19(2), 245–260.
Ervianto, W. (2005). Manajemen Proyek Konstruksi. Edisi Revisi. Yogyakarta: Penerbit Andi.
Hatmoko, J. U. D., & Kistiani, F. (2017). Model Simulasi Risiko Rantai Pasok Material Proyek Konstruksi Gedung. Media Komunikasi Teknik Sipil, 23(1).
Hatmoko, J. U. D., & Scott, S. (2010). Simulating the Impact of Supply Chain Management Practice on the Performance of Medium†Sized Building Projects. Construction Management and Economics, 28(1), 35–49.
Ismael, I., & Junaidi. (2014). Identifikasi Faktor-Faktor Yang Mempegaruhi Keterlambatan Pelaksanaan Pekerjaan Pada Proyek Pembangunan Gedung Di Kota Bukittinngi. Jurnal Momentum, 16(1), 25–36.
Josefineer. (2007). Uncertain Events Dalam Pelaksanaan Proyek Konstruksi Yang Akan Dikelola Dengan Biaya Kontijensi Dan Menjadi Tanggung Jawab Kontraktor. Tesis. Institut Teknologi Bandung: tidak diterbitkan.
Kaming, F. P., Olomolaiye, P., Holt, G., & Harris, F. (1997). Factor Influencing Construction Time and Cost Overuns on High-rise Projects in Indonesia. Construct Manage Econom, 15, 83–94.
Kusjadmikahadi, R. . (1999). Studi Keterlambatan Kontraktor Dalam melaksanakan Proyek konstruksi di Daerah Istimewa Yogyakarta. Universitas Gajah Mada, Yogyakarta.
Maddeppungeng, A., Suryani, I., & Kasyfurrahman, N. R. (2015). Analisis Kinerja Supply Chain Pada Proyek Pekerjaan Struktur (Studi Kasus Proyek Apartemen Paragon Square). Jurnal Fondasi, 4(1), 79–87.
Marzouk, M. M., & El-Rasas, T. I. (2014). Analyzing delay causes in egyptian construction projects. Journal of Advanced Research, 5(1), 49–55.
Mason-Jones, R., & Towill, D. R. (2000). Coping with Uncertainty: Reducing "Bullwhip†Behaviour in Global Supply Chains. Supply Chain Forum: An International Journal, 40–45.
Mudita, P. K., Sudarsana, I. K., & Nadisa, M. (2016). Analisis Faktor-Faktor yang Mempengaruhi Waktu Tunggu Pengadaan Material Konstruksi pada Proyek Gedung di Kabupaten Badung. Jurnal Spektran, 4(2), 18–26.
Nugraheni, V. M. (2012). Analisa Risiko Lingkup Excusable Pada Tahap Pelaksanaan Proyek Pembangunan Stasiun Daerah Kantor X Yang Berpengaruh Terhadap Kinerja Perubahan Proyek. Tesis. Universitas Indonesia.
Nurcahyo, C. B., & Wiguna, I. P. A. (2016). Analisis Risiko Rantai Pasok Beton Ready Mix pada Proyek Pembangunan Apartemen di Surabaya. Jurnal Aplikasi Teknik Sipil, 14(2), 55.
O'Brien, W. J., Formoso, C. T., Vrijhoef, R., & London, K. A. (2009). Construction Supply Chain Management Handbook. In CRC Press.
Prabowo, A. I., & Nurcahyo, C. B. (2017). Analisis Rantai Pasok Beton Ready Mix Pada Proyek Hotel Batiqa Surabaya. Jurnal Teknik ITS, 6(1), 43–49.
Pujawan, I. N. (2005). Supply Chain Management. Surabaya: Guna Widya.
Susila, H., & Handoyo, S. (2016). Analisis Faktor Dominan Resiko Biaya Pada Pelaksanaan Proyek Konstruksi Gedung Di Surakarta. Jurnal Teknik Sipil Dan Arsitektur, 18(22).
Susilo, L. J., & Kaho, R. V. (2019). Manajemen Risiko Berbasis ISO 31000:2018 - Panduan untuk Risk Leader dan Risk Practitioners. Jakarta: PT. Grasindo.
Sutowijoyo, H. (2011). Manajemen Risiko Pada Supply Chain Proyek Konstruksi gedung di Surabaya. Institut Teknologi Sepuluh November.
Trauner, J. R. T. . (1990). Construction Delays. USA: R.S means Company Inc.
Vrijhoef, R., Koskela, L., & Howell, G. (2001). Understanding construction supply chains: an alternative interpretation. 9th International Group for Lean Construction Conference, 185–199.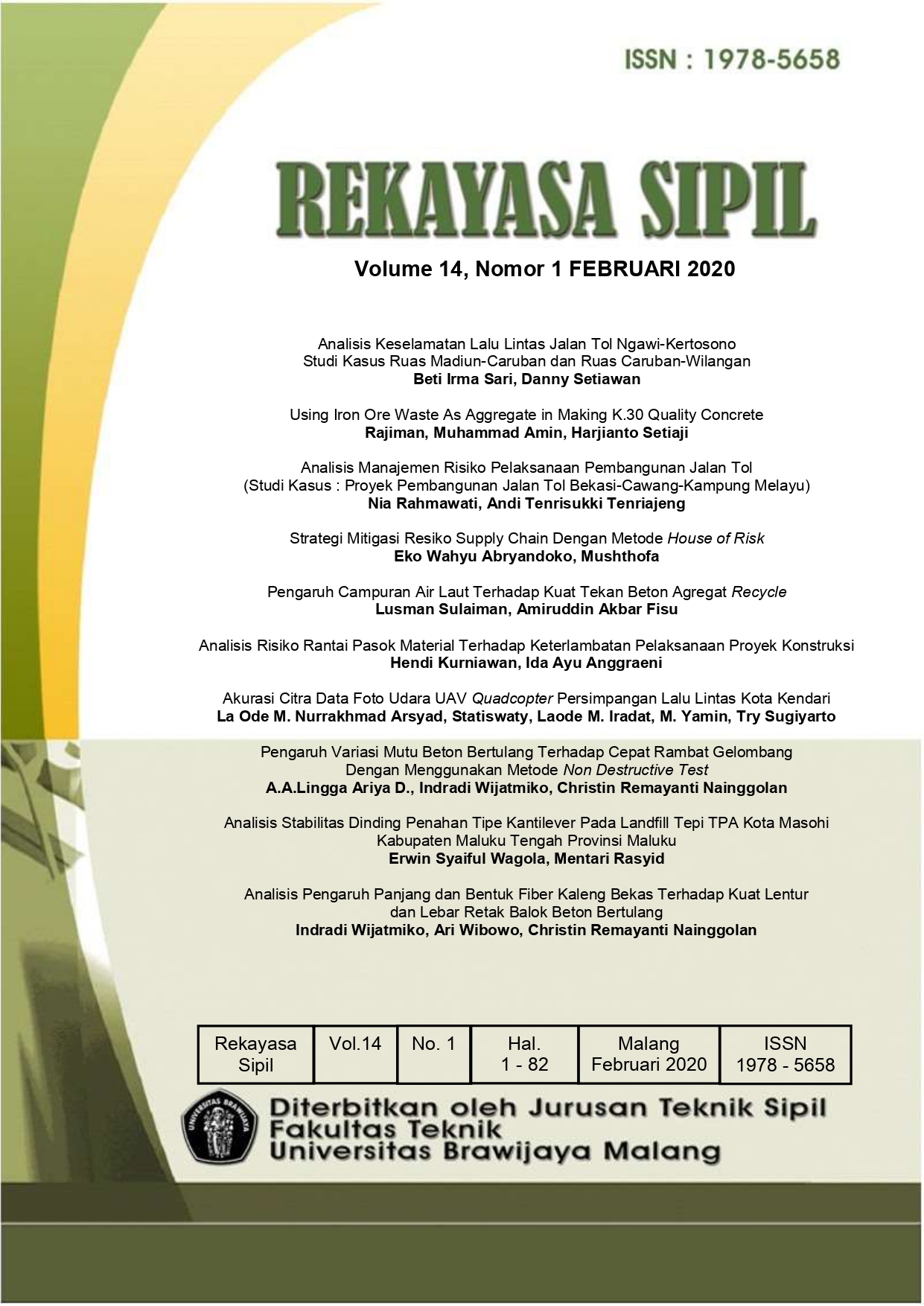 Downloads
License
This journal is licensed under a 
Creative Commons Attribution 4.0 International License