Pengaruh Void Ratio dan Permeabilitas Beton Terhadap Kuat Tekan Beton Porous dengan RCA
Keywords:
Concrete waste, RCA, void ratio, permeability, compressive strength
Abstract
The infrastructure development raises the potential of old building destruction and demolition. This fact will results an environmental damage if construction waste is not being properly utilized. One type of construction waste that can be utilized is concrete waste. To apply sustainable development, concrete waste can be reused and recycled into aggregate in the form of RCA (Recycled Coarse Aggregate). Natural Coarse Aggregates (NCA) and RCA are processed into 0.5-1 cm, 1-2 cm, and 0.5-2 cm sizes and later mixed with cement paste into porous or pervious concrete. Porous concrete is a non-structural concrete which is water-permeable and has large pores. This study aims to determine the effect of RCA on the velue of concrete compressive strength, the most optimal concrete variation, and the influence of void ratio and permeability to the compressive strength of porous concrete. The result reported that RCA affects the compressive strength,, it can be proven that any variation of aggregate size, concrete variation with 0% RCA has the higher value than the 100% RCA one. The optimum concrete condition is in variation of 50% RCA at aggregate size 0.5-2 cm. The compressive strength value is 10.211 MPa. This is due to the more diverse aggregates affecting the concrete density. The larger the pores of the concrete (void ratio), the permeability value will be higher and the higher void ratio and permeability of concrete, the value of the compressive strength of porous concrete will be lower.
References
Mc Govern M. "Recycled Aggregate for reinforced concreteâ€. Concrete Technology today. PCA (Portland Cement Association). Vol. 23, No. 2. July. 2002.
Harber, P. J. Applicability of No Fines Concrete as a Road Pavement. Southern Queensland, University of Southern Queensland Faculty of Engineering and Surveying.2005
Neville, A. M. Properties of Concret,. New York: John Wiley and Sons Inc. 1995.
ACI Commmittee 522. Pervious concrete, ACI International, Farmington Hills. 2006.
Joshi, Tejas dan Dave, Urmil. Evaluation of Strength, Permeability and Void Ratio of Previous Concrete with Changing w/c Ratio and Aggregate Size. Volume 7, Issue 4. Gujarat: Nirma University, India. 2016.
Shinde, G. U. dan Vallunjkar, S. S. An Experimental Study on Compressive Strength, Void Ratio and Infiltration Rate of Pervious Concrete. Volume: 4 Issue: 04. Karad: Government College of Engineering, India.2015.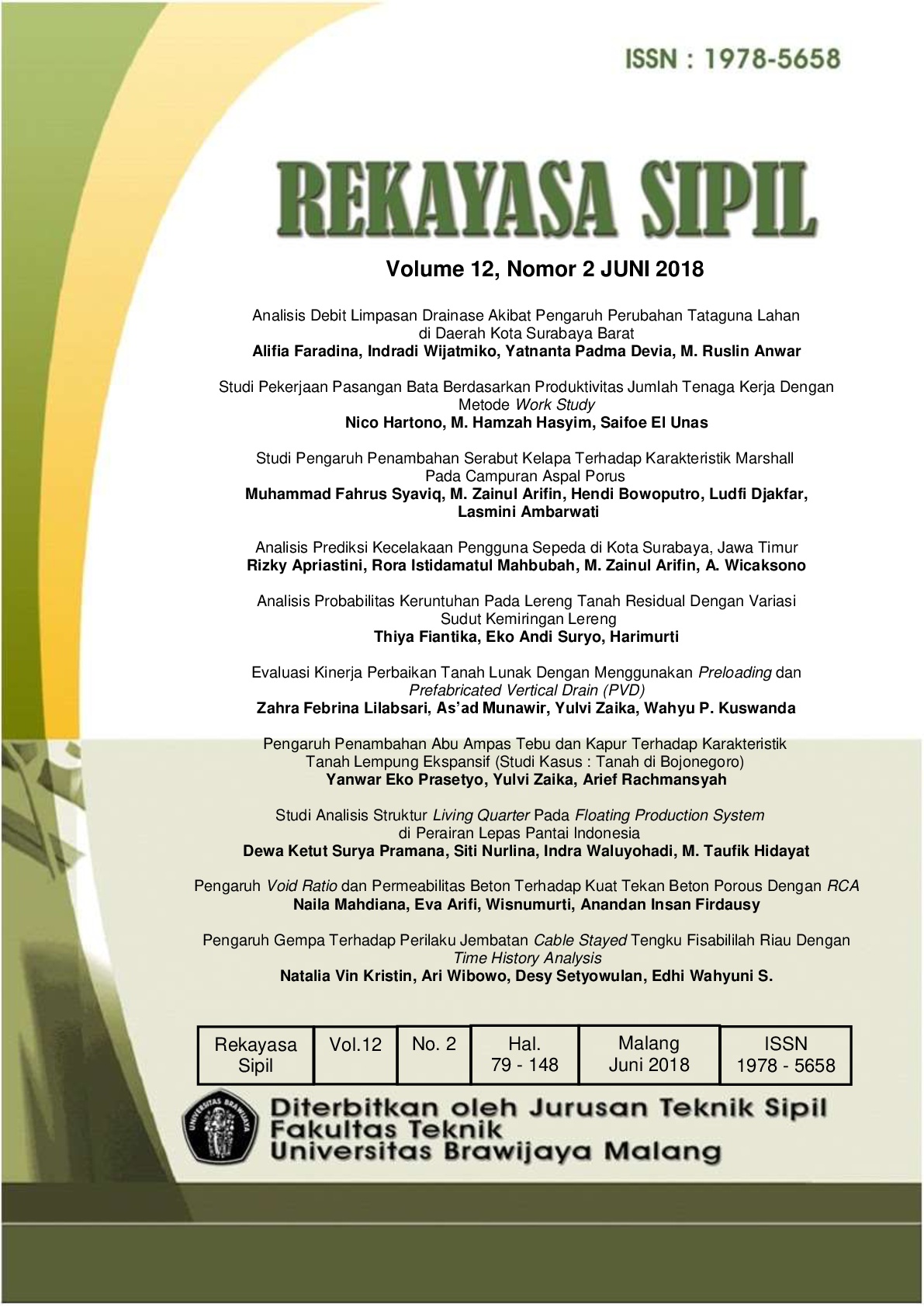 Downloads
How to Cite
Mahdiana, N., Arifi, E., Wisnumurti, W., & Firdausy, A. I. (2019). Pengaruh Void Ratio dan Permeabilitas Beton Terhadap Kuat Tekan Beton Porous dengan RCA. Rekayasa Sipil, 12(2), pp.134 – 141. https://doi.org/10.21776/ub.rekayasasipil.2018.012.02.9
License
Copyright (c) 2019 Rekayasa Sipil
This work is licensed under a Creative Commons Attribution-NonCommercial 4.0 International License.

This journal is licensed under a Creative Commons Attribution 4.0 International License