Pengaruh Penambahan Abu Ampas Tebu dan Kapur Terhadap Karakteristik Tanah Lempung Ekspansif (Studi Kasus : Tanah di Bojonegoro)
Keywords:
Bojonegoro Expansion Clay Ground, Soil Stabilization, Sugar Cane Ash, Lime, CBR, Swelling
Abstract
In each region having different types of soil, one type of soil is expansive clay. In Indonesia, more than 1/5 of the land area in Indonesia are an expansive clay. This type of soil will affected by changes in water content and experience significant shrinkage. Therefore, to improve the soil and minimize shrinkage growth, an effort is needed, one of which is soil stabilization. Physical testing of soil with soil samples in the district Ngasem, Kab. Bojonegoro which is expansive clay soil shows that the CBR value is 3.953%, and the swelling value is 6.1858%. With such physical conditions with low carrying capacity it is necessary to stabilize the soil on clay in Bojonegoro. Stabilization efforts carried out are by chemical stabilization by mixing soil samples with additives in the form of bagasse and lime ash. The results of the physical soil test from the preliminary research conducted by the author by mixing bagasse ash in the soil with variations in levels of 8%, 10%, 12%, 14% showed a mixture of 8% bagasse ash was the optimum level for repairs to the soil. So it is used a mixture of 8% bagasse ash with the addition of variations in lime content of 4%, 6% and 8% of the total weight of the mixture. A mixture of 8% bagasse ash and 6% lime content produced a CBR value of 9,324%, this CBR value increased to 135.87%. While the swelling value is 0.1681%, with the same mixture level. This swelling value decreased to 97.28%. For the value of free development it decreased to 217.7% from the previous one which amounted to 70.59% to 22.22%.
References
Sutikno dan Budi Damianto. Stabilisasi Tanah Ekspansif dengan Penambahan Kapur (Lime): Aplikasi pada Pekerjaan Timbunan. Jurnal Ilmiah Teknik Sipil Politeknik Negeri Jakarta.2009.
Rahayu, S. Suparni(2009). Kapur Putih . From : http://www.chem-is- try.org/materi _kimia/kimia-industri/utilitas-pabrik/kapur-putih/, 17 Desember 2014.
Febra Ndaru W., Eko Andi S., Yulvi Zaika, As'ad Munawir, Arief Rachmansyah. Perbaikan Tanah Ekspansif Dengan Penambahan Serbuk Gypsum dan Abu Sekam Padi Untuk Mengurangi Kerusakan Struktur Perkerasan. Rekayasa Sipil Vol. 9 No. 3.2015.
Das, Braja M. Mekanika Tanah 1 (Prinsip-Prinsip Rekayasa Geoteknis). Diterjemahkan oleh Noor Endah dan Indrasurya B. Mochtar. Erlangga: Jakarta.1995.
Budiman, N. Ari. Pengaruh Penambahan Abu Ampas Tebu Terhadap Sifat Fisik dan Sifat Mekanik Tanah Lempung Ekspansif. Jurnal Ilmiah Teknik Sipil Vol.17, No.1, Universitas Udayana, Bali.2013.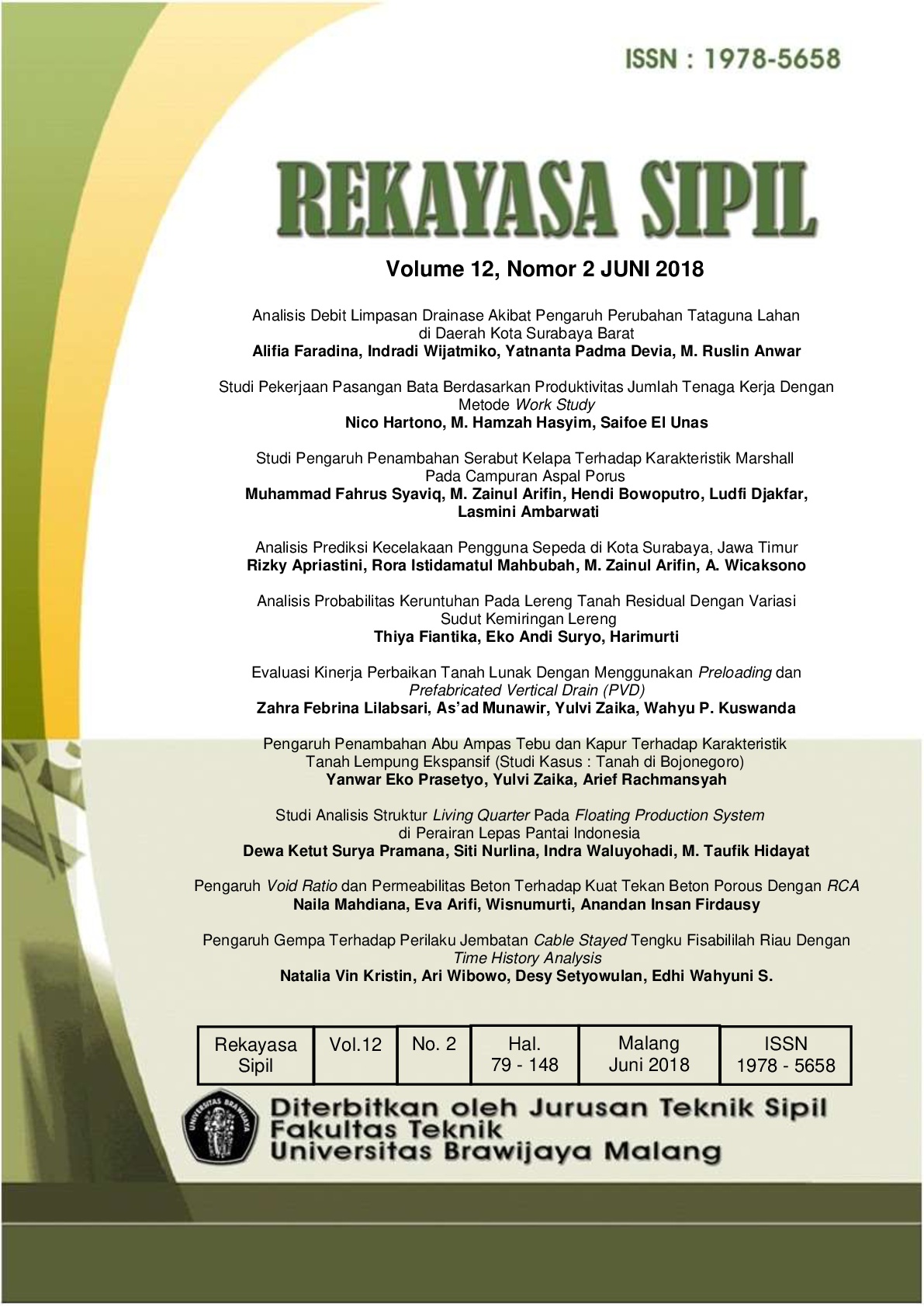 Downloads
License
This journal is licensed under a 
Creative Commons Attribution 4.0 International License