Evaluasi Kinerja Perbaikan Tanah Lunak Dengan Menggunakan Preloading dan Prefabricated Vertical Drain (PVD)
Keywords:
Consolidation, Preloading, Prefabricated Vertical Drain, Geotechnical Instruments, Asaoka
Abstract
The settlement of soil consolidation is geotechnical problem which is often found in soft soil accumulation. It is therefore, Preloading and Prefabricated Vertical Drain techniques are used to accelerate consolidational settlement. The problem which often appeared in using Preloading and Prefabricated Vertical Drain (PVD) is the failure of design. It causes the consolidationtime cannot run in accordance with the planning. In order to have soil improvemet method which has high effectiveness it is necessary to evaluate the use of geotechnical instruments. In this study, the evaluation covers 3 (three) geotechnical instruments, where Settlement Plate is used to evaluate theoretical settlement, to calculate final settlement prediction with Asaoka observation method and consolidation degree in the field. Consolidation degree also can be evaluated using Pneumatic Piezometer instrument. The inclinometer is used to evaluated the stability of embankment. The failure of design in using Preloading and Prefabricated Vertical Drain (PVD) can be accured because of the mistake of planner in determaining soil design parameters, therefore this study also discusses soil design parameters in actual condition using back analysis method. The results obtained in this study are comparison of actual and theoretical settlement on average of 0.862. To predict final settlement it can be obtained the value 2191,08 mm with the rest of settlement which will be accured about 100 – 450 mm. In this study the actual consolidation degree from Piezometer reading is 85,36% and Settlement Plate reading is 88,42% with the difference of 3,06%. From Inclinometer reading lateral shift which is accured below the soil there is no land slide so that the embankment which is used remains safe The result of back analysis method is Ch value where the new Ch value is 1,914Cv.
References
Jafri, Muhammad. Metoda Perbaikan Tanah Lunak Pada Ruas Jalan Sekincau-Suoh di Kabupaten Lampung Barat, Rekayasa, Jurnal Sipil dan Perencanaan, Vol.13 No.2, 2009.
Kuswanda, Wahyu P. Perbaikan Tanah Lempung Lunak Metoda Preloading Pada Pembangunan Infrastruktur Transportasi di Pulau Kalimantan. Prosiding Seminar Nasional Geoteknik.2016
Hardiyatmo, Hary C., Mekanika Tanah I, Yogyakarta: UGM Press.2002
Yunias, Lishia. 2010. Analisa Balik Parameter Desain Preloading Dengan Vertical Drains – Studi Kasus Perbaikan Tanah PT. Pupuk Kaltim Bontang. Skripsi. Jakarta. Universitas Bina Nusantara
Winner, Dofran; Noor Endah, Putu Tantri Kumalasari. Perbaikan Tanah Dasar Menggunakan Pre-Fabricated Vertical Drain Dengan Variasi Kedalaman dan Perkuatan Lereng Dengan Turap (Studi Kasus : Lapangan Peumpukan Peti Kemas, Pelabuhan Trisakti, Banjarmasin, Kalimantan Selatan). Jurnal Teknik ITS, Vol.6, No.1.2017
Ohoimas, M., Y.; Hamdhan, I.,N. Analisis Konsolidasi dengan Menggunakan Metode Preloading dan Vertical Drain pada Areal Reklamasi Proyek Pengembangan Pelabuhan Belawan Tahap II. Reka Racana, Vol.1, No.1, 2015.
Asaoka, A. Observational Procedure of Settlement Prediction. Soils and Foundation, No.4.1978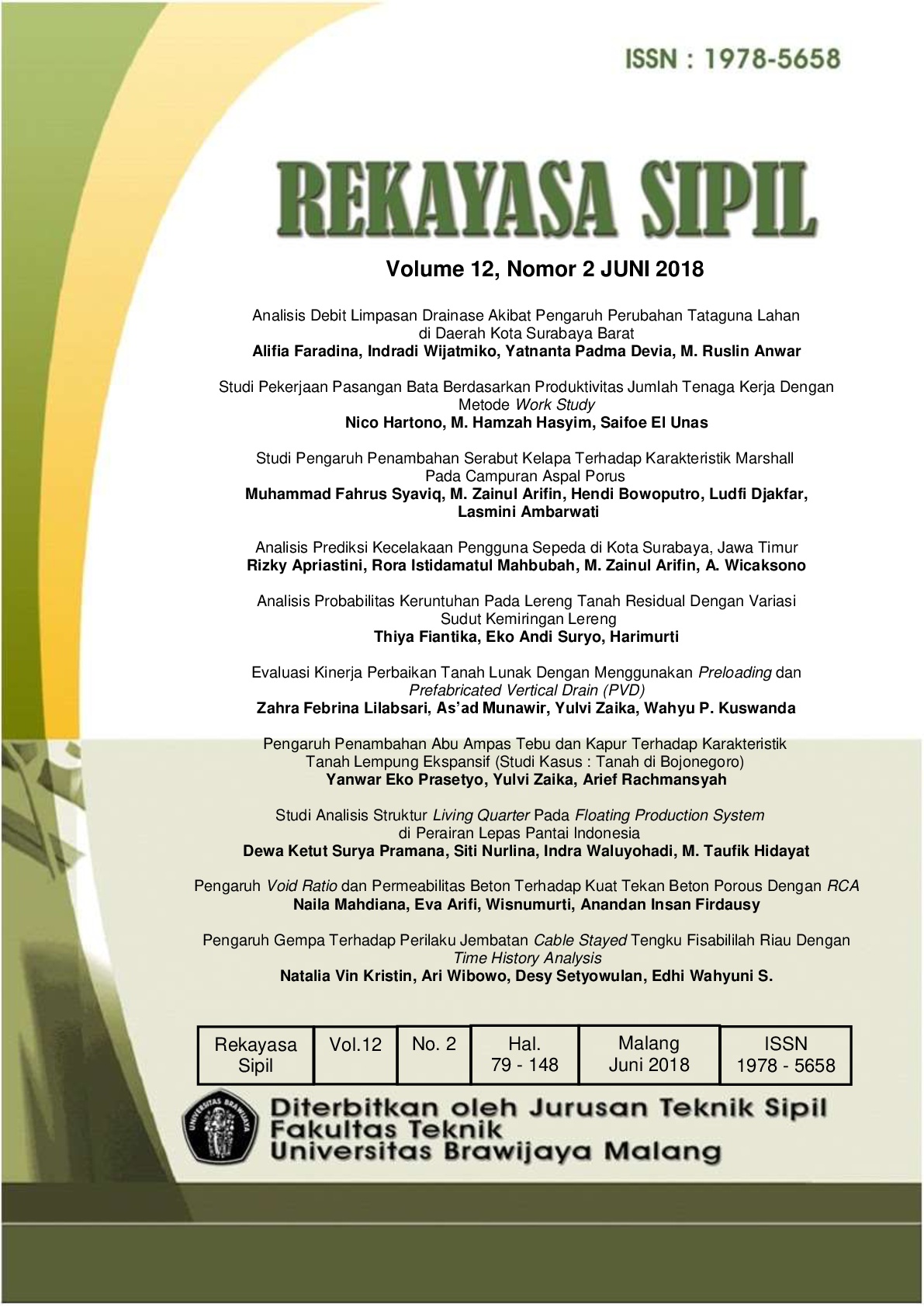 Downloads
How to Cite
Lilabsari, Z. F., Munawir, A., Zaika, Y., & Rachmansyah, A. (2019). Evaluasi Kinerja Perbaikan Tanah Lunak Dengan Menggunakan Preloading dan Prefabricated Vertical Drain (PVD). Rekayasa Sipil, 12(2), pp.112 – 117. https://doi.org/10.21776/ub.rekayasasipil.2018.012.02.6
License
Copyright (c) 2019 Rekayasa Sipil
This work is licensed under a Creative Commons Attribution-NonCommercial 4.0 International License.

This journal is licensed under a Creative Commons Attribution 4.0 International License