Studi Pasangan Bata Berdasarkan Produktivitas Jumlah Tenaga Kerja Dengan Metode Work Study
Keywords:
masonry work, unit price, SNI, work study
Abstract
Research on the comparative analysis of masonry unit price based on SNI and Work Study was conducted by the method of analysis SNI and analysis Work Research Study. The object of this study is a simple home construction project in Nurasa Regency Nganjuk. Calculation method using the coefficient existing SNI SNI Work Study while the calculation using the coefficient obtained through the research and the results shown in the method Work Study. After processing, the results obtained in the development. the method used is the analysis of ISO 6897-2008 with the number 6.9 to work 1 m2 couple red brick wall size (5 x 11 x 22) ½ cm thick brick, a mixture of species 1 PC: 4 PP. In the implementation of a method of the materials used are ISO methods but to the number of workers and working time adjusted to the field conditions where there may be differences between SNI and the field. The method of implementation in current research project is not in accordance with the SNI, because at the time of the field research used several different work groups. This certainly affects the cost of the implementation, where the number of different artisan or worker resulted in considerable cost difference anyway. In addition some of the things that makes the price to be much different and are beyond boundary problem should be eliminated in order to get the correct result - really can be compared with the SNI. Some things are omitted or overlooked include job preparation, work benangan, foreman, and the foreman. Budget plan masonry work per square meter according to SNI is USD 86,472.50. Budget plans masonry work costs per square meter with a method Work Study is USD 77,395.50. So the comparison difference masonry work cost per square meter between SNI and methods Work Study is Rp 9,076.50.
References
Subarjo, Faktor-faktor yang mempengaruhi produktivitas karyawan pada CV. Granada, Jurnal Ekonomi dan Bisnis OptimuM, Vol. 5 No.2, 2015.
Yuniarsih, Tjujtu dan Suwanto, Manajemen Sumber Daya Manusia, Alfabeta, Bandung, 2009.
Rismayadi, Budi. Jurnal Manajemen dan Bisnis, Vol.1, No.1, 2015.
Priyo, Mandiyo; Nasrudin, G. A. Jurnal Ilmiah Semesta Teknika, Vol.17, No.1, 2014. [
Izzhati, D. N. ; Anendra, Dhieka. Seminar Nasional Teknologi Informasi dan Komunikasi Terapan 2012. 2012. [6] Rafian, A. M. ; Muhsin, Ahmad. Jurnal OPSI, Vol. 10, No. 1, Juni, 2017.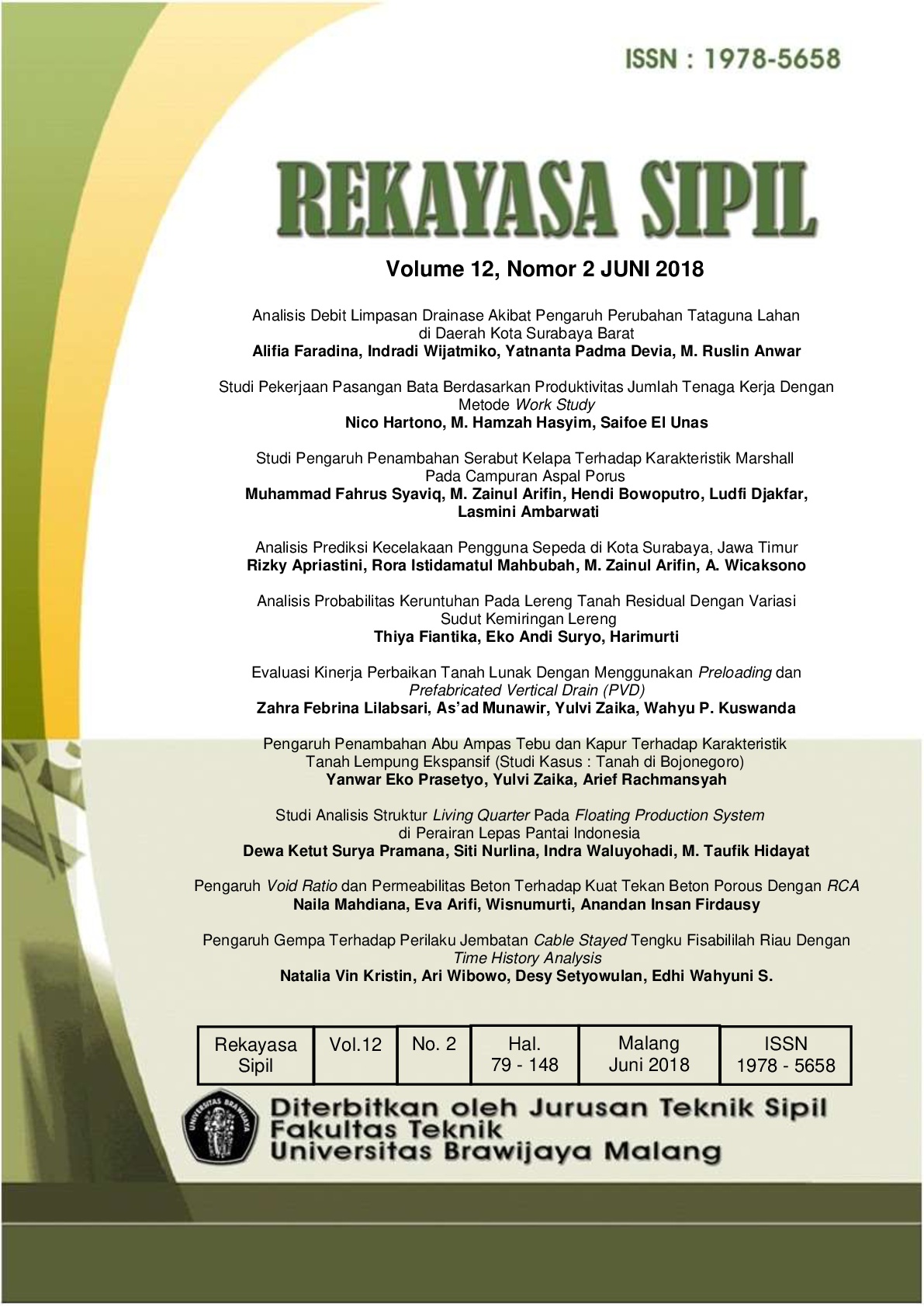 Downloads
How to Cite
Hartono, N., Hasyim, M. H., & El Unas, S. (2019). Studi Pasangan Bata Berdasarkan Produktivitas Jumlah Tenaga Kerja Dengan Metode Work Study. Rekayasa Sipil, 12(2), pp.87 – 91. https://doi.org/10.21776/ub.rekayasasipil.2018.012.02.2
License
Copyright (c) 2019 Rekayasa Sipil
This work is licensed under a Creative Commons Attribution-NonCommercial 4.0 International License.

This journal is licensed under a Creative Commons Attribution 4.0 International License