Analisis Debit Limpasan Drainase Akibat Pengaruh Perubahan Tata Guna Lahan
Keywords:
Analysis, Debit, Land Use, Gunungsari
Abstract
The drainage area of the secondary drainage system of the Gunungsari often occurs inundation or flood during rain. This is due to land use change, which was originally a water catchment area transformed into a densely populated area that resulted in disruption of soil absorption so that runoff becomes bigger. The analysis used in this thesis includes hydrological analysis, land use analysis, domestic discharge analysis, cumulative discharge analysis and hydraulics analysis. The hydrological analysis calculated the rainfall at return period of 2, 5, and 10 year with the Pearson Log distribution III, discharge calculation of the plan with the return period by means of the rational method and the method of coefficient value of land use (C) the land is then divided by the area of each sub das. The analysis of domestic waste was calculated from the total population prediction in the future and the water needs of the population. The cumulative discharge was total from domestic discharge and flood discharge of the return period of 2, 5, and 10 years. Hydraulic analysis was calculated to know the existing capacity of channel. The changing of land use were represented by average land use value ( Caverage ), which the value are 0,732; 0,725 and 0,747 for the year 2002; 2007 and 2017 respectively. Based on the results of flood discharge planning analysis, cumulative discharge in return periods of 10 years and hydraulic analysis, the flooding occurred at Darmo Indah channel (segment 5-2) by comparing capacity discharge 2,49 m3 / s and cumulative discharge 4,360 m3/s, Darmo Harapan channel (segment 4-5) by comparing capacity discharge 2,90 m3/s and cumulative discharge 4,496 m3/s. Darmo Satelit channel (segment 7-8) by comparing capacity drainage 4,08 m3/s and cumulative discharge 4,586 m3/s and Simo Gunung channel (segment 18-19) by comparing capacity drainage and cumulative discharge 1,31 m3/s and 2,648m3/s. The capacity of existing secondary channels is not able to accommodate cumulative water discharge over the next 10 years. Therefore, the solution to overcome the flooding is by substituting existing channel box culvert. On the other had, another way to prevent flooding are maintenance and cleaning of solid waste and sedimention regularly.
References
Nainggolan, Julius; Yohanna Lilis H.; SIgit Sutikno, Analisis DAmpak Perubahan Tata Guna Lahan DAS Siak Bagian Hulu Terhadap Debit Banjir, Jom FTEKNIK Vol.2, No. 2, 2015.
Saleh, Chairil, Kajian Penanggulangan Limpasan Permukaan Dengan Menggunakan Sumur Resapan (Studi Kasus di Daerah Perumnas Made Kabupaten Lamongan), Media Teknik Sipil, Vol.9, N0.2, 2011.
Soewarno. 1995. Aplikasi Metode Statistik Untuk Analisa Data Hidrologi. Bandung: Nova.
Triatmodjo, B. 2010. Hidrologi Terapan. Yogyakarta: Beta Offset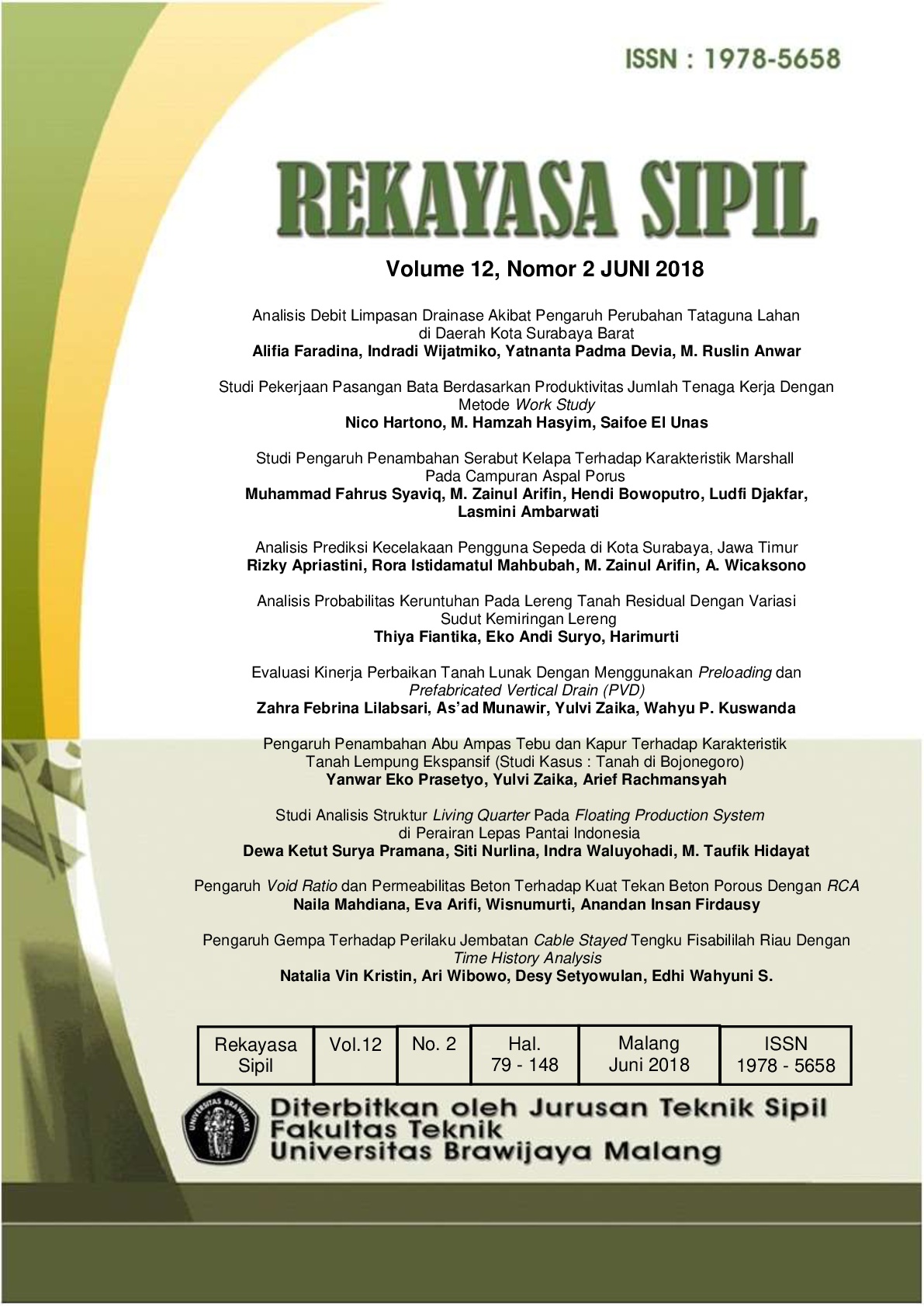 Downloads
How to Cite
Faradina, A., Wijatmiko, I., & Devia, Y. P. (2018). Analisis Debit Limpasan Drainase Akibat Pengaruh Perubahan Tata Guna Lahan. Rekayasa Sipil, 12(2), pp.79 – 86. https://doi.org/10.21776/ub.rekayasasipil.2018.012.02.1
License
Copyright (c) 2019 Rekayasa Sipil
This work is licensed under a Creative Commons Attribution-NonCommercial 4.0 International License.

This journal is licensed under a Creative Commons Attribution 4.0 International License