MODEL ESTIMASI RISIKO PADA PROYEK INFRASTRUKTUR SKEMA KERJASAMA PEMERINTAH DAN SWASTA DENGAN PENDEKATAN FUZZY-DELPHI
Keywords:
public-private partnership, infrastructure project, risk management, quantitative risk analysis, fuzzy logic, delphi method
Abstract
The development of infrastructure under public-private partnerships (PPP) schemes is perceived having a relatively high level of risk. Its referring to the scale of investment which requires generated income to be spread over a long time of concession period. Hence, the success of PPP in infrastructure development can not be separated from the appropriate risks allocation to the involved parties that best able to bear the risks. As one of the key steps in risk management process, risk assessment will provides the profile of the risks identified more depth and specific, then allocated to the parties as the mechanism of risks response. This study develops a model based on fuzzy-delphi approach to facilitate a structured subjective judgement of risks in a PPP infrastructure project. The model was tested by taking the case study of 15 identified major risks in water supply project under PPP concession scheme in Indonesia. The testing and evaluation of the proposed model involves a number of officials and staff from related central government agencies as respondents. By applying Fuzzy-Delphi technique, the probability and impact value of 15 major risks were assessed and quantified. Criteria used for model evaluation are comprehensiveness, clarity, ability to apply in real projects, contribution to the better decision, and overall satisfaction. Evaluation result indicated that the developed model is acceptable according to appreciation and approvals from the respondents representing the parties that are most interested with the model implementation in the future.
References
Peraturan Presiden No. 38 Tahun 2015 tentang Kerjasama Pemerintah dan Badan Usaha dalam Penyediaan Infrastruktur
Conrow, E.H. (2003), Effective Risk Management: Some Keys to Success, 2nd Edition, American Institute of Aeronautics and Astronautics.
Akintoye, A, Fitzgerald, E dan Hardcastle, C. (1999), Risk Management for Local Authorities' Private Finance Initiative Projects, Proceedings of Construction and Building Research (COBRA) Conference, University of Salford, UK.
Merrifield, A., Manchidi, T. E., dan Allen, S. (2002), The Asset Procurement and Operating Partnership System (APOPS) for Prisons in South Africa, International Journal of Project Management, 20 (8), 575-582.
Ng, A. dan Loosemore, M. (2006), Risk Allocation in the Private Provision of Public Infrastructure, International Journal of Project Management, 25, 66-76.
Wang, S.Q., dan Tiong, R.L.K. (2000), Case Study of Government Initiatives for PRC's BOT Power Plant Projects, International Journal of Project Management, 18 (1), 69-78.
Askar, M.M dan Gab-Allah, A.A. (2002), Problems Facing Parties Involved in Build, Operate, and Transfer Projects in Egypt, Journal of Management in Engineering, 18 (4), 173-178.
Grimsey, D, dan Lewis, M.K. (2004), Public Private Partnerships: The Worldwide Revolution in Infrastructure Provision and Project Finance, Edward Elgar, Cheltman, UK.
Hulett, D.T. (2004), Quantitative Risk Analysis Fundamentals, Acquisition Community Connection, Los Angeles.
Stam, D.W., Lindenaar, F., Kindereen, S., dan den Bunt, B. (2004), Project Risk Management: An Essential Tool for Managing and Controlling Projects, Kogan Page, London and Sterling, VA.
Sunnevaag, K., dan Samset, K. (2007), Making Large Decisions When Little Information Exists, Project Perspectives, 29, 58-64.
Rommelfanger, H. (2003), Fuzzy Decision Theory: Intelligent Ways for Solving Real-World Decision Problems and for Saving Information Costs, dalam, G. D. Riccia, D.
Dubois, R. Kruse dan H.-J. Lenz, Eds., Planning Based on Decision Theory, Wien, Springer.
Kangari, R., dan Riggs, L.S. (1989), Construction Risk Assessment by Linguistics, IEEE Transaction in Engineering Management, 36 (2), 126-131.
Esogbue, A.O., dan W.E. Hearnes II. (1998), On Replacement Models Via a Fuzzy Set Theoretic Framework, IEEE Transactions on Systems, Man, and Cybernetics, 28 (4), 549-560.
Chang, I.S., Tsujimura, Y., Gen, M., dan Tozawa, T. (1995), An Efficient Approach for Large Scale Project Planning Based on Fuzzy Delphi Method, Fuzzy Sets and Systems, 76, 277-288.
Baloi, D. dan Price, A.D.F. (2003), Modelling Global Risk Factors Affecting Construction Cost Performance, International Journal of Project Management, 21, 261–9.
Project Management Institute (2000), A Guide to the Project Management Body of Knowledge, Philadelphia, USA.
Cooper, D.F., Grey, S., Raymond, G., dan Walker, P. (2005), Project Risk Management Guidelines: Managing Risk in Large Projects and Complex Procurements, John Wiley & Sons Ltd, England.
Walewski, J., Gibson, G.E, dan Vines, E.F. (2006), Risk Identification and Assessment for International Construction Projects, Global Project Management Handbook, 2nd Edition, McGraw-Hill, Inc., New York.
California Transportation (2007), Project Risk Management Handbook: Threats and Opportunities, Office of Statewide Project Management Improvement, Sacramento, USA.
Hillson, D. (2009), Managing Risk in Projects, Gower Publishing Limited, England
Washington State Department of Transportation (WSDOT). (2009), Project Risk Management Guidance for WSDOT Projects, WSDOT Administrative and Engineering Publications, USA.
Tah, J.H.M. dan Carr, V. (2000), A Proposal for Construction Project Risk Assessment Using Fuzzy Logic, Construction Management and Economics, 18, 491-500.
Nasirzadeh, F., Afshar, A., and Kharzadi, M. (2008), Dynamic Risk Analysis in Construction Projects, Canadian Journal of Civil Engineering, 35 (8), 820–831.
Shaheen, A., Fayek, A.R., and Abourizk, S.M. (2007), Fuzzy Numbers in Cost Range Estimating, Journal of Construction Engineering and Management, 133 (4), 325-334.
Kim, W.J., Ko, J.H., dan Chung, M.J. (1994), Uncertain Robot Environment Modeling Using Fuzzy Numbers, Fuzzy Sets and Systems, 61, 53-62.
Kusumadewi, S. (2002), Analisis dan Desain Sistem Fuzzy Menggunakan Toolbox Matlab, Penerbit Graha Ilmu, Yogyakarta.
Ghavamifar, K. (2009), A Decision Support System for Project Delivery Method Selection in the Transit Industry, PhD Dissertation, The Department of Civil and Environmental Engineering, Northeastern University, Boston, Massachusetts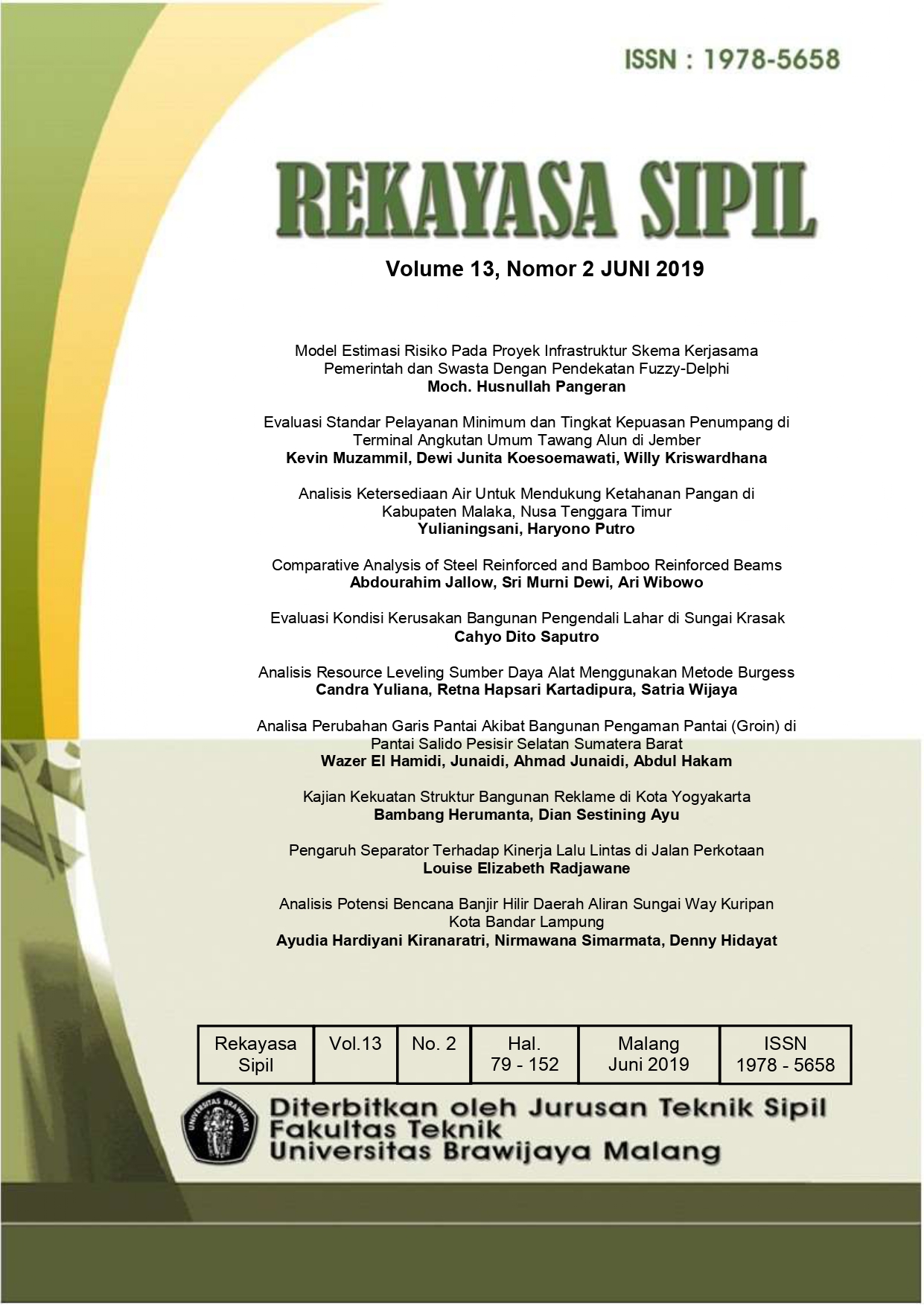 Downloads
How to Cite
Pangeran, M. H. (2019). MODEL ESTIMASI RISIKO PADA PROYEK INFRASTRUKTUR SKEMA KERJASAMA PEMERINTAH DAN SWASTA DENGAN PENDEKATAN FUZZY-DELPHI. Rekayasa Sipil, 13(2), pp.79 – 88. https://doi.org/10.21776/ub.rekayasasipil.2019.013.02.1
License
Copyright (c) 2019 Rekayasa Sipil
This work is licensed under a Creative Commons Attribution-NonCommercial 4.0 International License.

This journal is licensed under a Creative Commons Attribution 4.0 International License