ANALISA HIDROLOGI DAN HIDROLIKA PADA DAERAH ALIRAN SUNGAI (DAS) KALI PACAL BOJONEGORO
Keywords:
Chekdam, sedimentation, Pacal River.
Abstract
Erosion and sedimentation are two interrelated problems. In the Pacal river catchment area, in its development there has been environmental damage which has caused problems in watershed management in the form of changes in the function of paddy fields which basically results in a decline in the amount of water demand. The aim of the study was to monitor and evaluate the performance of the Pacal River sub-watershed using water management criteria. The results of the study found that the Flood calculation for 5 years with the Harpes method with Debit yields of 443,678 m³ / sec, the Rational method produced 413,495 m³ / sec and the Melchoir method produced 412,824 m³ / sec.
References
si. M. Mac Donald Partners. (1984), Buku Panduan Pelaksanaan O & P Pengairanâ€Proyek Irigasi Jawa Timur : Dirjen Pengairan Dep. PU Tahun
Erman Mawardi. (2007). Desain Hidraulik.Bangunan Irigasi Alfabeta : Dipl. AIT Bandung.
Imam Subarkah "Hidrologi, untuk Perencanaan Bangunan Airâ€, Idea Dharma Bandung 1980.
Mansoer. Syamsudin. (2008). Perencanaan Teknis Rehabilitasi Jaringan Irigasi (Saluran dan Bangunan).: Dipl. HE Pelatihan PISP Bandung April.
Roestam Sjarief, Ph. D, Edisi II "Pengelolaan Sumber Daya Air Terpadu" ANDI Yogyakarta , ISBN : 978- 979 -29-0239-6
Jurnal Teknik Spil Universitas Bojonegoro (De'TekSi) Edisi I Volume I Tahun 2016
Undang-Undang Republik Indonesia Nomor 11 tahun 1974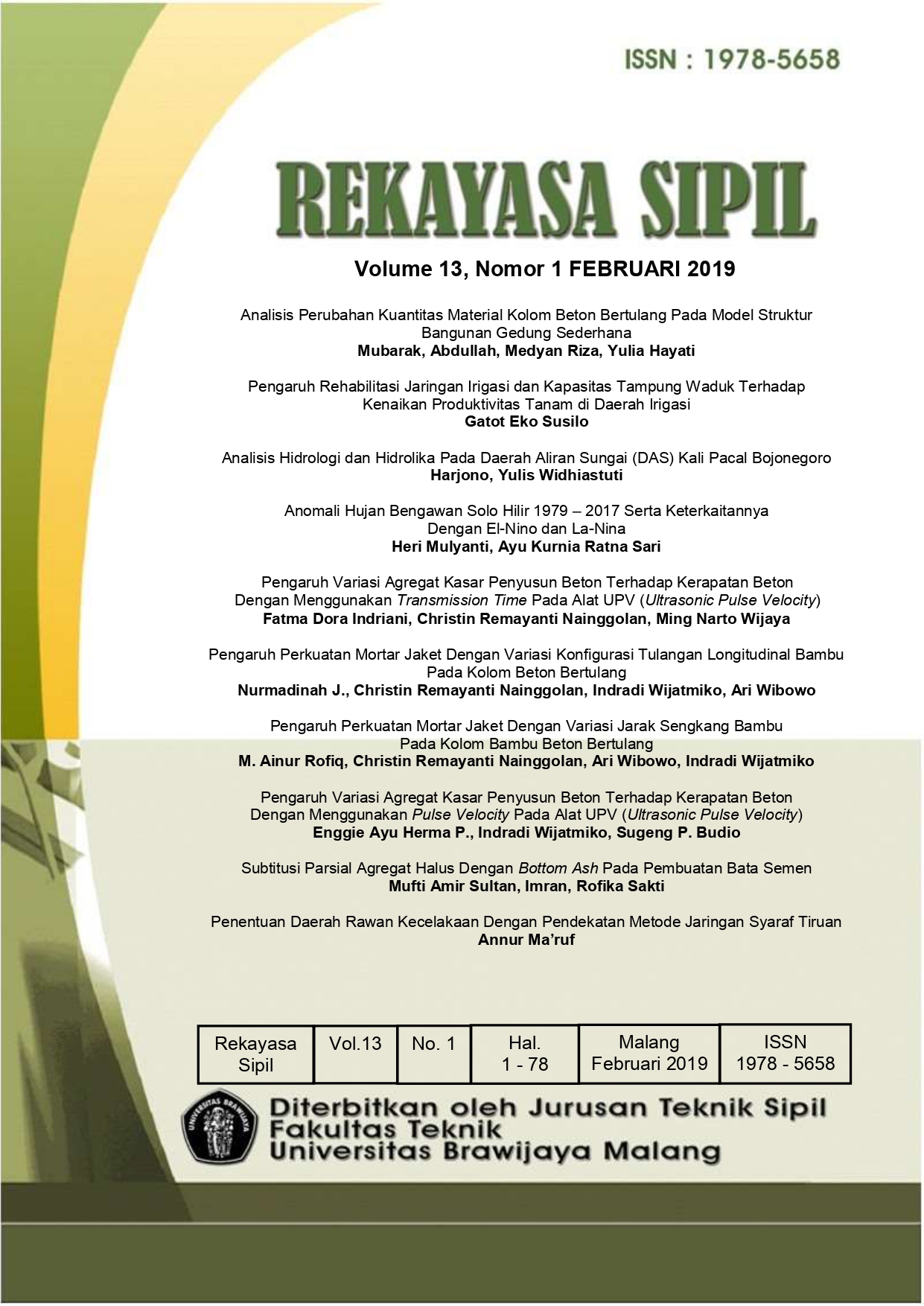 Downloads
How to Cite
Harjono, H., & Widhiastuti, Y. (2019). ANALISA HIDROLOGI DAN HIDROLIKA PADA DAERAH ALIRAN SUNGAI (DAS) KALI PACAL BOJONEGORO. Rekayasa Sipil, 13(1), pp.16–23. https://doi.org/10.21776/ub.rekayasasipil.2019.013.01.3
License
Copyright (c) 2019 Rekayasa Sipil
This work is licensed under a Creative Commons Attribution-NonCommercial 4.0 International License.

This journal is licensed under a Creative Commons Attribution 4.0 International License