ANALISIS PERUBAHAN KUANTITAS MATERIAL KOLOM BETON BERTULANG PADA MODEL STRUKTUR BANGUNAN GEDUNG SEDERHANA
Keywords:
reinforced concrete, column, dimension, , material quantity, earthquake
Abstract
The loading aspect of a building is one of the factors that varies the dimensions of building components. Differences in building site areas are also contributed to the load received by buildings, especially in terms of earthquake loads. For the Province of Aceh with relatively high levels of earthquake vulnerability, the problems of structure dimensions change that caused by earthquake need to be specified. Changes to dimensions will affect the quantity of works, and furthermore against the building price standard. This research conducted to analyze the change of material quantity caused by earthquake load changes based on indication of acceleration of spectral response. This study was conducted by developing a model of simple building structure design and load change analyzed in 8 earthquake zones. The analysis focused specifically on the structural components of reinforced concrete columns. The information obtained from the analysis explains the effect of earthquake load changes from each of the observed zones on the use of reinforcing steel materials. The same condition is also seen in the ratio of reinforcement usage per cubic meter of concrete. The changes begin to be seen when the building model is positioned on zone 14 with an acceleration of 1.19g spectrum response.
References
Asrurifak, 2017, Peta Gempa Indonesia 2017 dan Aplikasinya untuk Perencanaan Gedung dan Infrastruktur Tahan Gempa, Slide presentasi Workshop Pengurangan Risiko Bencana Gempa Kota Surabaya & Jawa Timur.
SNI 1726:2012 tentang Tata Cara Perencanaan Ketahanan Gempa untuk Bangunan Gedung dan Non Gedung, Badan Standardisasi Nasional, Jakarta.
Yépez, F., and Yépez, O., 2017, 'Role of construction materials in the collapse of R/C buildingsafter Mw 7.8 Pedernales – Ecuador earthquake, April 2016', Case Studies in Structural Engineering, 7, 24–3.
Yoshikawa, H., and Goda, K., 2014, 'Financial Seismic Risk Analysis of Building Portfolios', Nat. Hazards Rev., 15(2), 112-120.
Tas, E., and Yaman, H., 2005, 'A building cost estimation model based on cost significant work packages', Engineering, Construction and Architectural Management, 12(3), 251-263.
Mubarak, 2010, 'Studi Harga Satuan Bangunan Gedung di Provinsi Nanggroe Aceh Darussalam', Jurnal Teknik Sipil, 1(1), 43-52.
Mubarak, Tripoli, Nurisra, 2018, 'The Unit Price Implication of Reinforcement Usage in Tie Beam Reinforced Concrete Construction', Aceh Int. J. Sci. Technol., 5(1):24-31.
Tripoli, Mubarak, Nurisra, dan Mahmuddin, 2017, 'The implementation of unit price of work standard SNI 7394: 2008 for the construction of reinforced concrete beam', The 7th AIC-ICMR on Science and Engineering, 173-178.
Tripoli, Nurisra, dan Mubarak, 2017, 'Analisis kebutuhan tulangan pelat lantai beton bertulang pada konstruksi bangunan gedung', Konferensi Nasional Teknik Sipil 11, 1-9.
Peraturan Menteri Pekerjaan Umum Nomor 45/PRT/M/2007 Tentang Pedoman Teknis Pembangunan Bangunan Gedung Negara.
SNI 1727:2013 tentang Beban Minimum untuk Perancangan Bangunan Gedung dan Struktur Lain, Badan Standardisasi Nasional, Jakarta.
SNI 2847:2013 tentang Persyaratan Beton Struktural untuk Bangunan Gedung, Badan Standardisasi Nasional, Jakarta.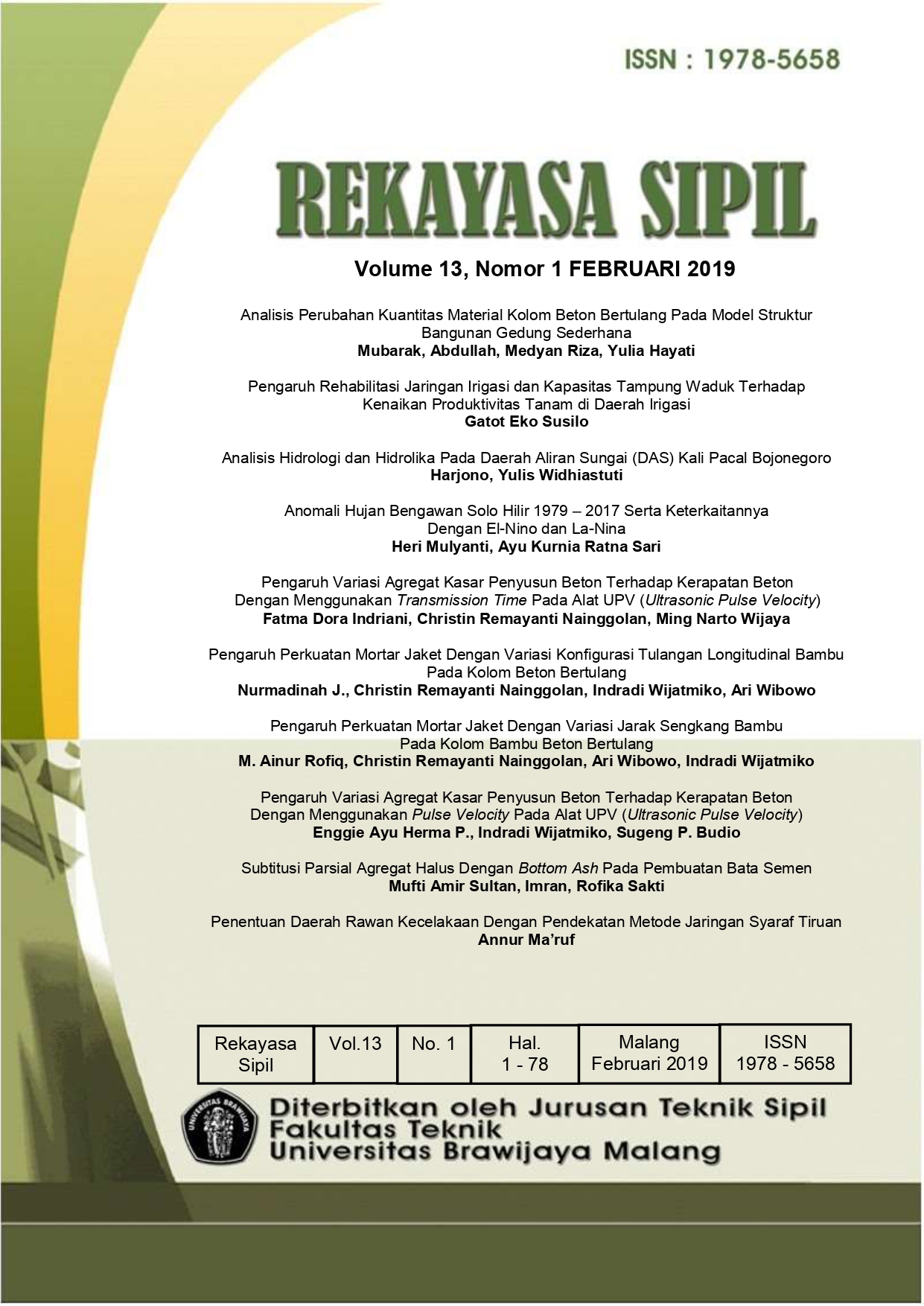 Downloads
How to Cite
Mubarak, M., Abdullah, A., Riza, M., & Hayati, Y. (2019). ANALISIS PERUBAHAN KUANTITAS MATERIAL KOLOM BETON BERTULANG PADA MODEL STRUKTUR BANGUNAN GEDUNG SEDERHANA. Rekayasa Sipil, 13(1), pp.1–8. https://doi.org/10.21776/ub.rekayasasipil.2019.013.01.1
License
Copyright (c) 2019 Rekayasa Sipil
This work is licensed under a Creative Commons Attribution-NonCommercial 4.0 International License.

This journal is licensed under a Creative Commons Attribution 4.0 International License