Pengaruh Penerapan Green Retrofit Terhadap Life Cycle Cost Pada Bangunan Gedung
Keywords:
energy efficiency, green retrofit, GREENSHIP, life-cycle cost
Abstract
This study aims to investigate one of the benefits of retrofitting an existing educational building in its relation to the building's life-cycle cost. Choosing educational building as a target of green retrofit project and as an object of study for its relevance as an important part of nationwide green project is considered timely, given the fact that there hasn't been any retrofit project in Indonesia that targets educational building despite its necessity to create sustainable environmental management of educational facilities. The improvement made to the building by the project was measured using GREENSHIP Existing Building (EB), which is thelegitimate standard of assessment for the level of energy efficiency and conservation of buildings in Indonesia. Having been retrofitted, the building was rated Silver based on GREENSHIP EB rating system, and it wasa substantial progress compared to its previously non-rated status. The project had resulted in 0.45% decrease ofthe building's total life-cycle cost. Furthermore, it was found that green retrofitting that was particularly oriented towards Energy Efficiency and Conservation, Water Conservation as well as Indoor Health and Comfort categories could cause greater life-cycle cost reduction than retrofitting that was undertaken for the whole categories prescribed in GREENSHIP EB.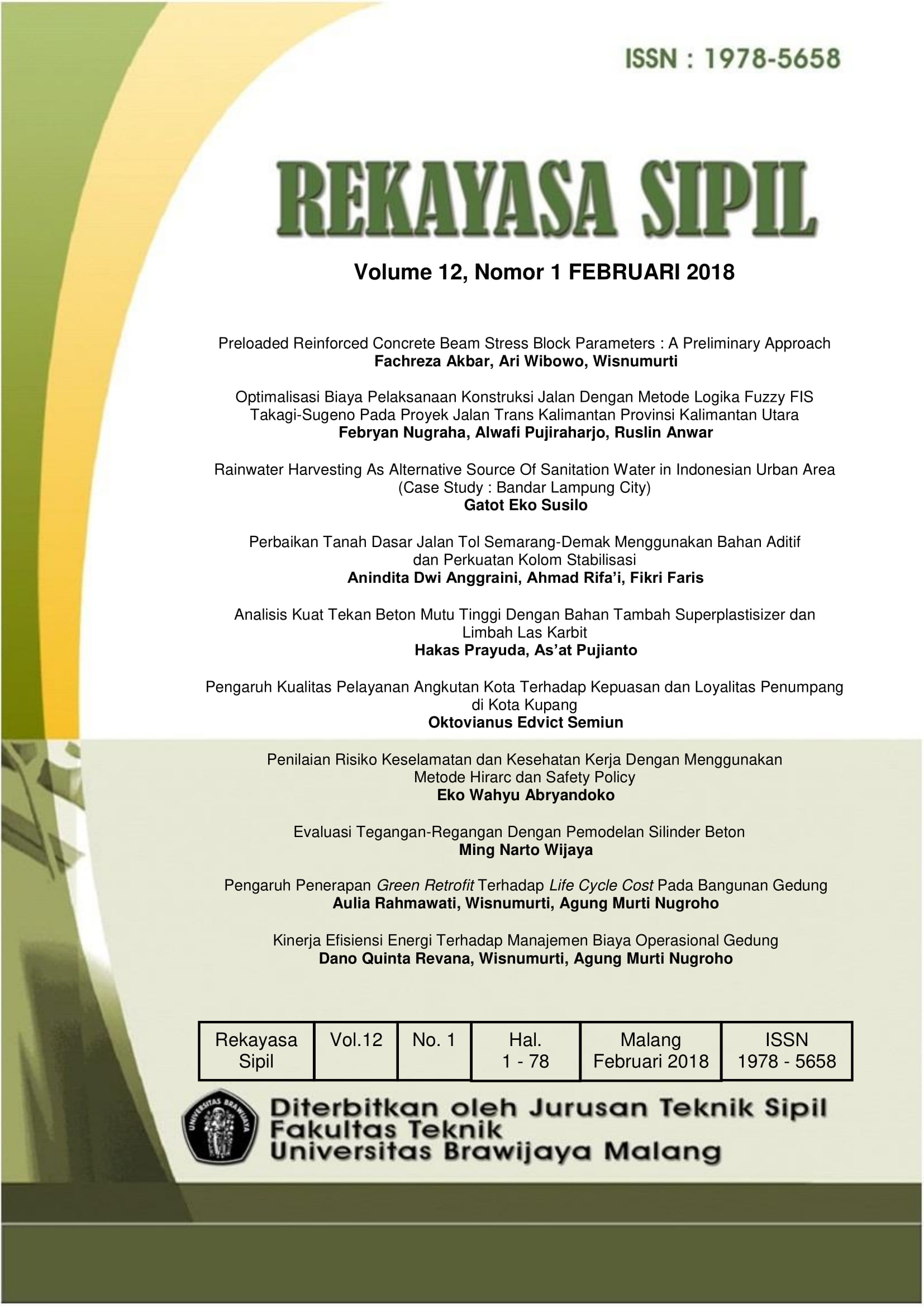 Downloads
How to Cite
Rahmawati, A., Wisnumurti, W., & Nugroho, A. M. (2018). Pengaruh Penerapan Green Retrofit Terhadap Life Cycle Cost Pada Bangunan Gedung. Rekayasa Sipil, 12(1), pp.64–70. https://doi.org/10.21776/ub.rekayasasipil/2018.012.01.9
License
Copyright (c) 2018 Rekayasa Sipil
This work is licensed under a Creative Commons Attribution-NonCommercial 4.0 International License.

This journal is licensed under a Creative Commons Attribution 4.0 International License