Perbaikan Tanah Dasar Jalan Tol Semarang – Demak Menggunakan Bahan Aditif Dan Perkuatan Kolom Stabilisasi
Keywords:
additive, embankment, plaxis, soil deformation, stabilization column
Abstract
In Semarang there is often a flood of sea water that swamp the road. This happens because the ground is lower than the water level, load-carrying capacity is deficient. Following up on this, a new road network is needed as a toll road. To accomplish the problem, it is necessary to increase the load-carrying capacity by improve the subgrade on the toll road using additive and strengthen the stabilization column. Additives used in the form of additives made of inorganic materials containing compounds of calciumchloriddihydrat with pH of 8.24 which has ion bonding energy is greater than the metal material on the surface of the soil grains. The general composition consists of carbon elements 72.78%, hydrogen 21.11%, and nitrogen 1.36%. The research was conducted on soil mix, additive material by comparison 1 gram of additive, 1 liter of water and variation of cement content like 4%, 5%, 6%, 7%. To get the optimum mix for soil improvement. Then numerical analysis by using Plaxis Software v.8.6 with variation of soil thickness and column length stabilization. Test results show that the soil is high-plasticity clay. The soil stabilization was eligible for soil compressive strength testing for layers of soil composite cement foundation of 24 kg / cm2. Soil compressive strength testing of soil stabilization is 2,47 kg/cm 2 with 7% cement and addictive. Based on numerical analysis with plaxis v 8.6 software, the deformation value in the model with 5 m thick soil stabilization and 50 m stabilization column length has met the embankment degression limit according to the PU guideline that is 20 mm for the 1st class road. For the value of road stability safety factor, eligible value 1.4.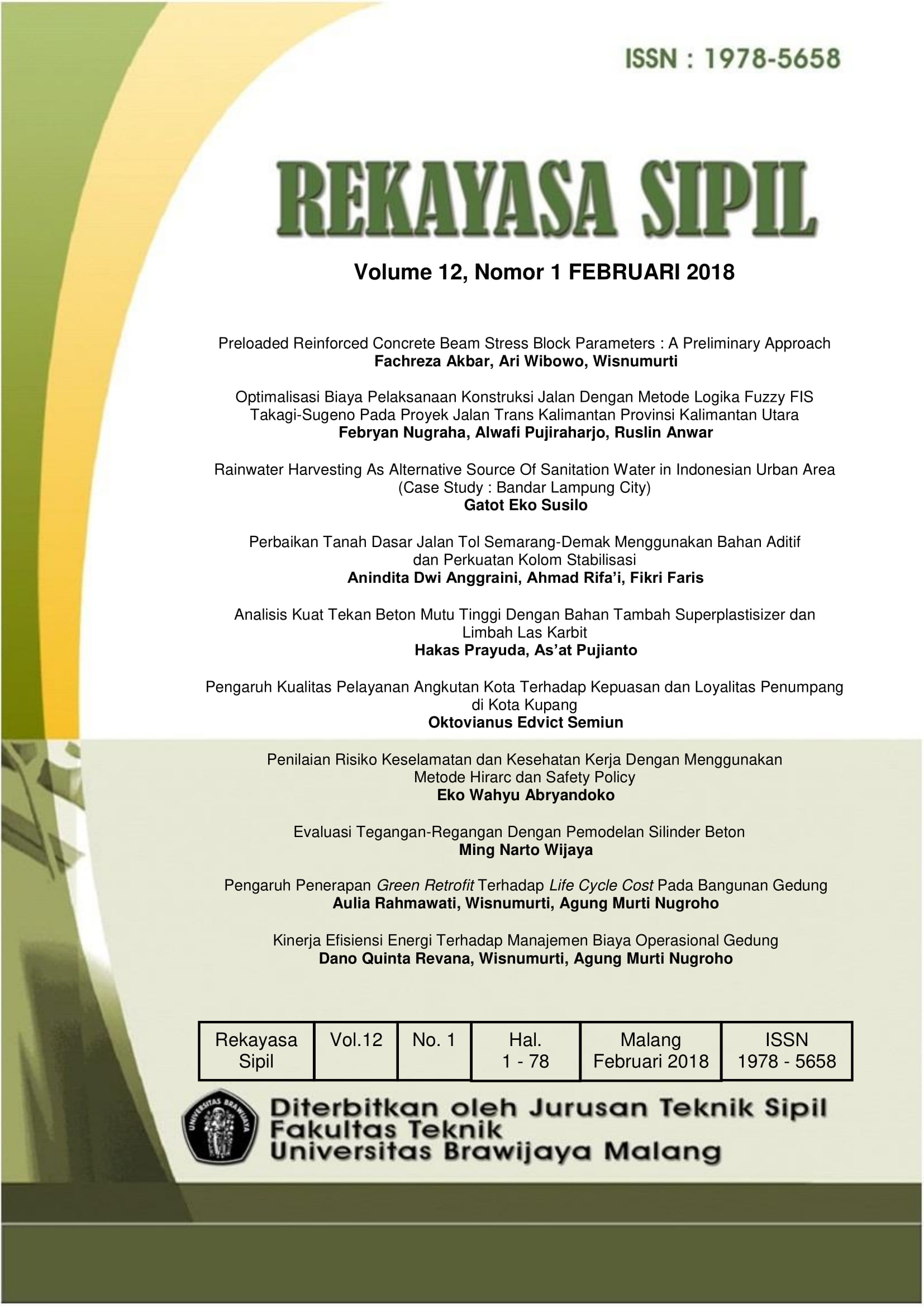 Downloads
How to Cite
Anggraini, A. D., Rifa'i, A., & Faris, F. (2018). Perbaikan Tanah Dasar Jalan Tol Semarang – Demak Menggunakan Bahan Aditif Dan Perkuatan Kolom Stabilisasi. Rekayasa Sipil, 12(1), pp.22–31. https://doi.org/10.21776/ub.rekayasasipil/2018.012.01.4
License
Copyright (c) 2018 Rekayasa Sipil
This work is licensed under a Creative Commons Attribution-NonCommercial 4.0 International License.

This journal is licensed under a Creative Commons Attribution 4.0 International License