Alternatif Desain Perkerasan Jalan dan Perkuatan Lereng Longsor
Keywords:
Flexible pavement, service life, slope reinforcement
Abstract
This study aims to provide an alternative design for flexible pavement and slope reinforcemen. To simplify the analysis process, this research will use the Geo5 program, the Kenpave program, the Bina Marga 2017, the Fellenius method, and the Wedge method. The results of alternative 3 flexible pavement designs are AC-WC 4 cm, AC-BC 5 cm, AC Base 6 cm, and LFA Class A 40 cm, with a load repetition value of 2.363.985 ESAL until deformation damage occurs at a service life of 20 years. For the soil nailing slope reinforcement design, the safe factor value is 1.90 ≥ 1.30 for the Wedge method calculation, and the safety factor value is 1.34 ≥ 1.30 for the results of the Geo5 program.
References
U. Chasanah, "Analisis Stabilitas Lereng Dengan Perkuatan Geotekstil Menggunakan Program Geoslope,†hal. 1–76, 2012.
I. B. Setiawan, A. Rahmawati, dan D. S. M, "Evaluasi Tebal Perkerasan Lentur Menggunakan Program Kenpave di Jalan Maospati – Sukomoro,†2016.
finesoftware.eu, "GEO5 Geotechnical Software,†finesoftware.eu/geotechnical-software/, 2021.
Huang H. Y., "Pavement Analysis and Design. University of Kentucky, Prentice Hall.,†hal. 1–64, 2004.
D. I. Dinata, A. Rahmawati, dan M. D. Setiawan, "Evaluasi Tebal Perkerasan Lentur Dengan Metode Analisa Komponen Dari Bina Marga 1987 Dan Metode Aashto 1993 Menggunakan Program Kenpave (Studi Kasus: Jalan Karangmojo-Semin Sta 0+000 sampai Sta 4+050) ,†Semesta Tek., vol. 20, no. 1, hal. 8–19, 2017.
M. Maryam dan K. H. Putra, "Analisis Perencanaan Tebal Perkerasan Lentur Dengan Metode Bina Marga (Studi Kasus: Jalan Luar Lingkar Timur Surabaya),†J. Teknol. dan Manaj., vol. 1, no. 2, hal. 125–134, doi: 10.31284/j.jtm.2020.v1i2.1113, 2020.
D. Yulianto, "Tugas akhir - Analisis Nilai Sisa Perkerasan Lentur Akibat Beban Berlebih Kendaraan (Overloading) Dengan Metode Empirik Dan Metode Mekanistik-Empirik Dengan Program Kenpave Pada Ruas Jalan Purworejo – Jogja,†2019.
H. C. Hardiyatmo, Mekanika Tanah 2, 5 ed. Yogyakarta: Gadjah Mada University Press. Daerah Istimewa Yogyakarta., 2014.
Badan Standarisasi Nasional, "Sni 8460-2017,†Persyaratan Peranc. Geotek., vol. 8460, hal. 2017, 2017.
EN 1998-5, "European Standard Norme Europeenne Europaische Norm,†vol. 1, no. 2005, 2004.
DISHUB Kab. XX, "Data Survei Jumlah Pergerakan Arus Lalu Lintas,†2019.
Bina Marga, "MANUAL DESAIN PERKERASAN JALAN,†no. No. 02/M/BM/2017, 2017.
Bina Marga, Petunjuk Pelaksanaan Lapis Aspal Beton (Laston), vol. No.13. Jakarta: Departemen Pekerjaan Umum, 1983.
P. Kementerian Pekerjaan Umum dan Perumahan Rakyat, "Aplikasi Spektrum Respons Desain Indonesia, www.rsa.ciptakarya.pu.go.id/, 2021.
FHWA-SA-96-069R, "Manual For Design & Construction Monitoring Of Soil Revised October 1998,†no. October, 1998.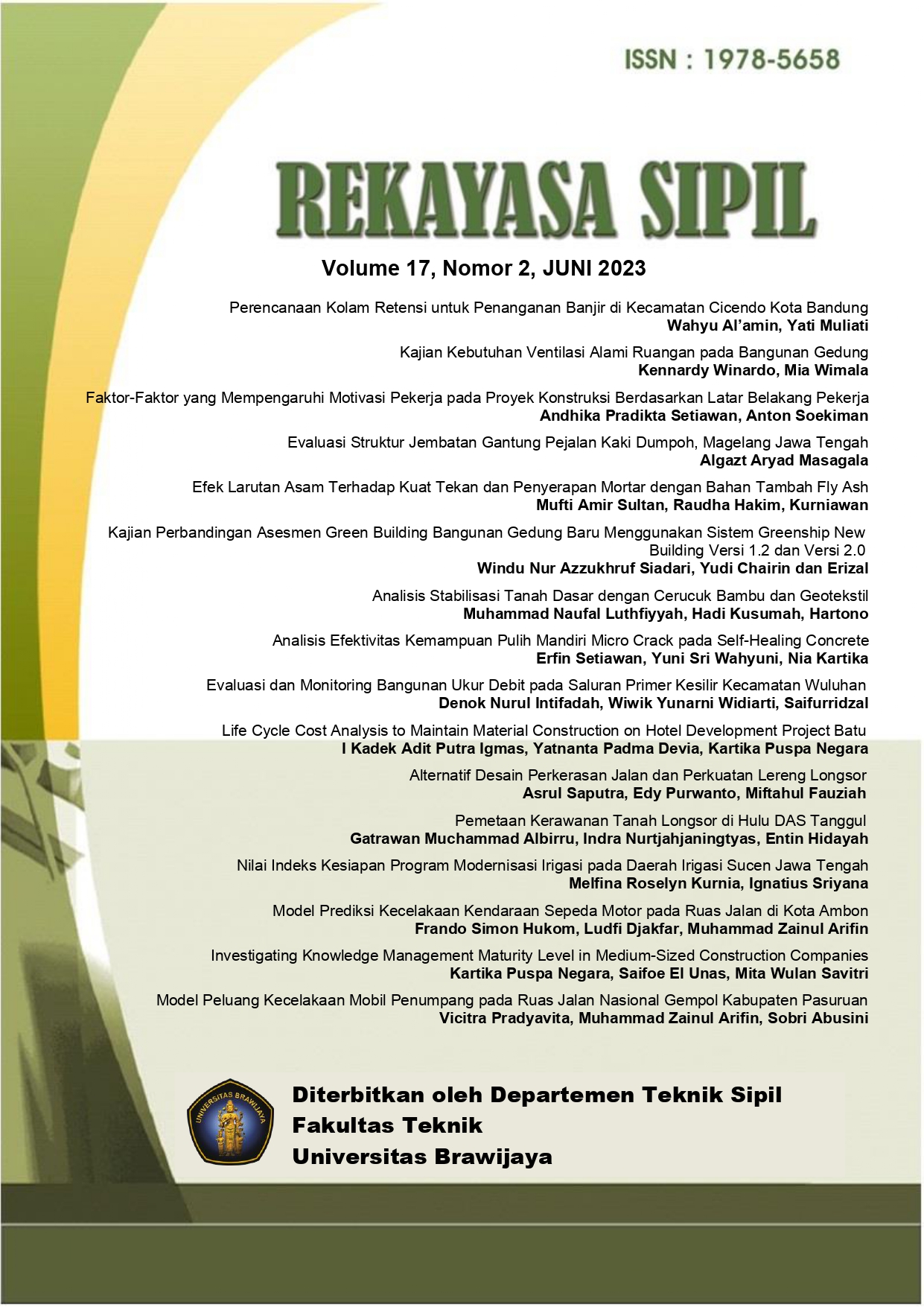 Downloads
License
Copyright (c) 2023 Rekayasa Sipil
This work is licensed under a Creative Commons Attribution-NonCommercial 4.0 International License.

This journal is licensed under a Creative Commons Attribution 4.0 International License