Analisis Stabilisasi Tanah Dasar dengan Cerucuk Bambu dan Geotekstil
Keywords:
Organic clay, subgrade stabilization, bamboo culms, geotextiles, CBR
Abstract
The road plays an essential role as a driving force for development growth in Sukabumi. The access section is an organic clay type with low bearing capacity, so it needs subgrade stabilization. The DCP test obtained a value of 0.76%. The carrying capacity value is in a poor classification. Therefore, it is necessary to strengthen the soil layer using bamboo culms and geotextiles. After that, it is required to do a field CBR. After supporting bamboo culms, the carrying capacity value is 5.63%. This value meets the CBR requirements in medium classification. Thus, it is necessary to add a pavement layer with geotextile. This bearing capacity test obtained a value of 20.59% and is in excellent classification.
References
Wismantara I. G. N. N., Budiarnaya P., Metode Peningkatan Daya Dukung Tanah Lunak, 3 (2) 2020: 37-40
Sutejo Y., Muliawan S., Dewi R., Hadinata F., Ariawan B., Rustam R.K., Pemodelan Perkuatan Menggunakan Bambu untuk Daya Dukung Pondasi Dangkal Pada Tanah Gambut, 9 (2), 2020: 109-114
Soewignjo A.N., Studi Daya Dukung Pondasi Dangkal pada Tanah Gambut dengan Kombinasi Geotekstil dan Grid Bambu, 18 (1), 2011: 31-40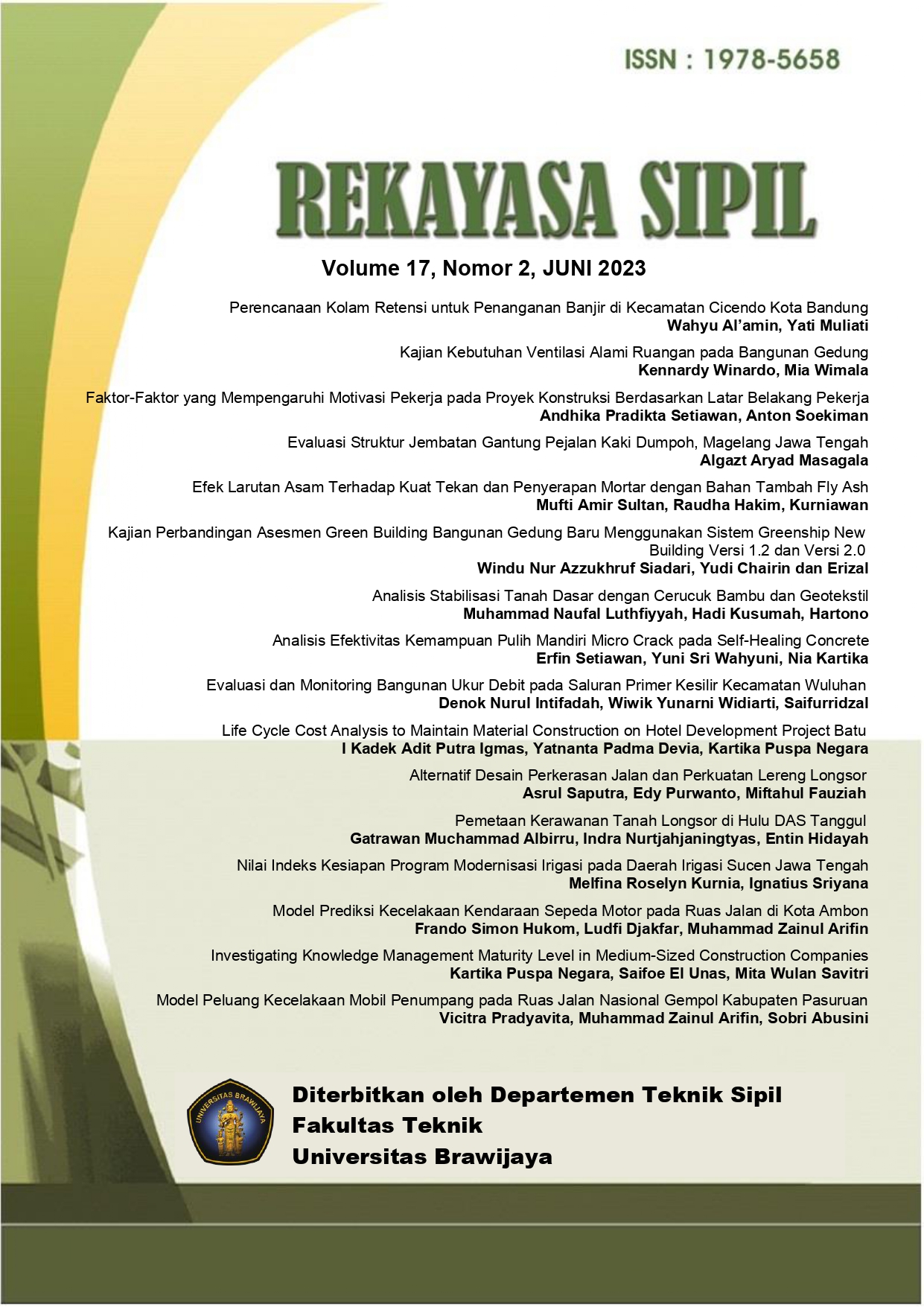 Downloads
How to Cite
Luthfiyyah, M. N., Kusumah, H., & Hartono. (2023). Analisis Stabilisasi Tanah Dasar dengan Cerucuk Bambu dan Geotekstil. Rekayasa Sipil, 17(2), 161–168. https://doi.org/10.21776/ub.rekayasasipil.2023.017.02.7
License
Copyright (c) 2023 Rekayasa Sipil
This work is licensed under a Creative Commons Attribution-NonCommercial 4.0 International License.

This journal is licensed under a Creative Commons Attribution 4.0 International License